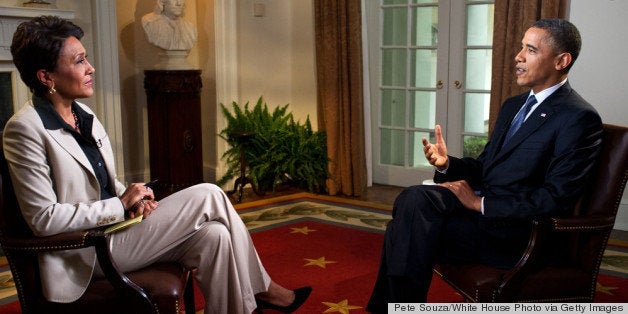 Exactly one year ago today, President Barack Obama sat down in an interview with Robin Roberts of ABC News and said, "I've just concluded that for me personally it is important for me to go ahead and affirm that I think same sex couples should be able to get married."
One year later, those words still ring with the sound of history in the making, but they also seem almost unsurprising. As the saying goes, the arc of the moral universe (and President Obama's public position on marriage equality) may well be long -- and we are still seeing it bend toward justice.
When President Obama made his announcement last May, his words were couched in the careful language of the election-year politician. It was his personal belief, the president stressed, that same-sex couples should have the right to marry -- a belief that did not necessarily mean that states should provide equal marriage rights to their citizens or that the president was referring to a fundamental constitutional right to marriage equality.
But then came the November election, when advocates of marriage equality in three states -- Maine, Maryland and Washington -- and opponents of a constitutional ban on equal marriage rights in Minnesota went to the ballot box. The Obama campaign had spoken out against the Minnesota ban in April, as he had against California's Proposition 8 in 2008 and North Carolina's Amendment 1 in 2012. But he had never taken a public position in support of a marriage equality ballot initiative. On a Thursday late in October, less than two weeks before the election, he did just that, issuing statements in support of all three state campaigns.
Despite these influential and very public statements of support, LGBT advocates still eyed the ultimate prize: an unequivocal statement from the president that same-sex couples had a fundamental right to marry under the U.S. Constitution. Through the providence of political timing, the prime vehicle for such a statement was readily apparent: the Proposition 8 case, which was due for oral arguments at the Supreme Court in late March, and which argued not only against California's marriage equality ban but against similar bans across America.
Obama and the Justice Department stayed mum as the days ticked closer to the deadline before which the Justice Department would need to file a brief in support of the Prop 8 plaintiffs with the high court. Advocates of equal marriage rights wrote that the president was being too cute by half by going public with his private views but stopping short of throwing the full weight of the U.S. government behind the biggest LGBT legal argument in a decade.
And then, late on another Thursday evening, at essentially the very last minute it could do so, the Obama administration filed its brief. If it wasn't the total victory LGBT activists had hoped for, it came mightily close. "The exclusion of gay and lesbian couples from marriage," the brief argued, "does not substantially further any important governmental interest." Even though the Justice Department's filing did not explicitly call for the end of marriage equality bans across the U.S., its legal reasoning, in arguing for the more searching form of constitutional review known as heightened scrutiny, made that argument implicitly.
As we await the Supreme Court's decisions on the constitutionality of Prop 8 and the federal Defense of Marriage Act (DOMA) sometime between now and the end of June, it's clear that the marriage equality landscape has been fundamentally altered since last May. When President Obama sat down with Robin Roberts, six states -- all in the Northeast, with the exception of Iowa -- and Washington, D.C., allowed same-sex couples to wed. Just one year later, that number has nearly doubled, with victories for LGBT advocates in Rhode Island last week and Delaware this Tuesday. Two more states -- Minnesota and Illinois -- could very well follow in the next few weeks, and of course there is California, the most populous state in the union, which could have marriage equality restored this summer.
Undoubtedly, many of these votes have had a demonstrably Democratic bias. Several Republican legislators across the country have stood up for equal marriage rights -- including the entire (five-member) Rhode Island Senate Republican caucus -- but by and large marriage equality has succeeded on the votes of Democrats. President Obama's support has had an enormous impact, perhaps not on politicians' private views but certainly on their public position, as other Democratic politicians have fallen in line behind the president. At this point, for instance, only three Democratic senators remain opposed to equal marriage rights. There's nothing else to call that but a sea change.
But the question remains, for both supporters of LGBT rights and politicians who (now) support marriage equality, of what's next. There are plenty of options: the Employment Non-Discrimination Act (ENDA), which would protect LGBT individuals from being fired for their sexual orientation or gender expression; the Uniting American Families Act (UAFA), which would provide protections to binational same-sex couples where one partner cannot currently sponsor the other for citizenship. In many states, transgender men and women are denied medically necessary treatments -- and, in some cases, denied any health insurance -- because of their gender expression. The rate of new HIV diagnoses amongst heterosexuals is declining across the U.S., but it is rising for men who have sex with men (MSM), especially in communities of color.
Marriage is an incredibly important and emotional issue. It's no accident that support for marriage equality has swept into the hearts and minds of the American public -- and, through them, into those of their politicians. But these politicians will soon face test votes that will demonstrate whether their support for equal marriage rights is based on principles of liberty and equality or an expedient reading of their constituents' views. To take just one example, ENDA, if LGBT Americans should have the same right to marry as their heterosexual, cisgender counterparts, should they not have the same protections when it comes to wrongful termination?
On year ago President Obama's ABC News interview marked an inflection point in the marriage equality debate, and though it might yet take some time for the legal reality of equal marriage laws to catch up to the political reality, an undeniable shift has occurred. The LGBT community has many more milestones to look forward to, perhaps some of them with the help of this president. That will require the passion, patience and determination that we've already shown -- the same qualities that led to President Obama's historic announcement last May.
Popular in the Community