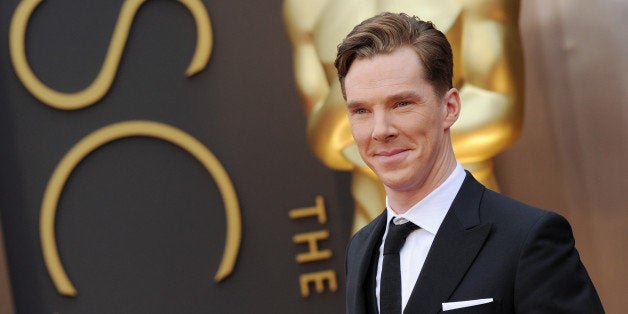 OK, I am the first one to admit it: I am too old to have a celebrity crush. The last time it was cute or acceptable for me to fangirl over a movie star was back in the late 1980s. Since then I've been busy with other stuff in life -- finishing school, growing up, finding a career, falling in love, having a family. No time for silly crushes here.
But then last spring something happened. I guess a bunch of things happened, none of them pleasant: several deaths in my family and circle of friends, a move to a new city, tensions with my parents, and a nagging feeling that I was somehow shutting down and allowing life to pass me by.
I needed an escape. Sure, there was yoga, and chocolate, and wine, and plenty of friends and family around me for support. But my brain wanted to focus on something -- or somebody -- that had nothing to do with what was going on in my life. And so I spent many, many sleepless nights in the company of Benedict Cumberbatch, with his handsome, talented face glowing on my iPad screen in the darkness of my bedroom. Trust me, there is no better company at 3 a.m. when your mind is full of scary grown-up stuff.
Unfortunately, having a celebrity crush at 37 is different than it was at 14. My first and last very serious crush of my teenage years was the lead singer of a German pop band and he was the most perfect human being on the planet. He could do no wrong. Ever. But at 37 I have my doubts about whether such perfection exists. I can't help but think that despite the perfect hair and the talent and the pretty eyes, Benedict is probably rubbish at something -- you know, doesn't take out the trash, or leaves his dirty socks around the house, or doesn't communicate well about his feelings, or gets grumpy when he is hungry. And I really hate it that I think that. Why is it so hard to keep the innocence of our youth; that trust that allows us to believe that perfection exists? Wouldn't all of our relationships be happier if we saw everything that is perfect about our partner without the ugly, nagging thoughts about what could be better, bigger, newer? As we grow older we are forced to learn that everyone comes with baggage and faults. But is this a lesson worth learning? Or do we have the choice of ignoring what is imperfect -- about ourselves, about our partners -- and pursuing life and love with abandon?
And speaking of pursing things with abandon... I have always loved to write. But I never took it seriously or pursued it with the hard work and respect that it deserved. When Benedict turned 37 a few weeks after my 37th birthday last summer, I had to ask myself: have I worked as hard as I should have to make something of myself? I know that not all of us have to be or should be actors or artists or famous. But still... did I get too comfortable? Am I settling for what is easy because that's what makes everyone happy? Am I reasoning away risk and adventure in the name of "being responsible"? Am I sabotaging my own success when I don't pursue what I really want? Clearly. How many 37-year-olds are out there doing something extraordinary while I am coming up with reasons for not doing what I love to do? Maybe I could get out of my comfort zone too. Maybe leaving my life and career up to the elements is a bit lazy. (And hey, look! I took my own advice and now I am on The Huffington Post!)
Pursuing and sharing what I love has other benefits. My awesome, patient, lovely husband has learned by now to just sort of roll his eyes and go with the flow when there is a new Benedict Cumberbatch movie to watch. At first he showed little interest in delving into the finer qualities of Benedict's acting skills and I was OK with that. But one evening he joined me in my Sherlock marathon that lead to a few more evenings of fine British television, as well as quite a bit of snogging on the couch. Strangely, having a crush on someone so clearly unattainable and distant makes you really appreciate the person snoring next to you in bed.
And by finally doing what I love to do -- write -- I have met some amazing people and was able to surround myself with love, support, great advice, humor, and incredible strength.
Life is random and that is not a bad thing. The only reason I even know that Benedict exists is because on my birthday last year the only movie that was playing in our brief window of date night was Star Trek. It was not my first choice, but we had fun and the movie ended with me asking "who is that dude with the long name and the great hair?" A few years ago, I met my best friend in an elevator. She stepped in, we exchanged a few words, realized that we were going to the same place, and now she is my best friend. Life's randomness is scary and exhilarating and I keep reminding myself of that whenever I feel like my life is full of drab routine. I mean, whose life isn't? But it's good to know that just around the corner something amazing might be waiting: love, a great book or movie that will touch you, or a chance meeting with a stranger who will become a friend. You could simply walk into an elevator and your life could change. How awesome is that?
And finally, what is wrong with acting like a teenager? Clearly, I am not going to write Benedict love letters, or plaster his photos all over my bedroom wall. I do have some dignity left. But what is wrong with allowing the heart to flutter? As we get older, why do we hide our passion, our enthusiasm, our silliness? After a certain age, why is it suddenly undignified to giggle, to fantasize, to daydream? If a friend and I want to spend an afternoon with two pints of Häagen-Dazs and the new season of Sherlock -- why not? Life, with all of its big decisions, messy situations, heartbreak, and loss, will wait for us whether we take a moment to act as if we were 14 again or not.
Related
Popular in the Community