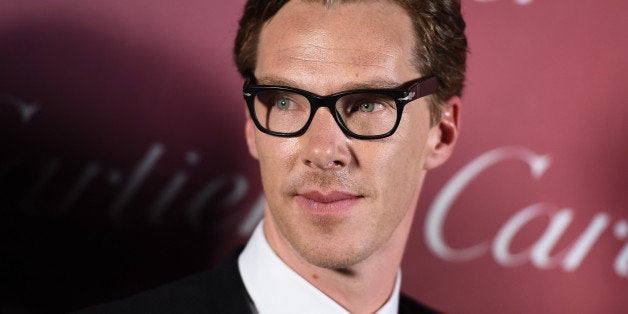 Benedict Cumberbatch has joined the call for overturning "indecency" convictions handed down to gay men like war hero Alan Turing, whom he portrays in the film "Imitation Game."
Turing was a computer scientist and mathematician who helped crack the Nazi naval code known as "Enigma" during World War II, leading to the Allied victory. Turing was also gay, and in 1952 was prosecuted for his sexual orientation under the U.K.'s indecency laws. Instead of jail time, Turing chose chemical castration. He died by suicide in 1954, and his "crime" was pardoned by Queen Elizabeth II in 2013.
Last week, after a screening of "The Imitation Game" at London's Ham Yard Hotel, comedian Stephen Fry called for pardons for thousands of other gay men convicted under the same laws. Cumberbatch expressed his support for the campaign in an email sent to The Hollywood Reporter.
"Alan Turing was not only prosecuted, but quite arguably persuaded to end his own life early, by a society who called him a criminal for simply seeking out the love he deserved, as all human beings do," he wrote. "Sixty years later, that same government claimed to 'forgive' him by pardoning him. I find this deplorable, because Turing's actions did not warrant forgiveness — theirs did — and the 49,000 other prosecuted men deserve the same."
An open letter has been addressed to Her Majesty's Government, imploring young political leaders including the Duke and Duchess of Cambridge, William and Kate, to see that such convictions are wiped clean, according to the Telegraph.
The apology and pardon of Alan Turing are to be welcomed but ignores over 49,000 men who were convicted under the same law, many of whom took their own lives. An estimated 15,000 men are believed to still be alive. The UK's homophobic laws made the lives of generations of gay and bisexual men intolerable. It is up to young leaders of today including The Duke and Duchess of Cambridge to acknowledge this mark on our history and not allow it to stand.
"The Imitation Game" is nominated for a handful of Oscars, including the coveted Best Picture award. On Saturday, ads purchased by the film's distributor, the Weinstein Company, appeared in newspapers, highlighting the plight of the movie's protagonist, the New York Times reported.
REAL LIFE. REAL NEWS. REAL VOICES.
Help us tell more of the stories that matter from voices that too often remain unheard.
BEFORE YOU GO
PHOTO GALLERY
Straight Allies Who Support The LGBT Community