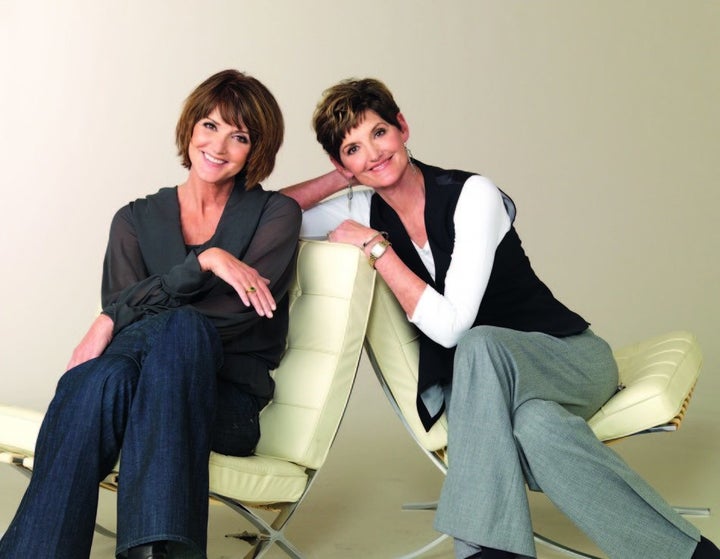 Years in SF: 35 years and counting
Current Gig: Co-Founders of Benefit Cosmetics
You both founded Benefit in SF 35 years ago. Why have you kept the headquarters here all this time?Jane: California is home to Benefit so there is absolutely a hometown pride and a very deep local following that exists here. Jean and I settled here shortly after our big break in modeling, booking a series of national commercials for Calgon Bath Beads.
Jean: In 1976, we used that money to open up a tiny shop called The Face Place in the Mission district, and we sold makeup. We've never looked back. San Francisco is our home, and we feel very lucky to be here in this beautiful and colorful city by the Bay. This city is deeply rooted in all aspects of our brand culture. Our brand logo, catalogs, postcards and posters all contain the word San Francisco and inspirations from this great city.
Your business is a family one with two generations. Do you hope to always keep things that way? Jean: Of course! What could be better than to work closely with the people you love most in life -- your family! Since Maggie and Annie, my daughters and Jane's nieces, joined Benefit in 2008 they have been a source of inspiration for us. I like to have my daughters around. They definitely get our creative juices flowing.
Jane: Maggie and Annie surprise me every day with their vibrancy and passion. They truly add another layer to Benefit and continue the legacy of this family, homegrown brand. It's all about family.
We know about Benetint's sexy back story. (It's rumored that the tonic was originally used as nipple tint by exotic dancers.) Do you have another wild origin story?Jane: Our product naming sessions at Benefit takes place on Thursday mornings. There are usually about ten of us gathered around our tin table, munching on Skittles and M&M's. The process is always done by democracy, everyone needs to buy into the name, whether it's a product name or shade name. Everyone votes, there are no egos and when we get it right everyone just lights up. We start by blurting out name ideas and then we vote thumbs up or thumbs down for our favorites. We don't try to be clever or witty, we try to come up with names that will make people laugh.
Jean: At one meeting several years ago, we were all sitting around the table trying out a vitamin C face balm. It was like a pomade for your face...with a fabulous finish. It made the skin feel velvety soft and smooth and was chock full of vitamins. Someone blurted out, "Whoa, baby, does this feel good!" "That's it," I said, "Feelgood." It says what it does. Jane then asked, "Remember Dr. Feelgood?" Thus, Dr. Feelgood was born. We loved the idea of adding romance to this product, so we went through the whole range of doctors, stethoscopes, and nurses, and ended up with an image of a doctor making a house call to visit his patient. Instead of kissing his patient's boo-boo, he's kissing her!
What inspires new product ideas for you?Jean: The single most important thing when creating a new product is to start with a need. Each new product must fill a need. The challenge is coming up with something that is completely original. For most products, our inspiration comes from our day-to-day life.
Jane: Our goal is to give our customers quality products that deliver results and make you smile. We have so much fun creating the packaging, naming them and creating a theme for each product. We believe that what's outside and what's inside are equally important. In talking with our customers and hearing their needs, we started developing products that were solution-driven.
What's the most glamorous thing about SF?Jean: It's that "anything goes" factor. You could wear a ball gown in summer or shorts in the wintertime. It's wild, but it's classy.
Jane: Gals here love any reason to dress up.
Where do you both go to relax in SF?Jane: We love to go hiking in Muir Woods -- you can't beat the views, especially on a clear day. We do yoga three times a week. The Pad Studios in the Marina is one of our favorites.
Jean: The farmers' market at the Ferry Building has some unbelievable people-watching. Oh, and the food is pretty great too.
Fave boutiques that you shop at all the time?Jean: Me and the girls, Maggie and Annie, are obsessed with Jeremy's. We find the best deals -- it's like a frenzy since we're all around the same size!
Jane: You can't beat the timeless style of Wilkes Bashford. Flawless, every time.
Which SF restaurant serves your fave meal?Jane: We're from the Midwest, so the fried chicken at Foreign Cinema is simply the best.
What do you hate most about SF?Jean: At Benefit we don't hate. We only spread the love.
Jane: But if we're really going to get into it, the fog in summertime can drive me up a wall!
Related
Popular in the Community