'Tis the season to fly solo! While commercials try to convince you that the holidays are all about guys who love going to Jared, we both know what the holidays are really about: Eating cookie dough straight from the can in your flannel pajamas while watching "Elf."
Celebrate your fabulous recently/permanently unattached self with a quick reminder of how great is it to be a single lady. Here are 58 specific ways:
1. You don't have to stress out about buying the perfect, romantic present. That's a gift in itself!
2. All that money you would've spent on their present is ALL YOURS! Treat. yo. self.
3. You don't have to fake enthusiasm over the sh-tty present your partner gave you.
4. You don't have to split time between someone else's family and yours.
5. You also don't have to worry about impressing your SO's family.
6. You don't have to worry about buying your SO's mother a gift. More treats for you!
7. You don't have to travel with anyone.
8. You actually don't have to travel if you don't want to. Do you know how expensive flights are around the holidays?! *smh*
9. Your hella weird relatives won't embarrass you in front of "the new person."
10. Their excessive drinking won't make your SO run for the hills.
11. No partner means no awkward sleeping arrangements at your parents' house.
12. Or getting asked questions about when you're getting married or having babies.
13. You can invest more time in doing you. What a merry idea!
14. Whom you choose to spend time with is your choice, and yours alone!
15. You know what's worse than terrible Christmas photos? Terrible Christmas photos with EX-PARTNERS that remain on your parents' mantel for all of eternity after you break up.
16. No partner + thick pants = no shaving!
17. You don't have to go to anyone else's unnecessarily awful work parties.
18. But if you do attend your own office soirée, you can flirt fearlessly.
19. Lonely people around the holidays make for fabulous hookups.
20. And if you really want to get into the season spirit, you can walk around with mistletoe.
21. You can leave a party when you want to.
22. You can experience the excitement of receiving a text from someone cute.
23. You'll have holiday dinner leftovers for days.
24. Not to mention all that extra egg nog, hot chocolate and wine.
25. Who gets to eat that last piece of pumpkin pie? You guessed it: YOU!
26. You can finally wear those embarrassing (and comfortable) holiday-themed undies that have been hiding out in your drawer.
27. And wear holiday sweaters that are tacky but also ridiculously awesome.
28. How about those ugly ass holiday socks that keep your toes cozy? No judgement from anyyyyyone.
29. Fancy, pricey lingerie? Lol, yeah right. What a waste!
30. You can eat whatever you want, whenever you want and the exact quantities that suit you. No one will poke at that winter weight!
31. You get to hog the whole. entire. bed.
32. Every pillow is a cool pillow when all the pillows are yours.
33. Hibernation is an actual thing you can practice with zero interruptions.
34. Spooning? More like, SPOONING THAT TUB OF RUM-FLAVORED ICE CREAM!
35. You won't have any relationship worries. "Why did he pose with his high school sweetheart on Facebook? Why hasn't he replied to my text in three days? Why doesn't his mom know that I exist?" -- None of that BS.
36. You're in charge of your own holiday spirit. No one else can wreck your mood.
37. Want to decorate your Christmas tree with pictures of Mindy Kaling and Reese Witherspoon? As you please.
38. You're the sole architect of your gingerbread house.
39. Ice skating hand in hand is so cheesy. #overit
40. Snowball fights are literally no fun for anyone involved. Now you don't have to pretend to be "game" just so your SO thinks you're "cool."
41. Spend your holiday break any way you choose. Do you want to read? Do you want to sleep? Do you want to watch TV? Do you want to knit? Do you want to bake and eat what you baked as soon as it's out of the oven? Because you can.
42. Solo trips are the best way to get to know the real you.
43. Use your down time to learn a new skill. Or a new language.
44. Or dive into a Netflix rabbit hole and not change your sweatpants once in the course of the week.
45. Speaking of which -- you have 100% control of the remote.
46. You can literally watch "Love Actually" 14 times in a row and cry your heart out and feel shameless about it.
47. You can throw a rager-for-one in your own home to Mariah Carey's "All I Want For Christmas Is You."
48. What's cozier than snuggling up with your pet? Nothing, that's what.
49. Heat up some hot chocolate, and then heat up 10 more. You're the master of your domain, baby!
50. Essentially, no compromises need to be made. Over anything.
51. Leave the house? In this freezing cold? WHAT FOR?
52. So cold, in fact, that you can skip washing your hair for a week and hide it under a beanie AND NO ONE WILL BE THE WISER.
53. You can work on Christmas day for a little extra $$$ and no one will make you feel guilty.
54. You can be selfish with your New Year's Eve plans. Would you rather stay in bed than dance the night away? Do it. Do you want to go to the hottest party in town with your BFFs and make out with a complete stranger at midnight? Do that, instead!
55. Your new year's resolution can be all about your fierce and fearless self, not you and someone else. (Because couples who say, "We chose to quit smoking" are almost as annoying as smoking.)
56. Can you think about all the possibilities that a new year might bring? GET EXCITED!
57. YOU ARE CELEBRATING YOU!
58. There's literally no one else you should step into 2016 with.
Also on HuffPost: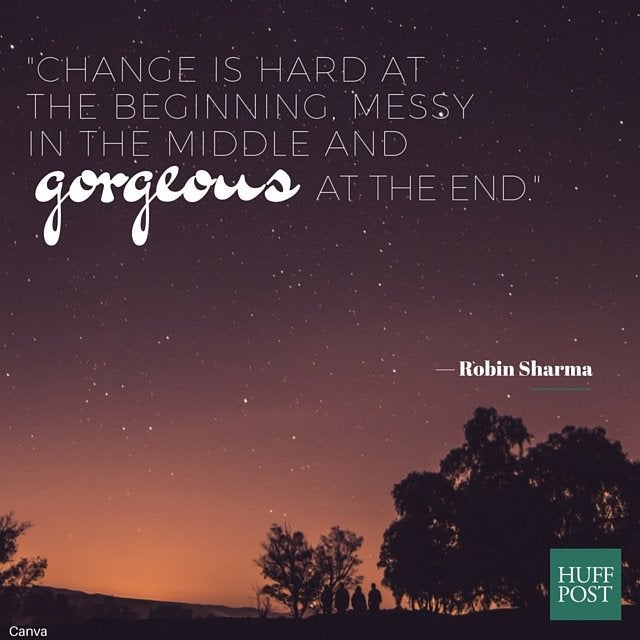 Quotes Every Newly Single Person Should Read
Related
Popular in the Community