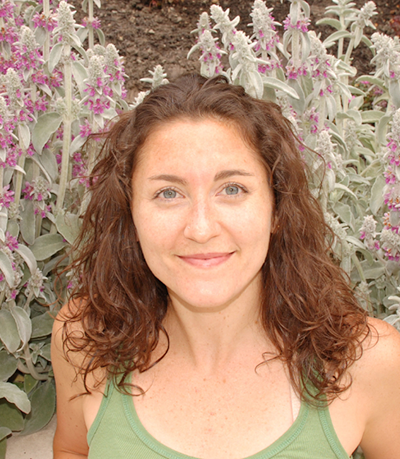 This is an interview with Danielle Ancin, who before becoming a yoga instructor and program manager for the Niroga Institute in Oakland, California, developed a yoga-based therapeutic program for psychosocial care for displaced (IDP) adults and children in southern Colombia. At Niroga, she taught yoga and in-class TLS (Transformative Life Skills) in public schools (elementary through high school), and in the Alameda County Juvenile Justice Center (detention facility), where she currently teaches regular classes and leads day-long retreats. Danielle co-developed Niroga's TLS Curriculum, released this spring and helped to implement research programs in its teaching sites.
Rob: What originally motivated you to do this work, and what continues to motivate you? How, if at all, has that motivation changed over time?
Before discovering yoga, I was a young, injured dancer dealing with an eating disorder, disconnected from my body and emotions. The changes that my practice brought about were incredible, and as my life progressed yoga always carried me through my toughest challenges. After a particularly tough battle with anxiety (yoga won), I remember having a strong sense of my own inner strength. I began to seek out opportunities to bring this amazing tool to young people.
My motivation to do this work has gotten stronger and more focused over time. The more I learn about chronic stress and trauma the more I see their tentacles everywhere, affecting school performance and dropout rates, crime, violence and public health. I see bringing yoga to youth as a revolutionary act.
Is there a standout moment from your work with Niroga or working with juveniles?
For the past few years we've been conducting day-long yoga retreats with incarcerated youth within juvenile hall. A lot of the participants are young men who are waiting to be sent to an adult detention facility to finish their sentences, so they especially need tools to help them cope. My most memorable moments have taken place during these retreats, when emotional walls come down and the youth share their experiences and stories, comfort each other, and laugh so hard they can't stand up. I'm grateful for the smiles and learning that I have been blessed with through these events, and for the Niroga Institute's courage to make them happen.
What did you know about the population you are working with before you began teaching? What were some of the assumptions you had about this population, and how have those assumptions changed?
I moved back to my native California from Colombia because I believed that direct service work could be done best by people who come from the same culture as those they serve. I quickly realized that culturally, I was almost as different from my students in California as I was from my students abroad! So I approached my work in schools and detention centers as if I was working in another country: I assumed that I didn't know anything and asked a lot of questions.
What are two distinct ways that your teaching style differs from the way you might teach in a studio, and what are the reasons for these differences?
I focus way more on classroom management when working with youth than with adults. My main goal is to maintain a safe space where students feel comfortable and motivated to look inside. This takes constant vigilance and quick decision making, including deciding what behaviors to address and what to let go of. Keeping the big picture in mind while minding all the details can feel exhausting, but yoga happens in that space!
I'm also more intentional about using trauma-informed language when I work with youth in our program sites than when I teach studio yoga. I focus less on alignment and more on inviting students to make choices for themselves. Research has shown yoga to be as effective for healing complex trauma as other evidence-based interventions. I use this language in my youth classes in order to make yoga inclusive and healing for all students, whether they are living with trauma or not.
What has been the greatest challenge in your teaching experience, and what tools have you developed for addressing that challenge?
My greatest challenge has been detaching myself from the outcome of my work. This is important for various reasons. For one, if you are too concerned with what your class looks like or how the students will respond, you risk losing your own center. Students benefit the most when the teacher models equanimity, groundedness, and a focus on the big picture, no matter what happens in class. My most challenging teaching sites are the ones that have taught me to let go, and they have made me a much stronger teacher.
The other reason why detachment from outcome is important is because there are many forces at work shaping the lives of young people, in both positive and negative ways. At times I have come into contact with the traumatic stories of my students, and it has had a negative impact on my own emotional state and worldview. Maintaining a view that my work is one factor among many, and letting go of the results of my service, is one way to maintain healthy emotional boundaries, which is as important for my own well being as it is for my students to witness. And as always, the strongest tool in my toolbox is my own practice.
What advice would you give to anyone who is going to teach yoga in inner city schools?
What are some of your ideas about or hopes for the future of "service yoga" in America in the next decade?
I hope we continue to seek out opportunities to train youth (or whatever communities we serve) as peer educators and directly engage them in developing our programs. One of my passions is working side by side with program participants to creatively adapt interventions to their needs and cultural values. I would like us all to do more participatory work -- I think this is the only way for service yoga to have a lasting impact.
More broadly, I hope that the expanding work of service yoga will bring attention to the role that chronic stress and trauma play in educational and social inequalities. I have witnessed the disproportionate experience of stress and trauma of my young students, who are mostly youth of color. I would like the dialogue to continue to shift away from punishing students for the behaviors that are attempts to manage their experiences and toward finding sustainable ways to help students and their families manage stress and heal from trauma. I also hope that the service yoga community will not shy away from addressing the structural inequalities that perpetuate the disproportionate experience of stress and trauma. As Peter Tosh said, "Everyone is crying out for peace, none is crying out for justice." We need both.
How has this work changed your definition of service? Your definition of yoga? Your practice?
My definition of service has become less about others and more about me! I get so much joy and inspiration from my work with youth. My choice of work has been both about right livelihood and about personal fulfillment. You cannot be sustainable in your service if you just focus on the other and not yourself.
Regarding my definition of yoga, my work with Niroga has broadened my view of what yoga is and what it can look like. You don't need a mat to do yoga -- you just need your breath, your attention, and your body. I've developed a clearer understanding of the mechanisms behind yoga from a Western science perspective, and feel more comfortable breaking it down for the lay person or skeptic.
What other organizations do you admire?
Grupo Cultural AfroReggae in Rio de Janeiro is my favorite nonprofit. I love the way they meet youth where they are and make it cool to be associated with them.
REAL LIFE. REAL NEWS. REAL VOICES.
Help us tell more of the stories that matter from voices that too often remain unheard.