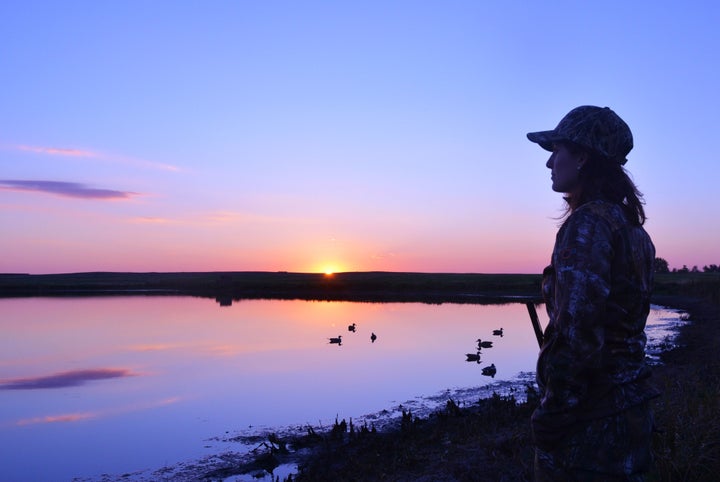 Today, these traditions are threatened – by a rapidly evolving America, and by those who see to exploit those changes to advance their own selfish agenda.
These issues may not seem to have much to do with each other – or with you, if you don't hunt and fish. But the hundreds of millions of acres of public lands across the nation – the priceless legacy bequeathed to us by our ancestors – probably wouldn't exist to any recognizable extent without the contributions of hunters and anglers.
For more than a century, hunters and anglers have paid the freight for conservation in the United States. They've voluntarily paid billions of dollars in excise taxes on gear and equipment, and billions of dollars more in license fees and conservation stamp purchases like the Federal Duck Stamp.
These contributions, matched with their steadfast support for conservation policy at the state, federal and local levels, have enabled us to restore and protect hundreds of millions of acres nationwide. With their leadership, we've been able to dramatically expand the National Wildlife Refuge System, which now encompasses 565 units spanning more than 800 million acres. In turn, states have used nearly a billion dollars in annual funding from sportsmen and women to establish and expand state parks and outdoor recreation programs for millions of their residents.
The U.S. Fish and Wildlife Service plays a central role in collecting and distributing much of this funding – and in ensuring equal access for all Americans to the lands and projects it supports. But the benefits of our wildlife conservation work to hunters and anglers go beyond that.
In countless ways, our efforts to protect and sustain native fish, wildlife and plants for the benefit of the American people have also expanded hunting and angling opportunities.
For example, efforts to reverse the decline of the greater sage-grouse and prevent the need for Endangered Species Act Protection spurred an unprecedented collaborative effort to put conservation measures in place on millions of acres of sage-steppe habitat in eleven western states. Right now, dozens of federal and state agencies, conservation organizations, industry groups and private landowners are working to improve the health and productivity of the land for sage-grouse. But these improvements will also benefit more than 350 other species – including pronghorn antelope, mule deer and elk.
In the Pacific Northwest, collaborative efforts to remove the Elwha Dam and other barriers to fish passage on the Columbia River have improved recreational fishing opportunities for salmon, steelhead and other native fish species.
In fact, since 1999, we've worked with over 700 partners across the nation to remove more than 1,638 barriers to fish passage. These projects have reopened a total of nearly 24,000 river miles, and reconnected nearly 170,000 wetland acres – significantly expanding opportunities for recreational fishing in every state.
We've worked consistently to expand hunting and angling programs across the National Wildlife Refuge System, creating new hunting and angling programs and adding to existing programs at scores of refuges.
We've created a new paradigm for many of our newest refuges, working across public and private lands in places like the Flint Hills of Kansas, the Dakota Grasslands, and the Everglades Headwaters to knit together a network of habitat for wildlife that will provide expanded opportunities for hunting, fishing and other outdoor recreation.
We're working with our partners to control invasive species that if left to spread unchecked would destroy recreational hunting and fishing opportunities. For example, our Asian carp control program is working to keep these voracious fish out of the Great Lakes to protect native fish species and the incredible recreational fishery they support.
These are just a few examples of the myriad ways, big and small, that our work benefits hunters and anglers on a daily basis. In turn, hunters and anglers continue to support programs that expand outdoor recreational opportunities for ALL Americans, including those who never pick up a rod or shotgun.
It's a virtuous cycle, but one that depends on access to public lands. America's population continues to grow, resulting in ongoing loss and fragmentation of wildlife habitat on private lands.
Yet at a time when public lands have never been more important, they are under siege at the state and federal level by a determined and organized set of special interests and their minions.
Under the guise of "returning" federal land to the states (never mind that most federal land predates the establishment of the states leading this movement), they are seeking to monetize public lands for the benefit of the few. Transferring ownership of vital wildlife habitat to cash-strapped states is a recipe for exploitation, sale and exclusion of the public on millions of acres. And though many recent efforts have been defeated, those advocating land transfer are patient, persistent and well-financed by the wealthy special interests that stand to benefit.
We need hunters, anglers and every American who cares about wildlife and the outdoors to step up and lead the fight against these ruinous policies. To protect a heritage that has defined America since its founding.
This is your fight, and we are all in it together. This week, remember what you're fighting for – and recommit yourself to stand up for public lands and wildlife.
Related
Popular in the Community