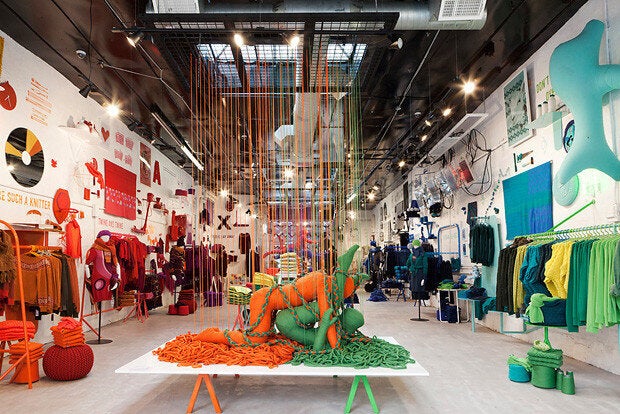 The controversy is going down (heh) at the Art of Knit, Benetton's fall/winter pop-up shop which features a plethora of yarn art created by artist Erik Ravelo. One of the most titillating pieces is one called "Lana Sutra" that depicts a couple mid-sex position amidst the racks of brightly colored sweaters, pants and tees.
"It certainly is a very confronting image, but I believe our children see things just as confronting on music videos," one commenter writes. "Most kids won't even realise what they are seeing when they see this display. And if they do, it's probably time to teach them a little bit about the facts of life."
"I choose to remain vigilant in protecting & preserving my children's innocence," another argued. "They have a right to it and I'm not letting this corrupt society dictate it!"
Benetton, of course, is no stranger to controversy. In 2011, the international retail chain made headlines around the world when it released its "UNHATE" campaign, a series of photo-manipulated ads depicting world leaders kissing. (The campaign later won an award at the Cannes Film Festival.)
Check out the yarn art below... are YOU traumatized?