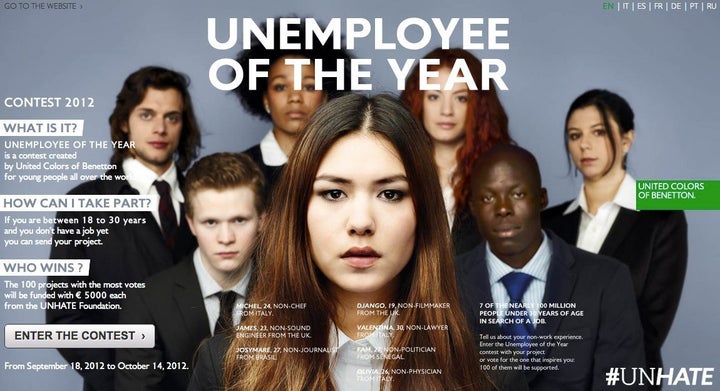 * Incoming Benetton head launches jobless ad campaign
* Clothing company famous for controversial marketing
* Chairman says we must listen to today's young
* Declines to elaborate on company strategy
LONDON, Sept 18 (Reuters) - Alessandro Benetton is on a mission to find a cure for the ailing global economy and he's asking 100 million or so jobless young people to chip in with ideas.
The 48-year-old chairman of Benetton Group launched the family business's latest "UNHATE" advertising campaign on Tuesday, highlighting the plight of unemployed people under 30 who are striving to find meaningful work every day.
Benetton believes the generation appearing in a market-place where the old economic models are not providing them with the kinds of opportunities that kept their fathers in work for decades need to be tapped for ideas.
"In the history of the world ... the great inventions, great leadership, the great differences were always made by people under 30 years old," the slender scion of one of Italy's best known family retail brands told Reuters.
"Now I don't think we can look into this unknown future unless we talk to these people."
The ads and video which show determined young people at protests, in work attire waiting for interviews or at the unemployment office are bound to be less controversial than Benetton's last campaign.
That resulted in the company agreeing in May to make a donation to a Catholic charity to end a legal dispute with the Vatican over an advertisement that showed Pope Benedict kissing an imam on the lips.
The latest global campaign will consist of posters, t-shirts, a film and a contest to choose 100 "unemployees of the year" who will each receive 5,000 euros ($6,600) for their pet projects.
Contestants must be between 18 and 30 years old and unemployed. They must submit their story and project idea to www.unhatefoundation.org and will be chosen by an online poll of their peers on the same site. The contest lasts until Oct. 14.

Benetton said he believes the post World War Two economic model of growth based on a relentless rise in Gross National Product (GNP) to deliver prosperity has been rendered obsolete by the rapid-fire changes of the late 20th and early 21st centuries with the explosion in computer power and the Internet.
"What we need to do is think," he said in an interview at Benetton's flagship UK store in the swanky central London district of Knightsbridge. "We need to accept that GNP is not the only unit that we shall use."
That means that the children of the baby boomers who brought us free love in the 1960s, disco in the 1970s, "greed is good" in the 80s and the boom and bust of the Internet bubble in the 90s, will have to forge a very different path for themselves.
Benetton said the campaign was inspired both by a team of 50 Benetton experts who presented him statistics showing that more than 100 million people between the ages of 15 and 29 were unemployed around the world and also a recent trip to Japan.
He said it dawned on him in a Tokyo restaurant that a workable example of the economic future could be Japan, which survived a massive crisis in the late 1990s and an economy that has shrunk over the last 20 years.
"At the same time they were able to make it a cleaner economy," Benetton said. "You go to Tokyo and you see that you have low noise, electric cars and no pollution or at least less pollution."

As a father of three children under the age of 13, Benetton is not surprisingly interested in the future his offspring will inherit from this jobless generation, and as a son who has inherited the top job in the global family empire from his own father he knows that it may be time to try new things.
"It is a little bit like the company I have inherited which needs to be re-focused," Benetton said.
Half a century after the knitwear group was founded by his father Luciano, the heir to the Benetton empire was officially entrusted in April with reviving a brand that has fallen out of fashion from its 1980s heyday.
Benetton, one of Italy's best known brands with more than 6,500 stores in 120 countries and a reputation for bold colours and controversial advertising, has suffered from the emergence of more flexible rivals like Inditex's Zara and Sweden's H&M.
A graduate of Boston University, with an MBA from Harvard, Alessandro, who was described in a recent Elle magazine article as "almost impossibly good-looking", also regularly updates his Facebook fanpage and a blog in English with reflections on contemporary art, sports and philosophy.
His business experience spans a stint as an M&A analyst at Goldman Sachs and creating private equity boutique 21 Investimenti in 1992, which now boasts more than 1.2 billion euros of investments.
Supporters say he will bring an international outlook and welcome jolt of energy to the 2-billion-euro fashion house, whose sales have remained flat for a decade.
Benetton would not be drawn on specific details of any disposals or his strategy to reinvigorate the company, but said he did not intend to scale back its vast product line or sell off any of real estate.
"Life is not always what you would like it to be and it's the same thing for the company," he said. "It's a matter of product which we've always had, also perception of the consumer, layout of the stores, communication of the window displays ... it's an overall action." ($1 = 0.7612 euros) (Reporting by Paul Casciato; editing by Mike Collett-White)

Related
Before You Go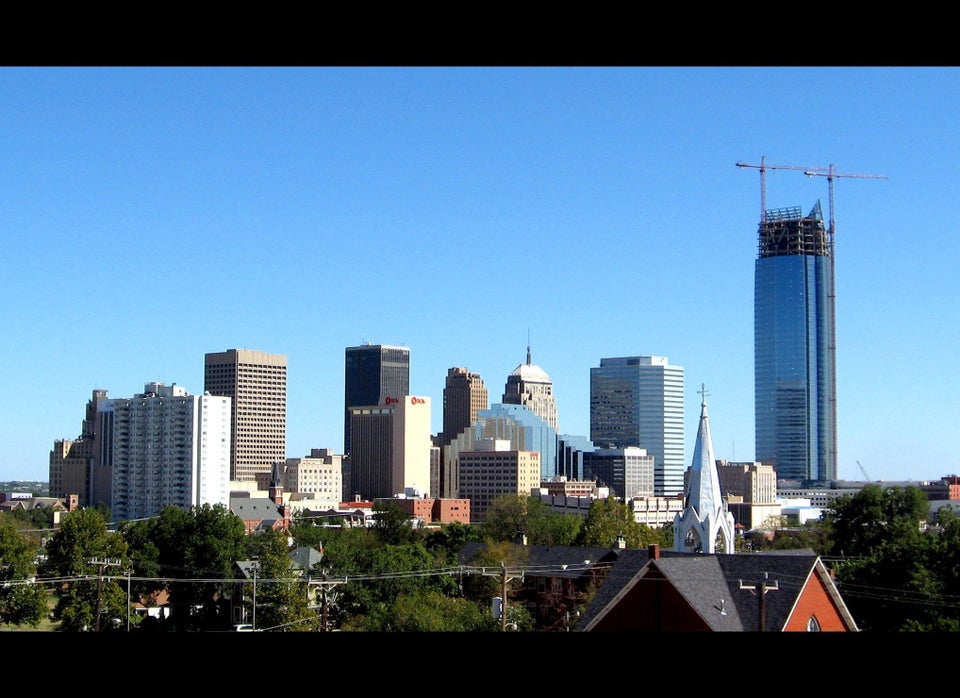 Forbes Magazine's Top Ten Cities For Jobs
Popular in the Community