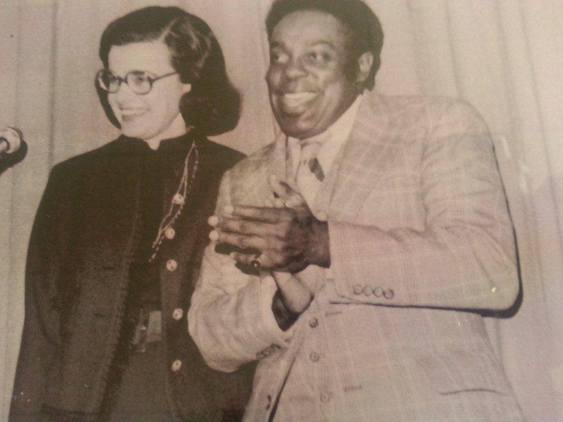 California politics lost a legend this week with the passing of African American leader and veteran political advisor, Percy Pinkney.
Personally, it's hard to put into words what Percy meant to me. Yet waves of memories flood my head at a breakneck pace.
As a fresh-out-of-college assistant in U.S. Senator Dianne Feinstein's press office, circa 1993, I had to call and introduce myself to Percy in the Los Angeles office and remind him to please not talk to reporters or do media interviews without running it by the D.C. press office first. Anyone who knows Percy is already laughing at that attempted directive before they've even finished reading the sentence. For Percy did Percy.
He mostly followed the rules, and sometimes adhered to office expectations. Yet, the computer on his desk collected dust as he wrote by long-hand all his reports on yellow lined legal pads for new interns to transcribe into word docs. He never felt the need for a car (even in Los Angeles!) as his counsel was so invaluable that people would line up to offer to drive Percy to meetings just to get precious one on one time with him. He took the service elevator and preferred staff corridors through kitchens and back hallways instead of crowded hotel lobbies. He always wore one of three ties, despite countless well-intended colleagues presenting him with new ones year-round. And don't get me started on his battered briefcase overstuffed with aging newspaper clippings.
Yes, Percy had a way about him that appeared more like Columbo than Paul Begala to most. But what lie underneath was utter magic, art, passion and conviction. I quickly learned to not get caught up in the small brush strokes of his apparent disregard for rules that, to the untrained eye, appeared as a misstep or mistake. For the bigger picture he always created was a masterpiece.
Sometimes it was a masterpiece of political strategy - an upset victory in a leadership battle or a primary nomination - and other times it was deeply personal victories of the human spirit that literally saved peoples lives.
And that's not exaggeration. I'll never forget listening in disbelief as he called a hospital and successfully appealed to their better angels to accept an uninsured man so he could get life-savain heart surgery.
Indeed, the office lobby was always crowded with people from the most underserved communities hoping to get a moment with the man who had the Senator's ear, to let them both know about needs, challenges, inequities and opportunities on the streets and in homes that were never reported in the Los Angeles Times or Washington Post - the real politics.
And Percy owned the role of humble civil servant with pride, never seeking recognition for this work.
You see, the man who was arguably one of the most powerful men in California democratic politics - a top advisor to Governors, Senators, Congress members and mayors - was also the most gentle, quiet, unassuming, peaceful leader for American values. His service to our country may have begun in the U.S. Army, but his Quaker upbringing made for a different type of warrior.
Others will write about his political legacy. But, to me, it's this duality that made Percy so special.
Yes, he taught me how to count votes and about campaign ballot slates, he introduced me to the rights of passage in major political campaigns known as church runs, and I probably knew more about black politics than any white girl from the valley ever needed to know.
But beyond politics, Percy taught me about two invaluable elements of being human: compassion and relationships.
No need was too small or insignificant for his time and attention - if it affected a person or family negatively, he wanted to help and so should anyone who had the ability to do so. In the political arena of hyperbole and hierarchy, I understood that regardless of my job in a federal office that I can and should help the senior citizen get her electricity turned back on at her apartment (a city utility issue), or a family to get easier access to their developmentally disabled adult son (a state DDS issue). And he taught by example the importance of caring for each other, our colleagues, outside of the workplace that continues to this day, two decades later.
Indeed, Percy became my touchstone to humanity.
And when it came to relationships, he showed me what it meant to truly generate, cultivate, maintain, leverage and honor them. It's what got that man his heart surgery, and it's what has ended labor disputes, created gang cease-fires and corrected injustices.
It's also through relationships that we heard about Percy's passing and wept privately while knowing we were not alone in our grief, for Percy's impact transcended the usual boundaries of race, class, gender and geography.
Brother Percy, rest well knowing you did your job and did it beyond reproach. There will never be another like you. You left the world a far better place because you cared and chose to do something about it out of love.
It's this benevolence and civility we can use more of in today's political environment.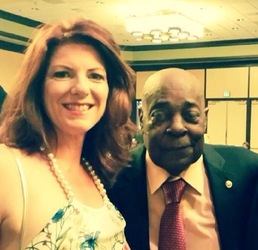 Calling all HuffPost superfans!
Sign up for membership to become a founding member and help shape HuffPost's next chapter