For the first time in an American presidential election, Bengali-speaking New Yorkers will be able to cast their votes using ballots that have been translated into their native language. 
"Not everybody is gonna speak English. Not everybody is gonna read English," 22-year-old Naimul Islam, who lives in Brooklyn, told The Huffington Post. "Having your own language [on] the voting ballot gives you the easier way to vote."
Unfortunately, Islam, who will be voting for the first time on Tuesday, said he's feeling the xenophobia that has become a hallmark of this year's presidential election thanks in part to the rhetoric and proposed policies of Republican nominee Donald Trump. 
"You don't feel like you're home anymore," he said. But the Bengali ballots represent the embrace of multiculturalism that's still alive in his community.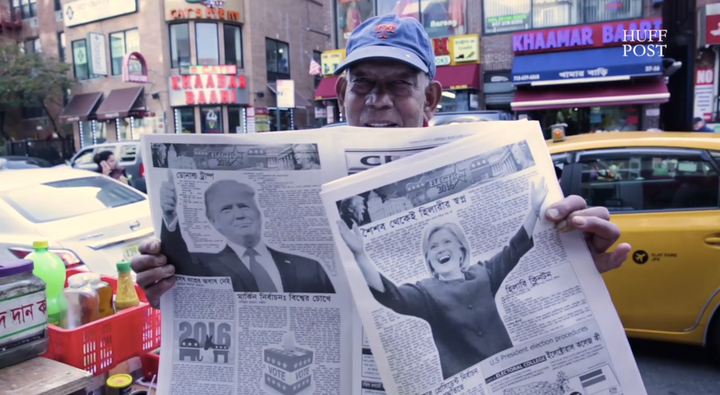 The implementation of the ballots has been years in the making. The government ordered New York City to provide language help to South Asian residents in October 2011 because the community had "surpassed a threshold of voting-age citizens in Queens jurisdictions, had low literacy rates and did not speak English well," according to The New York Times. In 2013, Bengali language ballots were made available in 60 Queens polling sites to comply with a key provision in the Voting Rights Act, which requires cities to provide bilingual voting assistance.
And with the biggest concentration of Bangladeshi immigrants residing in Queens, the new ballots are sure to make a difference there. Mohsin Noni, a grocer in Jackson Heights, Queens, said that his community is especially interested in the 2016 election, regardless of English proficiency. 
"Our Bangladeshi people are very much [politically] conscious," he said. "They are very interested to know all these things. Even the people [who don't] know that much English, they want to know what is going on and who is going to be president." 
Selina Sultana, who owns a boutique in the neighborhood, said the ballots will help members of her community voice their concerns.  
"Each and every person's opinion matters," she said. 
This video was produced by Ishika Gupta and Liz Martinez, edited by Maria Tridas and Velvin Nipson and shot by Ian MacInnes, Sam Wilkes and Adriane Giebel. Senior producers were Megan Robertson and Sharaf Mowjood. 
Calling all HuffPost superfans!
Sign up for membership to become a founding member and help shape HuffPost's next chapter