WASHINGTON -- A conservative group trying to use the deadly 2012 attack on the U.S. consulate in Benghazi, Libya, to motivate the Republican base isn't news -- except when it's to bash a fellow Republican.
Veterans for a Strong America, a social welfare nonprofit, released an advertisement on Wednesday attacking Arizona Republican gubernatorial candidate Christine Jones for once writing kind words about former Secretary of State Hillary Clinton. The group said this proves the deaths of four Americans "made no difference to Christine Jones."
The attack by the South Dakota-based group, largely inactive since 2012, is part of a broader independent campaign by nonprofits linked to former Koch brothers operative Sean Noble in support of Jones' GOP primary opponent, Arizona Treasurer Doug Ducey.
"This is the act of a desperate, fledgling campaign and their dark money allies who feel the need to go to this absurd association in order to keep their head above water," Jones spokeswoman Anna Haberlein said. "They're trying to make the Arizona governor's race about Benghazi and Hillary Clinton, when in fact it's about economic growth, immigration, and providing a better future for all Arizonans."
Noble's consulting firm, DC London, made the Benghazi advertisement, according to a spokeswoman for the firm. Joel Arends, Veterans for a Strong America's founder, told HuffPost in an email that DC London has "been a great partner to our organization."
Noble's company also has worked for Conservative Leadership for Arizona, a pro-Ducey committee attacking Jones. DC London filmed footage from a Ducey campaign event that the group used in an advertisement earlier in May. And Noble has worked for the Legacy Foundation Action Fund, a nonprofit that attacked another primary contender last month.
Conservative Leadership for Arizona also has criticized Jones for praising Clinton. On Thursday, Conservative Leadership for Arizona posted the new ad by Veterans for a Strong America on its website and called it "explosive."
Veterans for a Strong America told HuffPost that it began a $50,000 statewide cable TV advertising campaign featuring the ad starting Thursday. As a nonprofit, Veterans for a Strong America does not have to publicly disclose its donors. HuffPost failed to locate any filings made by the group with the Internal Revenue Service, and the group did not say whether it has made any.
The group's Benghazi ad makes the link from candidate Jones -- a former executive at the Internet company GoDaddy.com -- to the Sept. 11, 2012, Benghazi attack by way of a blog post Jones authored at the beginning of 2013 with predictions for the year.
"Americans, regardless of party-affiliation or political involvement, will begin to realize what an effective Secretary of State Hillary Clinton was, as her replacement begins to be scrutinized for failing to live up to the incredibly high standard she set," Jones wrote.
Jones' campaign rejected the candidate's words as a full endorsement of Clinton.
"Christine has said numerous times (and it's even on her website) that her political philosophy couldn't be more different than Hillary Clinton's," said Haberlein. "Any comment Christine has made in the past about Hillary Clinton was in the context of comparing her to others in the Obama Administration."
Benghazi remains a key issue for Republicans nationally. This month, the Republican-controlled House of Representatives created a select committee to further investigate the attacks. The National Republican Congressional Committee recently sent out an email touting the new committee and seeking donations from supporters.
Veterans for a Strong America wants a piece of the angry fundraising that a Benghazi attack can bring. It is trying to raise money off its ad, directing viewers to a donation page to help "keep our ads on TV educating voters about Hillary Clinton's failure of leadership in Benghazi." The page shows no donations so far.
"Conservative veterans and others in Arizona take great exception to Jones' affinity for Hillary Clinton and their attempts to whitewash the deaths of four Americans in Benghazi," said Arends, who chairs Veterans for a Strong America. "We think Republican primary voters will want to know about Jones' effusive praise for Clinton."
Veterans for a Strong America has a history of bombastic advertisements linked to outlandish plans and fundraising appeals. In 2012, the group ran an ad -- also produced by Noble's DC London -- claiming President Barack Obama took undue credit for the killing of Osama Bin Laden, insulting Navy SEALs involved in the mission. Arends declared that the "swift boating" of the president had begun. The effort fizzled and Veterans for a Strong America spent only $750,000 on direct attack ads against Obama.
Ducey and Jones, a former general counsel at GoDaddy, are among a handful of candidates running in the Republican primary for Arizona governor this year.
Watch Veterans for a Strong America's advertisement below.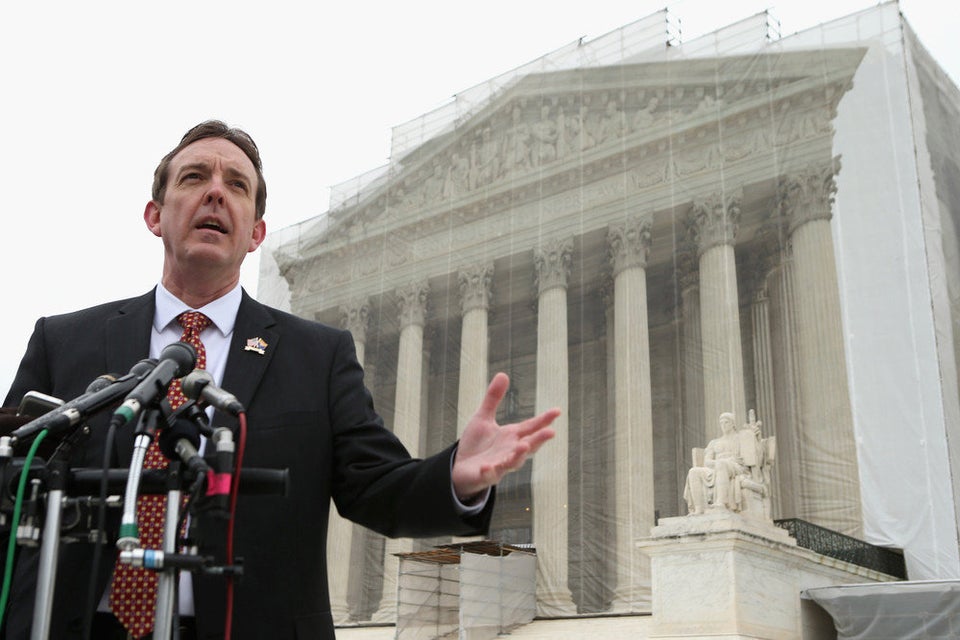 2014 Gubernatorial Challengers