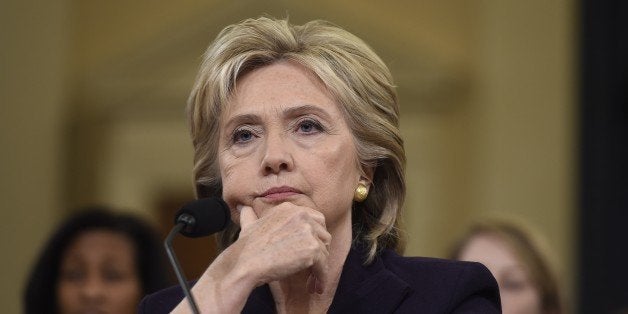 As a Clinton supporter, I had not been anticipating how helpful the Benghazi hearings would be.
Of course, not in the way intended. As confessed by the Republican leadership (oops, sorry, the Republicans don't really have a leader, do they?) -- Exit weeping, John Boehner; exit running, Kevin McCarthy; enter, maybe, Paul Ryan, tentatively, equivocally, contingently --- upon a promise that none of the extremists in his party continue threatening their foot-stomping spoiled child efforts to close the government), the hearings had one overriding purpose: to defeat Hillary Clinton's presidential bid.
News flash: the hearings demonstrated Mrs. Clinton as a consummately professional, well spoken, intelligent, and extraordinarily patient person. Throughout the six plus hour grilling, the former Secretary of State, U.S. Senator, and first lady proved to be so enormously better prepared than any of her political opponents to take on the challenge of the modern presidency that Donald Trump would be well advised to find some other outlet for wasting his disposable billions.
Secretary Clinton's answers were measured, showing a facility with language and logic that more than revealed why challengers in the Republican Party (Walker, Perry) and no party (Webb) have been dispatched from the race well before a single primary has begun. The attrition of partisan light weights to continue, and Mrs. Clinton's largest concern will be avoiding over-confidence over the far too long and costly presidential contest ahead. Indeed, any of those 150 super-wealthy-Koch-like folks watching the hearing on one of their many electronic luxuries might well downsize their pledge. Not a sufficient antidote to the distortions of Citizen United, but credit those crafty Republicans for effectively donating a day long right into prime time infomercial to the Clinton campaign.
There were many highlights for Hillary in the day's proceeding, but none more poignant than her mentioning an often neglected fact; that Ambassador Stevens and Sean Smith died of smoke inhalation in the so-called "safe room" whose purpose went unfulfilled because the professional designers had overlooked that these security facilities might contain their own undoing by being sealed too tightly, trapping black smoke from a diesel fuel terror attack. This is one of the lessons of the tragedy of Benghazi, and thanks to former Secretary Clinton, it is being addressed in our diplomatic presence worldwide.
Post-Benghazi (even in the midst of an Obama re-election effort), the Secretary had dutifully responded to every one of the Accountability Review Board (ARB) recommendations. No real surprise then when those hoping to skewer Hillary had so little to talk about. Even before my former colleague Chris Stevens could be appropriately memorialized, the hapless Republicans were beside themselves in anticipation of playing rank politics with inquiries into the handling of the attack. With candor, the errors that did occur were disclosed and responded to leaving the GOP to complain that Chris did not have Mrs. Clinton's personal email as Clinton family friend Sidney Blumenthal apparently did. But the work of foreign diplomacy is not about who can drop by the boss's house for pie and coffee, so, as Bernie Sanders or Larry David will no doubt continue to say for the amusement of every sane voter: "enough about your damn emails."
The Benghazi hearing's transparent libel left most of the serious questions about foreign policy unexamined. Had any of the Republicans been alert enough to alter their original game plan from the ad hominem, they might have stumbled across a few questions that warrant serious reflection from the Libyan experience, such as:
• Was the dearly missed, but famously optimistic Chris Stevens given too much leeway to assess the prospects for democracy in a land where virtually every stick of governing infrastructure had been decimated by Gaddafi?
• Is it in the interest of the United States not only to secure a fighting coalition in support of democracy as President Obama secured with France and NATO allies, but also the insistence that the prospects for a successful governing coalition exists as well?
• Congress might want to ask itself why for a half dozen years or more, the resource needs of our diplomatic missions in the Mediterranean have been ignored. these needs had been outlined by successive strategic plans. Want to know why there were no aircraft or other military assets that could have squelched or mitigated the terror attack? It's simple really; Congress left the needs of our defense forces in AFRICOM unfunded, meaning they had to be borrowed from the European command (EUCOM). Good luck getting the keys to the jeep; in any event, the AFRICOM mission had been so undernourished that until recently, its headquarters was located thousands of miles away in Stuttgart, Germany (NB to Donald, that is not in Africa);
• There were communication problems assessing the nature of the attack - and it had nothing to do with Mrs. Clinton or whether Susan Rice on Sunday talk shows gave more emphasis to the possibility of some of the shouting and violence outside the Benghazi facility prompted by a religiously tone-deaf anti-Islamic video or by other more sweeping grievances Muslim fundamentalists recite about decadent and libertine America. No, for reasons unclear, our AFRICOM commanding General at the time, by self-admission, was under the misimpression that the Ambassador had not been targeted for violence, but for kidnapping. That was a very unfortunate miss-assessment, and the commanding general may have resigned for it. (He left the military early less than a week later and well before retirement age). To the extent, the Departments of Defense was not understanding the nature of the threat, it would have been impossible to respond successfully even if expensive military assets were in the backyard;
• Some members of Congress noted that there is typically only a tiny military presence - a nonetheless greatly valued one -- of Marines in each embassy. Congress has not supplied funding for more, even in some high threat environments. As a consequence, embassies have to hire their security staff from the nationals of the country that the embassy is in. In many places around the globe, the U.S. is held in high esteem and it is a point of pride for local people from the host country to be employed by the American mission. This was not (yet) apparent in Libya leaving Chris Stevens to hire an untested group of people at modest wage to fend off bands of terrorists. Chris was naturally troubled by this (he was courageous, not stupid). When we discussed this Chris envied the talent and esprit d' corps of my locally employed staff in Malta, where my service in the State Department partially overlapped in part with his. Indeed, he stayed in Malta briefly with my embassy country team as we outfitted his journey to Libya, two hundred nautical miles north. With characteristic wit, Chris teased that while I was packing his gear, he was secreting my staff onto the Greek fishing freighter we deployed for his unnoticed travel for the sensitive, mid-war evaluative work in Libya that would ultimately lead to Gaddafi's demise;

Of these important matters, the Republican Benghazi inquisitors had little, if anything, to say. Some may proclaim this as proof the committee was not worth the millions of dollars expended on it.
I beg to differ. The hearings might as well have been labeled: Republicans for Clinton as they allowed the entire world to see the stark difference between Hillary Clinton and her opposition. It should now be clear, Hillary's opposition would compare unfavorably with the hapless Chicago Cubs. At least the Cubs had the ivy swallow an occasional Mets fly ball or deftly delivered their own long ball out of the park. By contrast, the right wing Benghazi boys and girls lacked even an innings worth of decent play. As Cub fans born a short distance from the Cubs' "friendly confines, "I suspect Mrs. Clinton shared my own disappointment at Chicago's sad 4 game obliteration at the hands of the Mets. Of course, these tiresome partisan hearings likely consumed any TV time she might have devoted to the boys in blue. Just as well, for while Cub fans for a century have mastered the stiff upper lip of "there is always next year," for Hillary, those words are almost certainly true - as next year, America will make Hillary Rodham Clinton, president-elect.
And when that glass ceiling underestimating and discriminating against women falls for good, the Benghazi hearing-masterminds can reminisce how their shallow partisanship helped seal the deal year early.
Calling all HuffPost superfans!
Sign up for membership to become a founding member and help shape HuffPost's next chapter