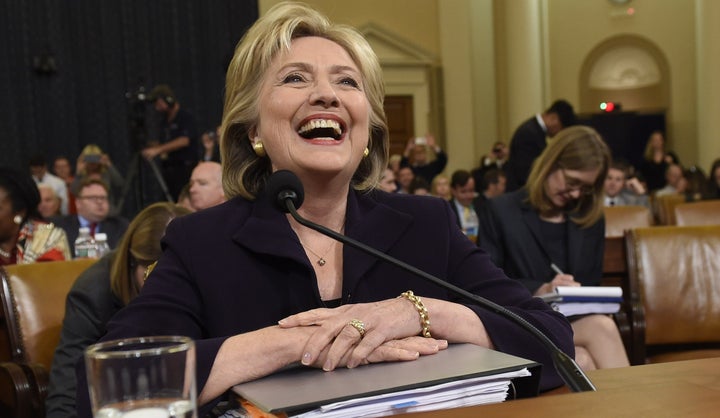 WASHINGTON -- Hillary Clinton maintained a calm, unruffled demeanor for 11 hours Thursday, as Republican after Republican grilled her in relation to the 2012 terrorist attack in Benghazi and about her use of a private email server as secretary of state.
"So far today, I've said, 'good morning,' 'good afternoon,' 'good evening.' So let me go ahead and say, 'good night,'" Rep. Lynn Westmoreland (R-Ga.) said around 8 p.m., acknowledging that the hearing had begun at 10 a.m. (with some short breaks throughout the day).
Despite the long hours, Republicans failed to catch Clinton off her guard or come up with significant new revelations to argue that she was negligent in her duties that led to the death of four Americans in Libya.
Her appearance is likely to give her a boost with the base, especially coming off from a strong performance after the first Democratic debate last week. Republicans weren't able to score any major hits and knock her off her feet, and Clinton showed she had the stamina to withstand the GOP attacks -- a fact that Republican lawmakers grudgingly seemed to acknowledge.
Indeed, many of the members seemed more exasperated than Clinton as the day wore on.
"I don't know what we want from you," ranking member Rep. Elijah Cummings (D-Md.) said, his voice rising during hour 10 of the hearing. "Do we want to badger you over and over again until you get tired, until we do get the 'gotcha' moment that he's talking about? We're better than that. ... We're better than using taxpayer dollars to try to destroy a campaign. That's not what America is all about. So you can comment if you like. I just had to get that off my chest."
There were plenty of pointed exchanges throughout the day. Rep. Peter Roskam (R-Ill.) called Clinton the "chief architect" of U.S. Libya policy and laid the whole mess at her feet. Rep. Mike Pompeo (R-Kan.) said he was baffled that Clinton didn't give out her home phone number and home address to Ambassador Christopher Stevens, who died in the attacks, while her longtime friend and adviser Sidney Blumenthal did have that information.
When Clinton found a moment to laugh after about nine hours of testifying, Rep. Martha Roby (R-Ala.) chastised her for thinking it was a joking matter. Roby asked Clinton about the night of the attack, when Clinton left her office and went to her home in Northwest Washington:
ROBY: Who else was at your home? Were you alone?

CLINTON: I was alone, yes.

ROBY: The whole night?

CLINTON: Well, yes, the whole night. [Laughter]

ROBY: I don't know why that's funny. Did you have any in-person briefings? I don't find it funny at all.

CLINTON: I'm sorry, a little note of levity at 7:15 [p.m.]. Noted for the record.
But some of the most heated debates were between the Republican and Democratic lawmakers, who disagree about whether the committee should exist at all.
Indeed, the opening statements of Cummings and Rep. Trey Gowdy (R-S.C.), the committee's chairman, both focused on intra-committee politics. Gowdy tried to argue why, although there have been seven other investigations into Benghazi, his is still necessary. Cummings called for Congress to disband the committee.
"It is time now for the Republicans to end this taxpayer-funded fishing expedition," Cummings said. "We need to come together and shift from politics to policy. That's what the American people want, shifting from politics to policy."
Clinton was the only one who actually spent her entire time discussing the 2012 terrorist attack in Benghazi.
Their disagreement reached its height right before the committee broke for lunch.
Gowdy focused his aggressive questioning of Clinton on why she took foreign policy advice from Blumenthal, who frequently emailed his thoughts to her even though he didn't work for the State Department.
The committee has already interviewed Blumenthal -- for nine hours -- although it was behind closed doors. Cummings has repeatedly called on Gowdy to make the transcript public, arguing it would show that Republicans are more interested in going after Clinton for partisan purposes than in getting to the bottom of the Benghazi attack. He renewed his demand on Thursday.
"I move that we put into the record the entire transcript of Sidney Blumenthal," Cummings said, his voice rising. "We're going to release the emails, let's do the transcript. That way the world can see it!"
Clinton, meanwhile -- no doubt happy to have a break from answering questions -- seemed to enjoy the entire exchange, often smiling and nodding.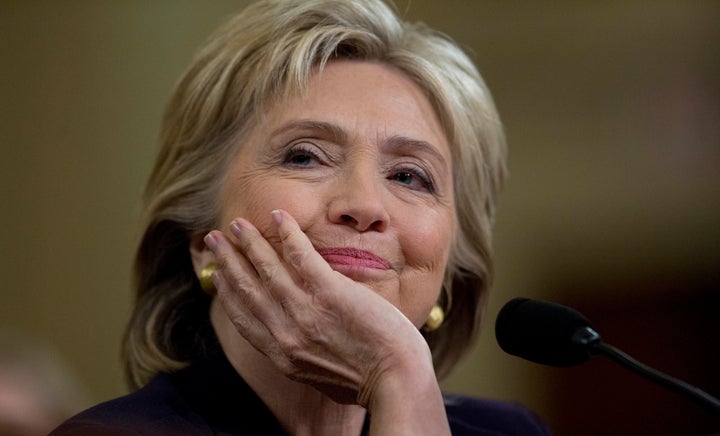 Gowdy has been straining to save his committee's reputation since late last month, when House Majority Leader Kevin McCarthy (R-Calif.) implied that the investigation was political and applauded it for damaging Clinton's presidential prospects.
Since then, the hits have kept on coming, with another Republican lawmaker and a former GOP committee staffer saying the intent was to go after Clinton. Gowdy also had to return campaign donations from the Stop Hillary PAC, a group that aired a controversial ad about the Benghazi attack.
The Benghazi investigation has lasted 17 months and cost more than $4.5 million.
In total, Congress has held 21 hearings on the Benghazi attacks in which four Americans died, across the various investigations. In contrast, it held 22 hearings looking into what happened on 9/11, where 3,000 people died.
Then-President George W. Bush and Vice President Dick Cheney spoke for just three hours during a private session to the 9/11 commission in 2004.
Most of the Benghazi committee's questions to Clinton in the first half of the day did focus on the attacks, aside from the mentions of Blumenthal by Gowdy and a couple of other members. That, however, changed when the committee came back in the afternoon, as Gowdy warned before adjourning.
"If you think you've heard about Sidney Blumenthal so far," Gowdy warned before gaveling for lunch, "wait until the next round."
When the committee returned, it voted against releasing Blumenthal's transcript on a party-line vote. The second half of the day focused extensively on Clinton's emails and Blumenthal's access to the secretary of state.
Clinton's calm, measured demeanor throughout the hearing was modeled on the recent appearance of Planned Parenthood President Cecile Richards before the House Oversight Committee, who also walked away relatively unscathed after hours of testifying.
Clinton occasionally appeared bemused as Republicans picked up the pace and aggressively questioned her.
Rep. Peter Roskam (R-Ill.) tried to make Clinton look unprepared, repeatedly pointing out that she was looking at notes during her testimony.
"I can pause while you're reading your notes from your staff. ... I'm not done with my question. I'm just giving you the courtesy of reading your notes," said Roskam, who consulted notes during his questioning.
"That's all right," Clinton replied, making clear she was able to do more than one thing at a time.
As expected, Democrats used much of their time to either attack the committee for being partisan or to ask Clinton softball questions, allowing her more time to give answers and explain her point of view.
Rep. Adam Schiff (D-Calif.), for example, gave Clinton the opportunity to respond to accusations that she deliberately interfered with security that could have saved Stevens' life.
"Well, congressman, it's a very personally painful accusation," Clinton replied. "It has been rejected and disproven by nonpartisan, dispassionate investigators. ... I would imagine I've thought more about what happened than all of you put together. I've lost more sleep than all of you put together. I have been wracking my brain about what more could have been done or should have been done."
CORRECTION: This article originally stated that Bush and Cheney testified before the 9/11 commission in 2004. They actually never went under oath, and there was no recording of the session.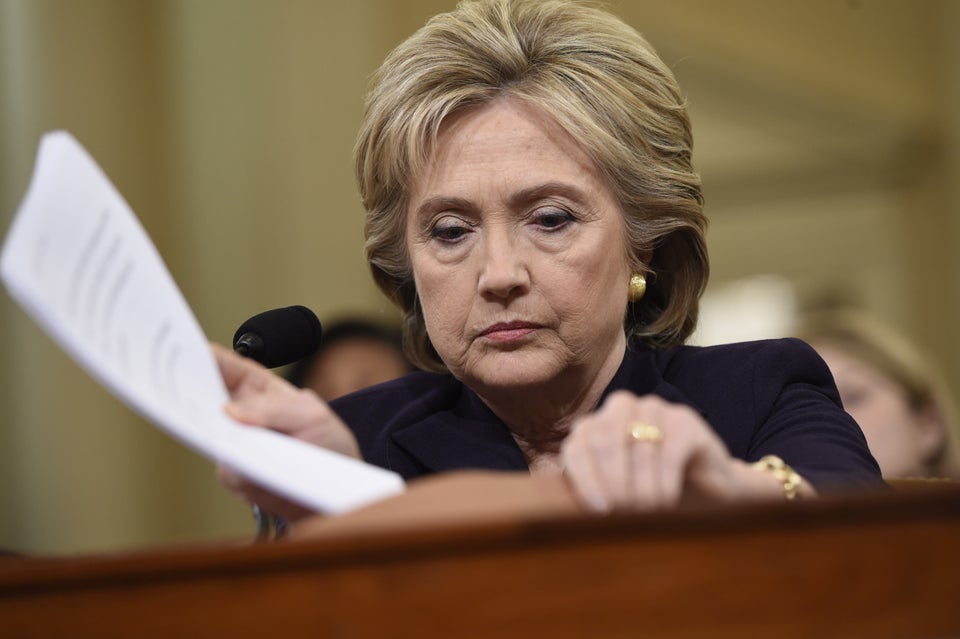 Here Are Hillary Clinton's Many Facial Expressions During Her Benghazi Committee Testimony
Popular in the Community