The House Select Committee on Benghazi has spent much of Thursday's hearing with Hillary Clinton discussing matters related and semi-related to the 2012 attack.
Topics have veered from the failure of the State Department to respond to security requests to the communication habits of Clinton's longtime confidant Sidney Blumenthal. In fact, Blumenthal has come up quite a lot. 
A Washington Post transcript of the first session of the hearing (it could run four sessions total) shows that his name was mentioned 49 times, in such contexts as: 
"You got a lot of e-mails from Sidney Blumenthal."

"[Y]ou say that Mr. Blumenthal was a friend of yours."

"Mr. Blumenthal wrote you 150 e-mails."
"Sidney Blumenthal's drivel"
Compare that to other notable names and key words, per the Washington Post transcript:
"Obama" -- as in the president -- seven mentions

"Stevens" -- as in the late Ambassador Chris Stevens -- 

49 mentions

"Chris" -- just his first name with nothing else -- 

16 mentions

"Benghazi" -- as in the site of the attack -- 

139 mentions
"

e-mail" -- in reference to the private account that Clinton had -- 

118 mentions
The word "security" came up 124 times, although not always in the context of the attack. More specifically, the phrase "security requests" came up nine times, "security personnel" came up five times, "security specifications" came up once, "additional security" came up five times, "diplomatic security" came up 25 times, and "security officers" came up eight times.
Here is a word cloud summarizing the early morning session because ... why not.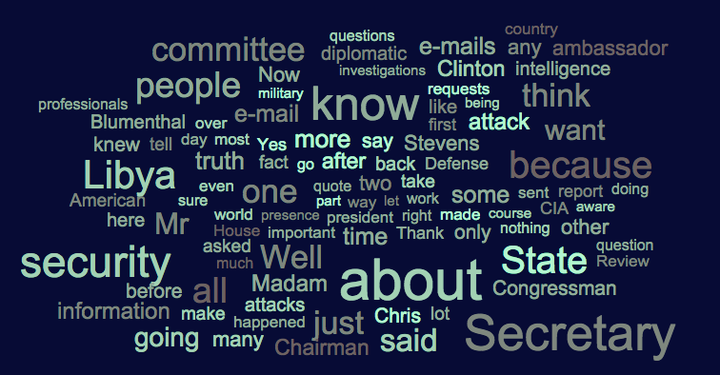 Calling all HuffPost superfans!
Sign up for membership to become a founding member and help shape HuffPost's next chapter