 ISTANBUL -- In early January, as a violent rebellion flared across South Sudan, the world's youngest country, the U.S. State Department announced that it would contribute $50 million to emergency programs to alleviate the suffering.
The money, which brought America's humanitarian commitment to the troubled nation to more than $300 million (it is now over $400 million), would be allocated by the U.S. Agency for International Development to local aid organizations and United Nations agencies to help combat food and water shortages, improve medical conditions, and "support reunification of families separated by the fighting," according to a USAID press release.
It was a welcome gesture for a country in crisis, but there was one small problem: Almost all of the American officials responsible for managing those funds were 7,000 miles away, in a temporary office in Washington, D.C.
In the days prior to the announcement, U.S. officials had been evacuated from the embassy in the capital of Juba, along with the rest of the mission's "non-emergency personnel" -- a move that for the next few months would leave Juba with as few as one American staffer from USAID and a "skeletal" selection of other diplomatic officials.
The decision to empty out the embassy in Juba came amid a frenzy of violence in South Sudan, including rebel attacks on the capital itself, which officials say left embassy staff in grave danger. Four American service members were wounded by gunfire during the evacuation itself.
But the move was also made, several current and former U.S. officials with Africa experience say, in an atmosphere colored by the ongoing political fallout from the September 2012 attacks on a U.S. diplomatic mission in Benghazi, Libya, which left four Americans dead and caused a surge of partisan outrage on Capitol Hill.
Those attacks, which today are the subject of yet another round of congressional investigations, prompted significant self-examination within the State Department, as well as the dismissal of four officials over their failures to heed warnings about shortcomings in the safety precautions at the U.S. mission.
Africa experts and former officials say the politicized uproar from Republicans in Congress over parts of the controversy not directly related to safety -- like a set of White House talking points -- has created another consideration for bureaucrats and political appointees who weigh the risks of maintaining a diplomatic presence in dangerous places: the fear of being dragged before a congressional hearing or pilloried on the Sunday morning talk shows should anything go wrong.
"The shadow of Benghazi hangs over all of these conflicts," said Cameron Hudson, the director of the Center for the Prevention of Genocide at the U.S. Holocaust Memorial Museum, and a former State Department Sudan policy official. "In the era of Benghazi, especially when there was some personal accountability, there's fear of sticking your neck out. Nobody wants to be the guy that okays some measure of risk, because if it does go south, you're the guy who's going to be called before a Senate hearing. It's always easier to just deny the request."
Hudson and other Africa watchers said the political controversy over Benghazi has affected the State Department's response to spiraling crises in South Sudan and in the Central African Republic -- another nation currently undergoing near-genocide levels of violence -- resulting in a heightened impulse for caution that seems to have restricted American action. The embassy in CAR was shut down in December 2012, three months after the Benghazi attacks.
No one interviewed by The Huffington Post seriously challenged the decisions to evacuate staff from the embassy in Juba, or to take urgent precautions at the start of the crisis in CAR. But they did argue that in the current political environment, the decision-making process has been clouded by an artificial incentive to choose safety over purpose, and a diminished tolerance for risk.
"It's really hard to sit on the outside and second guess these decisions," said Kate Almquist Knopf, who served as the Sudan mission director for USAID in the mid-2000s. "It's not necessary for Americans to die to help South Sudan."
But, she went on, "You clearly have to decide to be there in spite of those risks if you are going to be there at all."
"Ambassadors have long been charged with making these security calls, and they need to continue to be in charge," she said. "The hyper-political environment in Washington -- it inhibits the ability of ambassadors to do that. It's a really challenging situation, and I think Benghazi has only made those choices more difficult."
Meanwhile, the experts and former officials said, once the safer choice has been made -- to evacuate an embassy, for example -- it can prove frustratingly difficult to undo.
Five months after being pulled from Juba, for instance, the American diplomatic presence in South Sudan has not yet been fully restored, although a small, emergency task force of USAID officials has returned. And in CAR, the U.S. still has no functioning embassy; to re-open one there would make it the first U.S. embassy to do so in a conflict zone since the Benghazi attack -- a significant political hurdle, observers say.
The effects of political sensitivities on procedural decisions "are real," said Mark Yarnell, a senior advocate at Refugees International, who visited both CAR and South Sudan in March. "The process is moving along in terms of working to reopen the embassy [in CAR], and there's interest in doing it. But it's happening much more slowly than it might be under different circumstances. I don't think anybody wants to be responsible for a security incident for reopening too soon."
Matt Herrick, a spokesman for USAID, declined to discuss the impact of Benghazi on his agency's decision-making, but said the current task force in South Sudan "closely engages with the United Nations, NGOs and other donors to advocate for a well-coordinated and robust humanitarian assistance operation." The rest of the team is divided between Nairobi and Washington. USAID conducts its operations in CAR through "partners that are on the ground," he said.
In the meantime, U.S. officials have recently attempted to compensate for the lack of an ongoing physical presence in South Sudan through high-level phone calls and prominent visits. And some important accomplishments seem to have emerged, including a peace deal -- the second this year, inked Friday following talks with Secretary of State John Kerry. But experts say that sort of drop-in diplomacy can never fully replace regular, daily contacts, which the crises in both nations will inevitably require.
"The biggest thing is this cosmic idea of being present," said Hudson, who noted that vital diplomatic efforts like conflict mitigation and peace talks also suffer in the absence of constant, on-the-ground attention. "You're trying to tell the people of South Sudan, 'We're with you,' but it sends a bit of a mixed message to say, 'We're with you -- but from Washington. We're just not with you there.' Ninety percent of everything in the world is showing up, right? When you aren't there, that sends a message, no matter how well intentioned you are."
Meanwhile, the international humanitarian response to both crises has been greeted with criticism. Last month, the prominent aid group Doctors Without Borders described the UN's haphazard response to the tragedy in South Sudan as "shameful."
Knopf says that as hard as her former colleagues are surely working from Washington, the longer they have to conduct the bulk of their job by "remote control," the harder it becomes to do it effectively.
"When aid officers can't move around, can't talk to the South Sudanese, can't assess the situation for themselves, they can't do their jobs," she said. "Programs were underway that had been designed to meet certain objectives, and all of that changed in December. If you're not there, you can't redesign your programs, you can't recalibrate, you can't speak with your partners. If you want to be sure that you're meeting actual needs and not what we think might be the needs, you have to be there."
The recent crises in South Sudan and CAR coincide with the 20th anniversary of the genocide in Rwanda, Hudson notes, an event that saw a massive and preemptive withdrawal of U.S. personnel -- a move that was later judged to be a mistake.
"Since Rwanda there has been 20 years of lessons learned and handwringing," he said. "And yet, 20 years later, here we are, doing it again -- in CAR, in South Sudan. Closing embassies, reducing our presence at the very moment when we should be redoubling our efforts. So it's a lesson that we haven't internalized -- or it's just been erased by Benghazi."
Support HuffPost
The Stakes Have Never Been Higher
Before You Go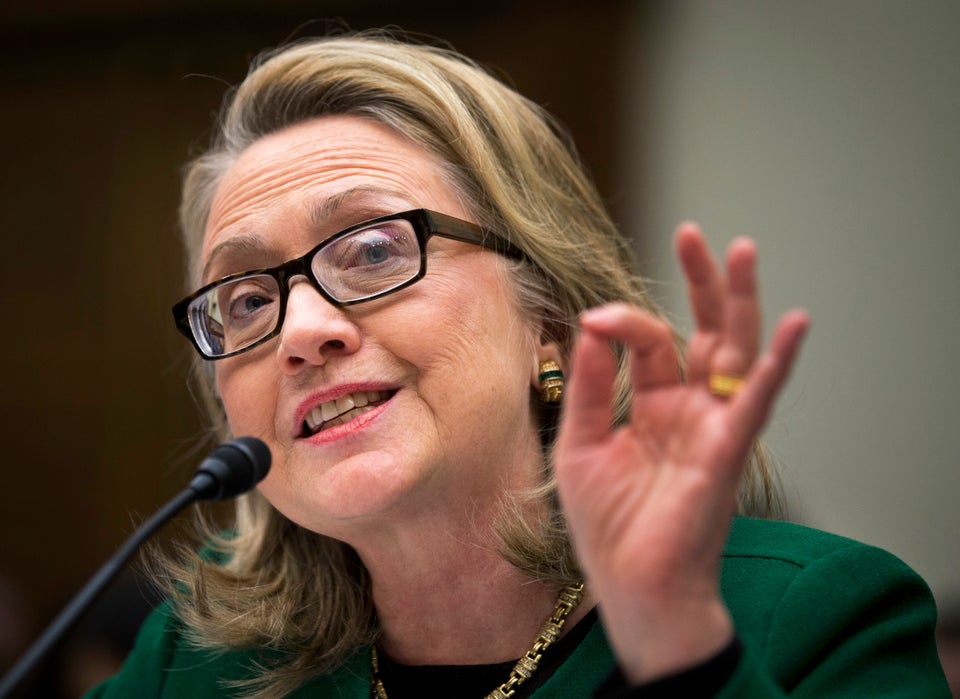 Hillary Clinton's Benghazi Hearing
Popular in the Community