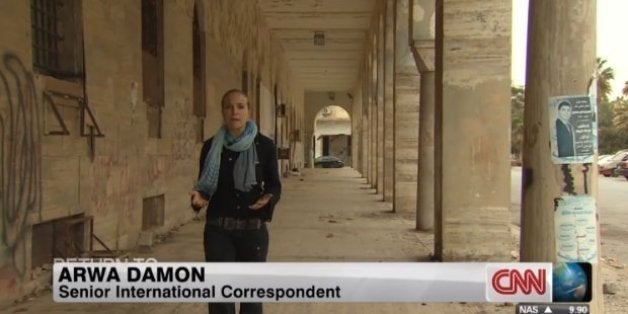 NEW YORK -- Ahmed Abu Khattala, the terror suspect apprehended Sunday by U.S. special operations forces, may have eluded capture by the U.S. government for 21 months, but he certainly didn't hide from the media.
Since the 2012 attack in Benghazi, Libya, that left four Americans dead, Abu Khattala has given interviews to The New York Times, Reuters, CNN, Fox News, CBS News and the Times of London.
The question of timing immediately became a hot topic on cable news following reports of his capture. And during Tuesday's press briefing, Pentagon spokesman John Kirby was asked why it took so long to capture Abu Khattala, given that he seemed to be living out in the open and meeting frequently with journalists.
"Terrorists go to great lengths to evade capture," Kirby responded. "It can be a complicated process trying to get at them. You don't ever want to execute a mission like this, a complicated mission like this, without having the proper information and resources all in place.
"What matters is not that it took a matter of time to get him," he added, "but we got him."
Khattala's interviews with reporters began just over a week after deadly attack, which took place on Sept. 11, 2012.
On Sept. 19, CBS News correspondent Elizabeth Palmer reported that she met with a "prime suspect" at a Benghazi hotel over mango juice. She didn't mention Abu Khattala by name during that broadcast, but she later reported meeting with Abu Khattala in an Oct. 18 article.
Abu Khattala, who was reportedly in hiding at that time, also met on Oct. 18 with both New York Times and Reuters reporters separately at a Benghazi hotel.
"These reports say that no one knows where I am and that I am hiding," Abu Khattala told Reuters reporters Hadeel Al Shalchi and Ghaith Shennib at the time. "But here I am in the open, sitting in a hotel with you. I'm even going to pick up my sister's kids from school soon."
Abu Khattala told Reuters that while he was at the scene of the attack on the U.S. consulate, he was directing traffic. He made similar claims in other interviews.
When Abu Khattala met with Times reporter David Kirkpatrick, he didn't seem concerned about being out in public.
Kirkpatrick wrote that just days after President Barack Obama "reasserted his vow to bring those responsible to justice, Abu Khattala spent two leisurely hours on Thursday evening at a crowded luxury hotel, sipping a strawberry frappe on a patio and scoffing at the threats coming from the American and Libyan governments." (Kirkpatrick wrote about Abu Khattala again in his Dec 2013 investigation of the attack.)
Abu Khattala also met with Fox News correspondent foreign correspondent Greg Palkot in Oct. 2012 and spent a couple hours with CNN senior international correspondent Arwa Damon in a Benghazi coffee shop 10 months later. In Oct. 2013, Anthony Lloyd, a reporter with the Times of London, interviewed Abu Khattala over tea and biscuits at his home, located 10 minutes from central Benghazi.
In December, The Washington Post reported on how U.S. efforts to capture Abu Khattala had stalled following fallout from a separate raid in Tripoli, the Libyan capital. Officials told the Post at the time that a U.S. raid to capture Abu Khattala could topple the fragile Libyan government.
Following Tuesday's news of the capture, Palkot said on Fox News that he conducted an off-camera interview with Abu Khattala just over a month after the Benghazi attack. "It was not too hard to get in touch with him," Palkot said.
Over on CNN, Damon similarly said "it wasn't that difficult" to reach Abu Khattala, adding that he was "not a man who appeared to be concerned for his security."
Later on the "CBS Evening News," Palmer also recalled her meeting with Khattala.
She said Khattala expressed confidence, telling her that "if the Libyans want to come and arrest me, they know where I live."
This article was updated after publication to mention a CBS News interview with Abu Khattala and include Palmer's remarks.
Calling all HuffPost superfans!
Sign up for membership to become a founding member and help shape HuffPost's next chapter