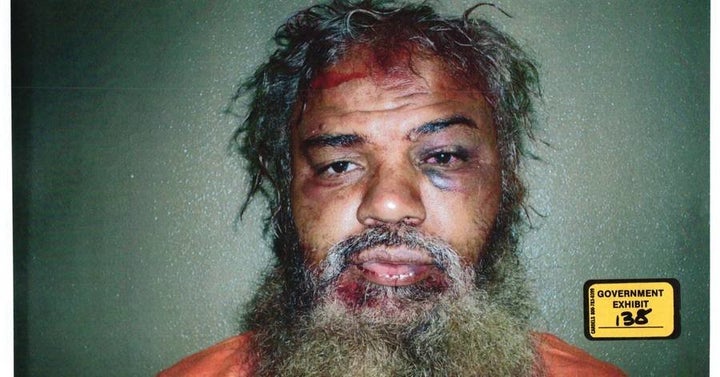 WASHINGTON ― Federal prosecutors here Thursday closed out their case against Ahmed Abu Khatallah, the alleged ringleader of the deadly 2012 terrorist attack on a U.S. compound in Benghazi, Libya, that killed four Americans, including an ambassador.
"The defendant is guilty as sin, and he is a stone-cold terrorist," said federal prosecutor Julieanne Himelstein, in her rebuttal to the defense that would be the last thing the jury would hear before deliberations. Himelstein passionately described slain Ambassador Chris Stevens as "our son," using the same term for the three others killed in the attack.
Although the 2012 attack in Benghazi became a national focal point in the lead-up to Hillary Clinton's campaign for president last year, the federal trial against Abu Khatallah has drawn little attention in recent weeks. The U.S. government captured Abu Khatallah in 2014, and he made his first court appearances under tight security. After his capture, some congressional Republicans said that Abu Khatallah should be sent to Guantanamo Bay. But unlike the slow, troubled military tribunals in Guantanamo, the federal trial against Abu Khatallah has moved along at a relatively steady pace.
While placing a foreign terrorist on trial in a federal "civilian" court has been controversial since the beginning years of the Obama administration, the closing arguments in the Abu Khatallah trial felt pretty routine. The trial has unfolded at a federal courthouse near the Capitol with little, if any, disruption to the court's everyday proceedings, even moving forward during the media circus surrounding former Trump campaign manager Paul Manafort's recent appearances in a separate case.
Now in its seventh week, the trial has at times been pretty mundane. On Thursday, the judge called a break when he saw jurors "fidgeting" during the federal prosecutor's long and winding closing argument.
"Let's try to bring it home, OK?" U.S. District Court Judge Christopher R. Cooper told federal prosecutor Michael DiLorenzo.
DiLorenzo told jurors that the government had proven beyond a reasonable doubt that Abu Khatallah was responsible for the deaths of Stevens, U.S. Foreign Service Officer Sean Smith, and CIA contractors Tyrone Woods and Glen Doherty.
"Ladies and gentlemen, he hates America, and that's why he committed this attack," DiLorenzo said. "He was there to attack the mission facilities. He was there to kill Americans."
Abu Khatallah, who has remained incarcerated since his arrest, sat in blue prison garb listening to the proceedings. His attorney, federal public defender Michelle Peterson, argued that federal prosecutors didn't have the proof they needed and were instead trying to paint Abu Khatallah as someone jurors should despise.
"They want you to hate him ― that's what this case is about," Peterson told jurors. "He doesn't hate America; there's no evidence of that."
Peterson said her client had been "clumped over the head," hoisted up on a ship "like a slab of meat," blindfolded and gagged when he was taken into custody. So perhaps there was a reason the comments that he made during an interrogation after his capture weren't particularly sympathetic to the slain Americans, Peterson suggested. She said there's no evidence that Abu Khatallah planned the attack.
"He didn't start the fire. He didn't shoot the mortars. There's no evidence that he was the mastermind behind anything," she said.
Peterson also told jurors that Abu Khatallah's ideology isn't relevant to whether he's guilty. He might not have wanted Americans spying in his home country, she said, but there are plenty of Americans who don't think Russia should be spying in the United States, for example. His religious beliefs also shouldn't come into play, Peterson argued.
"Shariah law is not equivalent to terrorism," she said. "Wanting Shariah law in your own country is not a crime ... There's no evidence he was trying to export Shariah law anywhere else; he was a Benghazi man through and through."
The witnesses against Abu Khatallah, Peterson argued, were motivated because they were given "bags of cash" by the government. The star witness against Abu Khatallah, who testified under a pseudonym, was paid $7 million by the U.S. government, and has since been relocated to Texas. He testified that, after gaining Abu Khatallah's trust, the suspect told him he intended to kill "everybody" at the compound.
The informant testified that at one time he suggested to the U.S. government that he kill Abu Khatallah himself. If he was willing to kill for the U.S. government, Peterson suggested, wouldn't he be willing to lie for the U.S. government as well?
She urged the jury to find reasonable doubt to convict Abu Khatallah, arguing there were plenty of reasons to doubt that he committed the crime. "We don't have to prove anything. If there's something missing, it's not on us," she said. She argued that Abu Khatallah simply went to the compound to see what was going on, and that he didn't take part in the attack.
Himelstein, the assistant U.S. attorney who offered the rebuttal to the defense team's closing arguments, made an emotional appeal to the jurors. She described Stevens as a "beautiful humanitarian" who was beloved by Libyans.
"How dare you?" Himelstein said at one point, in a comment apparently directed at Abu Khatallah. "How dare he?"
The defense team objected to Himelstein's statements at several points during her argument, and she was once asked to approach the bench after she made a comment that seemed to be directed at Abu Khatallah's lawyer.
Cooper told the jurors to come back on Monday morning to begin their deliberations.
A few years ago, it would have been tough to imagine a quiet end to the Benghazi trial. Clinton was secretary of state at the time of the attack, and expressed regret that security wasn't in place that could've prevented the deaths. Several intensive congressional investigations ran up bills in the millions, and investigators found no evidence of wrongdoing on Clinton's part. Yet polls ahead of the election last year found that 90 percent of Donald Trump supporters believed that Clinton "definitely" or "possibly" was warned of the attack and did nothing to stop it.
Benghazi was a major focus of the 2016 Republican National Convention, with organizers dedicating more than 30 minutes of stage time to the topic. As Erik Wemple wrote at The Washington Post last week, the Benghazi trial currently has minimal airtime at Fox News, which had closely covered the trial (and, more specifically, Clinton's involvement) since the 2012 attack.
Trump has complained about the slow process in federal courts, and floated the idea that the man arrested in a terrorist attack in New York last month be sent to Guantanamo, calling the federal judicial system a "joke" and a "laughingstock." But he quickly reversed himself, tweeting that going through the Guantanamo system would be much slower than the federal court system.
The 2012 attack on two U.S. facilities in Benghazi was carried out by members of the militant group Ansar al-Sharia. The attackers used guns and rocket-propelled grenades, and set fires. The government initially believed that the attack grew out of protests surrounding the release of an anti-Muslim film, though it later became clear that the attack was planned ahead of time.
Ryan Reilly is HuffPost's senior justice reporter, covering criminal justice, federal law enforcement and legal affairs. Have a tip? Reach him at ryan.reilly@huffpost.com or on Signal at 202-527-9261.
Popular in the Community