 Three months after President Barack Obama announced some undocumented young people would be granted work authorization and deportation reprieve, Democrats gave them another big acknowledgement: a speaking slot at the Democratic National Convention.
Benita Veliz, a 27-year-old who came to the United States as a child, became the first-ever undocumented immigrant to speak at a party convention when she introduced Obama endorser Cristina Saralegui to the stage Wednesday night.
Although Veliz spoke for only about two minutes, her speech was considered a major nod to the importance of immigration reform.
Veliz spoke about her own story, graduating high school as a valedictorian when she was 16 years old and then college at the age of 20.
"I feel just as American as any of my friends or neighbors," Veliz said. "But I've had to live almost my entire life knowing I could be deported just because of the way I came here."
Veliz herself could benefit from the new Obama policy to grant work authorization and temporary deportation reprieve for some young undocumented immigrants, as she described, saying she and others can "work, study and pursue the American dream" as they push for further reform. Veliz already avoided deportation once, according to a statement from advocacy group United We Dream. She entered deportation proceedings after a police officer arrested her for failing to come to a complete stop at a stop sign, but she was later released under pressure from immigrant advocates.
Obama restated his support for the Dream Act, which would permanently address legal status for young undocumented immigrants, in a video appearance just before Veliz spoke. He said he will continue to push for the bill because it is "the right thing to do."
Rep. Luis Gutierrez (D-Ill.), one of the strongest proponents in Congress for immigration reform, told reporters earlier Wednesday that the decision to include an undocumented woman showed the party's commitment to passing a comprehensive immigration bill.
"The fact that they're going to allow young people -- undocumented people to come and speak at this convention is an indication of the future," Gutierrez said, before his own speech at the convention.
Gutierrez pointed out that enthusiasm for the president is up after his deportation deferral decision, and he doesn't expect that to change. He added that Republicans will "take a shellacking in this election" from Latinos that oppose Republican nominee Mitt Romney on immigration (among other things).
"There is one area where this election is not going to be close. Barack Obama is going to be a hands-down favorite in the Latino community," he said. "Barack Obama will get over 70 percent of the Hispanic vote."
Saralegui urged Latinos to remember Romney's views on immigration when they go to the polls. "Governor Romney's views -- his really freak me out," she said, while asking Latinos to register to vote.
"If you want to understand the values of the two candidates, all you have do is think about Benita, the lady who introduced me," Saralegui said. "Governor Romney calls young people like her 'illegal aliens.' President Obama calls them 'dreamers.' That is the difference in this election."
Veliz got a phone call last week from the Obama campaign asking her to represent DREAMers at the convention, she told HuffPost in a telephone interview following her remarks at the convention. "I was definitely very nervous, very honored and very humbled," she said.
"I almost felt redeemed for all of those years and all of those moments when I wanted to give up on my dream. Tonight was just a reminder that in America our dreams really do come true," she said. "It was clearly a message that DREAMers need to remember, that fighting for your dream is worth it."
Although she didn't mention Romney or the Republican Party in her speech, Veliz said she is concerned about what the candidate would do for Dream Act-eligible young people if he became president.
But she said she expects pressure to continue to grow on Republicans to support the Dream Act. The fact that Democrats chose to have a DREAMer speak is "an indication of how much we really need to pass the Dream Act," she said.
"It just really highlights how our nation is changing," she said. "We have to pass the Dream Act, because our nation recognizes that DREAMers have a voice. DREAMers have influence in our communities to the point that we're given a platform at the Democratic National Convention."
Before You Go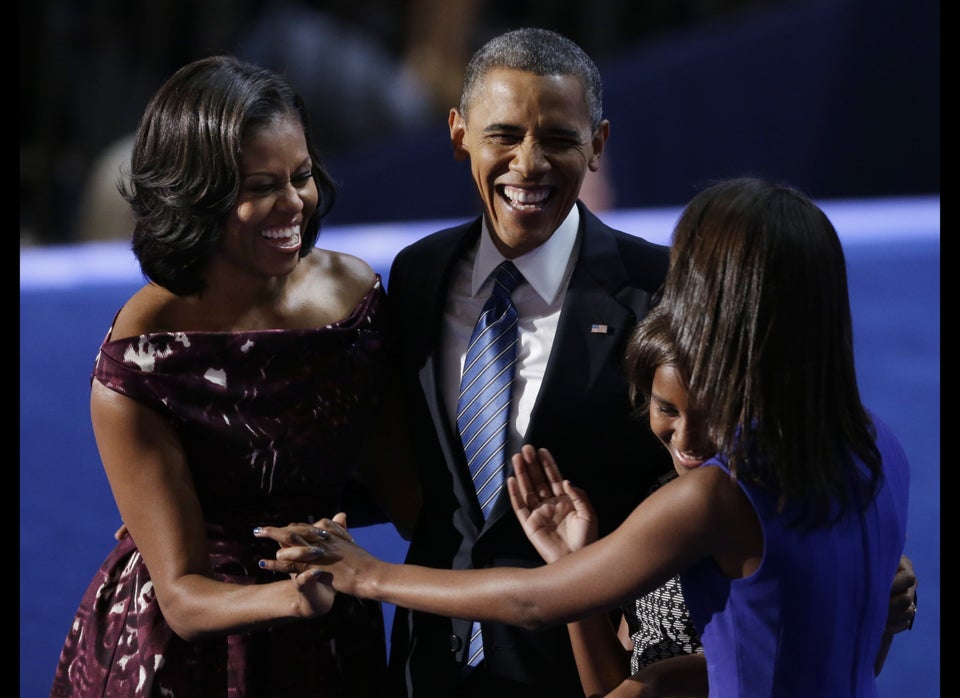 Obama Rocks Democratic Convention
Popular in the Community