This Friday and Saturday, July 28 and 29 at 7:30pm, San Francisco Symphony presents Pictures at an Exhibition with guest conductor Juraj Valčuha, Music Director of the Teatro di San Carlo in Naples. The program includes selections from Maurice Ravel's 1922 orchestrations of Mussorgsky's 1874 piano works, Pictures from an Exhibition; and Alexander Glazunov's Concert Waltz No. 1. Tchaikovsky's Violin Concerto, Op. 35, will be performed by Benjamin Beilman. From a theatre actor's perspective, this is the greatest "role" among all the violin concertos composed in D major.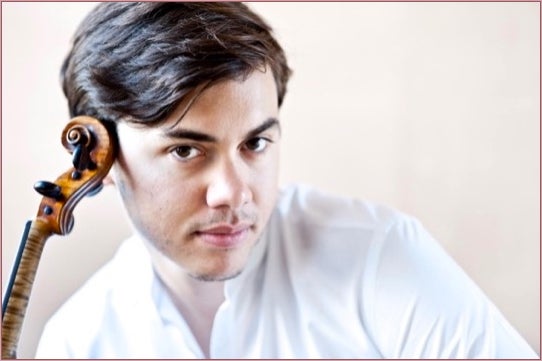 "That is actually a very succinct way of thinking about it," said Benjamin. "For most pieces, there is a clear narrative. Obviously, there are some exceptions. But you do have to become very much an actor onstage. For me, the overarching sort-of character – especially in the first movement and a bit in the last movement – is one that's bursting, bubbling with anticipation and excitement. The piece is a masterwork on its own, but what I find so great about it is that you have this ability to combine what seem like episodic and very distracted elements. Even in the first measure – it is very simple, legato and smooth. But Tchaikovsky goes between polar opposites within a bar or two. Somehow, as you're playing, you feel this incredible current running under your feet – that it has this inevitable drive. He combines the almost distracted nervous energy with this unbelievable sense of assurance at the core of it."
Tchaikovsky completed the Violin Concerto around mid-April 1878 when he retreated to Clarens, Switzerland – fleeing the madness of an obviously-doomed marriage to Antonina Milyukova. The previous January he finished Symphony No. 4 and by the end of February had completed his greatest opera, Eugene Onegin. At Clarens, he was joined by young violinist Yosif Kotek – who kept him alert to the needs of the fiddler.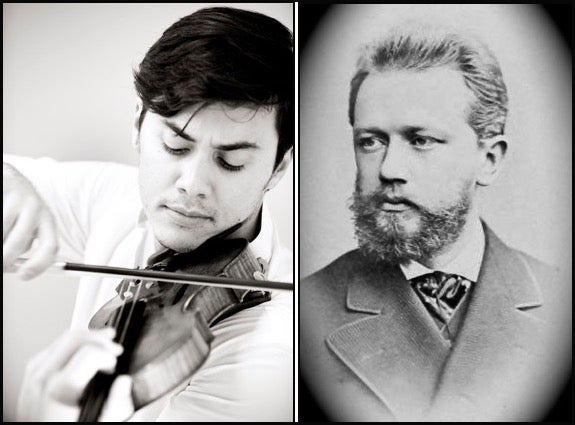 "Tchaikovsky was clearly filled with inspiration for this piece. There is no other way you can go about writing a piece as masterful as this unless you are really struck by an almost complete idea instantaneously. The imagery is not necessarily something I can explain. For me, especially the opening, it's so much about the unbelievably vivid colors and feelings. It's not necessarily about a scene, like a mountain or river – something like that. It's nothing as simple as that. But the second movement for sure, the Canzonetta, does feel very misty. It creates this wonderful color, asking the violinist to place a mute on the instrument for the entire movement. There are several different types of mutes. Some are made of rubber, others from leather or ebony wood."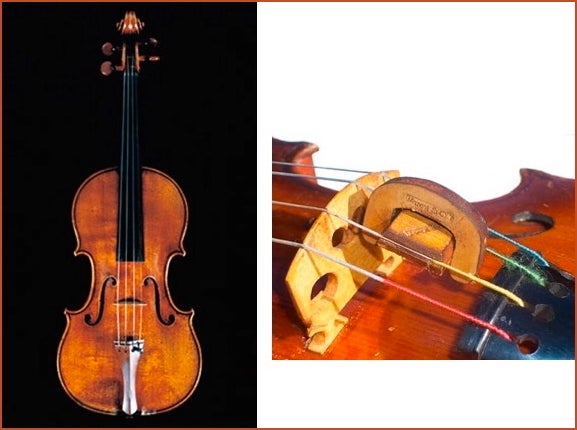 "The mute is placed on top of the bridge, right in the very center of the instrument. It slightly dampens reverberations which the strings pass into the instrument. It gets a really interesting color. You can produce a different color depending on the type of material you use. I find that a leather mute provides the kind of color that works for me. Usually, composers will ask for the mute for just a few moments of the piece – to find that neat color for a tiny bit. But Tchaikovsky wants it for the entire second movement. The idea is that something is constricting the outpouring of emotion. The Canzonetta, which is a Renaissance type of song, seems very plaintive on the surface. But as with all of Tchaikovsky, it is brewing with passion and energy."
Benjamin is currently playing the Stradivarius 1709 Violin – Engleman – on loan to him by the Nippon Music Foundation based in Tokyo. The most recent players include Reiko Watanabe, Lisa Batiashvili, and Vilde Frang.
"Players like myself apply to the foundation. We submit a written application, our schedule, a CV, press releases, video and audio recordings – everything you can possibly use to represent who you are and what you are going for in a career. I was awarded the use of this instrument in December 2016. It has a particularly interesting relationship to San Francisco. Ephraim Engleman, for whom it was named, was a rheumatologist at UCSF. He played this violin in string quartet gatherings at his home. He sold the violin to the Nippon Foundation. I'm very happy to be bringing it back to where it was kept for so many decades."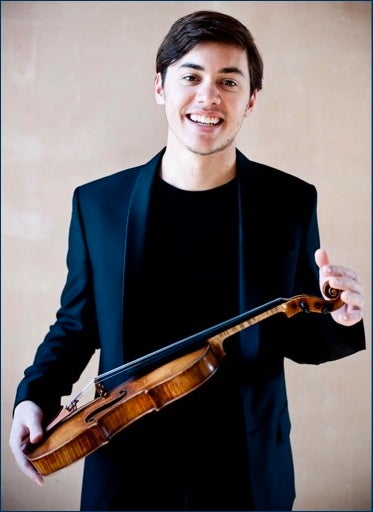 "My older sister, Elizabeth, started violin lessons two years before me. When I was five, I asked if I could start playing also. Our family activity for two or three nights a week was about going to lessons together. After a few years, I sort-of took over the motivation to practice. Elizabeth switched to viola in high school. She now plays with the Utah Symphony in Salt Lake City. I was ten years old when I made the decision to put all my energy into violin. I was a dedicated young person, but a normal kid, more interested in playing outside with my friends. I have a great mother who made sure I did my work first and then could play afterwards. Since that point, there has never been a moment when I questioned that this would be my life.
"We moved to Atlanta and I started studying with a former Atlanta Symphony musician. Whenever there was an interesting artist in town, my mom would take my sister and me to the Symphony. I can't necessarily pinpoint any single performance that really did it for me. What was probably more influential – and enriching my passion for the instrument – was listening to great old recordings of these warhorse pieces. I distinctly remember listening to the Tchaikovsky Violin Concerto over and over again. And being totally engrossed by its undeniable passion."
Do you have a favorite recording of the concerto? Which one goes with you to the desert island?
"There are artists who come close to how I hear it, but it's hard to pinpoint the desert island recording. That's the beauty and the curse of being an artist. You can't be a hundred percent satisfied or take a hundred percent comfort in someone else's version of a piece that you have strong feelings about. Once you reach a certain point in your development where you are learning a piece directly from the source – from Tchaikovsky's hand – there is no one else you can listen to that will necessarily satisfy everything you believe about that piece. By the same token, because you have to be part of the performance, you cannot necessarily enjoy your own performance.
"I have to believe that if people are serious about listening to music – any kind of music – if at some point they stumble across the Tchaikovsky Violin Concerto or any of the great works of art, they will come away understanding that there is something much more potent about them than whatever flavor-of-the-month is on the charts."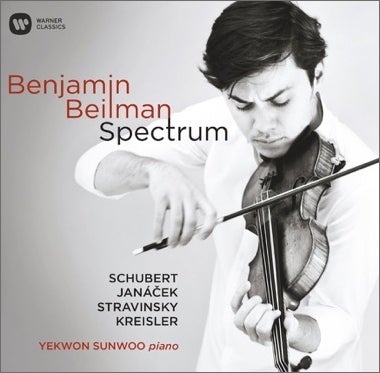 Check out Benjamin's debut recording, Spectrum. Partnering with pianist Yekwon Sunwoo, the 15 tracks include Schubert's Sonata in A ("Grand Duo"); Janáček's Sonata for Violin and Piano; Stravinsky's Divertimento; and Fritz Kreisler's Viennese Rhapsodic Fantasietta.
"The pieces may seem like they don't have a lot in common. But with a debut album you try to give people a sense of your interests and strengths and where you see yourself going. This buffet of pieces represents me best."
REAL LIFE. REAL NEWS. REAL VOICES.
Help us tell more of the stories that matter from voices that too often remain unheard.
This post was published on the now-closed HuffPost Contributor platform. Contributors control their own work and posted freely to our site. If you need to flag this entry as abusive,
send us an email
.