Author Michael Dotsikas's debut children's picture book, Benjamin Birdie's First Flight, is a masterfully written, spirited and beautifully illustrated work that educates as it entertains. It takes you on a journey of discovery, determination, and teamwork.
Benjamin Birdie is a precious young bird who thinks he is ready to fly, contrary to his mother's warnings against it. Very anxious to give it a try, he leaps into the air off the top of a very tall tree, managing a few triumphant flaps, but then quickly plummeting to the ground. He soon realizes that he is in trouble as there is no way he can get back up to his nest by himself. His adventure begins when he seeks assistance from other animals living in and around his tree. While no one animal can take him the entire way, each one gets him a bit closer to the safety of his beloved nest.
A very inspiring story about bravery, Benjamin Birdie's First Flight offers valuable lessons in teamwork, compassion, honesty and love. It successfully demonstrates such human needs as cultural acceptance, success, peace and happiness. There are many wonderful and important lessons that are revealed in this charming story that will appeal to and be appreciated by readers of all ages.
Readers are also introduced to an extraordinary collection of exotic tree-dwelling animals, showcasing earth's wonderfully diverse animal kingdom. The author cleverly selected animals that are on the endangered species list in order to educate readers on these imperiled creatures. As an added bonus, Michael includes an appendix with detailed animal bios, fun facts, and real-life animal pictures, providing a wonderful educational aspect to the story.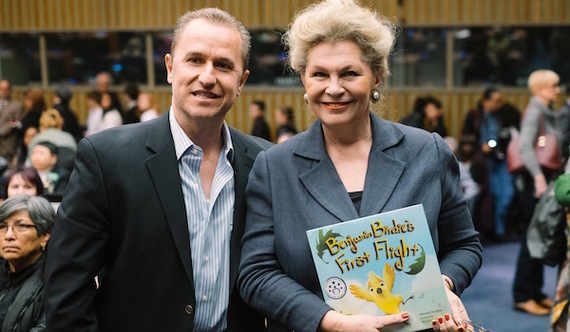 At the United Nations with H.E. Ambassador Katalin Bogyay of Hungary.
Photo: courtesy of the author/Derek Balarezo.
In sticking with its charitable mission, the book's publisher, Porch Time Publishing, LLC is donating a portion of the proceeds from the sale of the book to organizations that bring awareness to the plight of endangered species.
Benjamin Birdie's First Flight has received several honors in the short time that it has been published. Michael was asked to present the book at the International Day of Happiness on March 20, 2016 at the United Nations. Due to its uplifting and heart-warming messages, Benjamin Birdie's First Flight was chosen by Dr. Judy Kuriansky, event coordinator, to be presented to all the Ambassadors and distinguished speakers at the event. It is also a Mom's Choice Awards Gold recipient, honoring excellence in family friendly entertainment; and a Readers' Favorite Five-Star review recipient.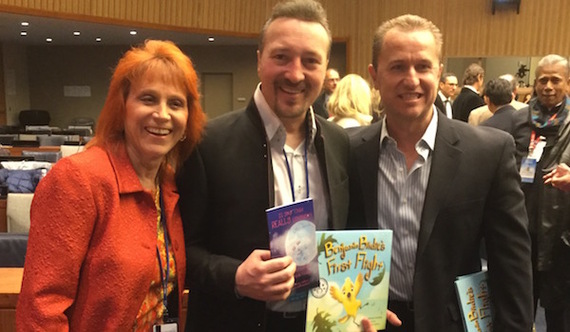 International Day of Happiness at the United Nations. Dr. Judy Kuriansky,
H.E. Angelo Toriello, and Michael Dotsikas. Photo: courtesy of the author.
Both critics' and readers' unanimously declare that Benjamin Birdie and his tree-dwelling friends belong on film. We anxiously await to see the heights that Benjamin Birdie will soar!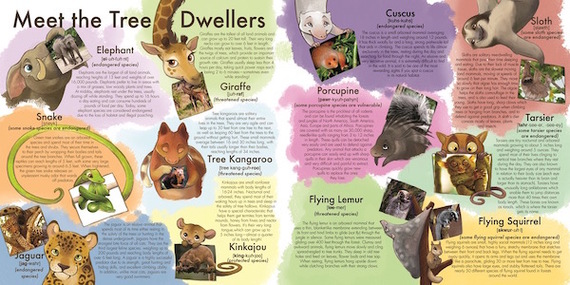 The appendix with detailed animal bios, fun facts, and real-life animal pictures,
provides an added bonus to the book! Image: courtesy of the author.
Michael has recently hit the author circuit and is honored to have been visiting local schools where he reads Benjamin Birdie's First Flight to roomfuls of students, parents and educators. In addition, for the older schoolchildren, he discusses several of the writing techniques that he employs in his stories and offers a stimulating presentation on his writing journey and the "Making of Benjamin Birdie -- from Concept to Creation." Educators are raving how Michael is inspiring everyone to not only read and write, but to pursue their dreams.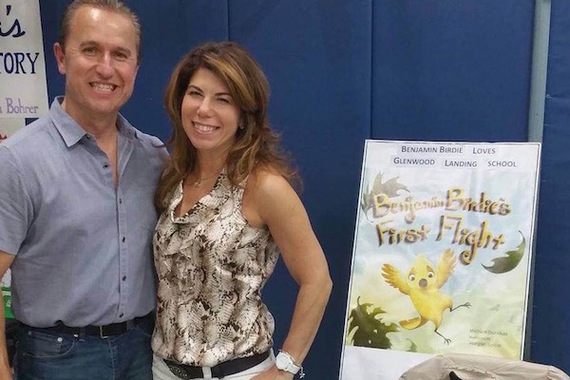 Michael Dotsikas with his wife, Dina Dotsikas - Partners at Porch Time Publishing -
at the Glenwood Landing School author event. Photo: courtesy of the author.
With brilliant storytelling written in rhyme and flawless rhythm and meter, Michael Dotsikas has crafted a stunning children's picture book. Coupled with Morgan Spicer's captivating illustrations, Benjamin Birdie's First Flight is a masterpiece and truly a must-read for both children and adults!
The J. Luce Foundation and The Stewardship Report highly recommend this stimulating book! It is perhaps a timely reminder that without tolerance and harmony, the lasting peace of societies cannot be maintained, and loyalty for each other cannot be established. Together we can accomplish amazing things.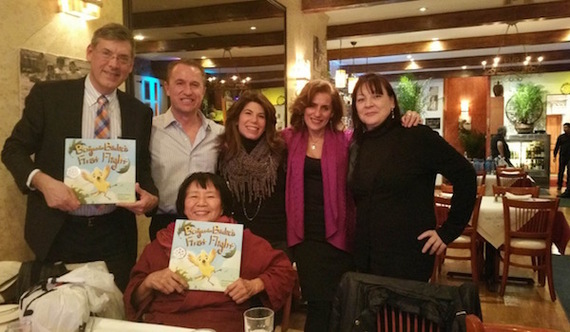 Michael donated copies of his book to Dr. Kazuko's Manjushree Tibetan Orphanage.
From left: Jim Luce, Michael Dotsikas, Dr. Kazuko Tatsumura Hillyer (seated),
Dina Dotsikas, Georgia Nomikos, and Eleni Tsagianni. Photo: author.
I encourage you to hurry out and grab your copy of this very special book, available on Amazon.com or direct through Porch Time Publishing. For more information, please visit www.MichaelDotsikas.com.
Related
Popular in the Community