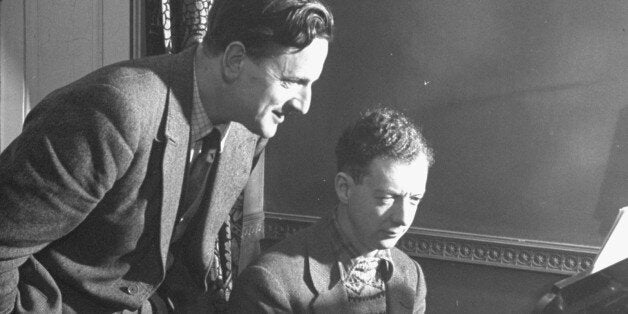 In 1974, just after he'd undergone heart surgery, the composer Benjamin Britten wrote to his lover and partner of 35 years, Peter Pears, "My darling heart (perhaps an unfortunate phrase, but I can't use any other) ... I do love you so terribly, not only glorious you, but your singing. ... What have I done to deserve such an artist and man to write for? ... I love you, I love you, I love you."
It's one of the most beautiful of all love letters, written by a man in a desperate state of health but determined to live long enough to lay eyes on the man he loves just one more time. For four years prior to this, he had been struggling with the composition of his last opera, Death in Venice, a piece that is so intense, so cut-to-the-bone, so visceral in its beauty that he almost literally sweated out his life for it.
In the centenary year of his birth (today, Nov. 22), the near harmonious appreciation of one of Britain's greatest composers, some say the greatest opera composer of the 20th century, has been punctuated by lingering discords. It began even before the festivities took off in November last year with what's amounted to gratuitous tittle-tattle in parts of the press about the nature of Britten's sexuality and how this would inevitably damage his reputation and popularity. He's been attacked for his left-wing politics and devout pacifism and taken to task for his musical talents and his status in the pantheon of musical genius, and finally a rather flimsy proposition has been aired that the heart condition from which he died was brought on by syphilis, contracted from his partner.
Britten divides in a way that no other composer does: Many adore the man along with the music; some, for reasons of their own, want to make him into a monster and must denigrate his art along the way. In other parts of the world where he is celebrated, this is unfathomable; only the English seem incapable of acknowledging the brilliance of one of our own without trying to rummage about in his life for something innocent that can be twisted into an all-consuming fault, for something that will somehow prove how mediocre he was all along. In fact, it sounds faintly homophobic, as though we still can't have a national treasure who was gay, particularly one whose gayness was central to his work.
Britten's homosexuality was, for virtually all his life, criminal; rather than warn him off, this seems to have permitted him to anatomize aspects of his persona like alienation, cruelty, and sexual longing and infatuation, properties that then remained latent and unfulfilled, in operas all the more psychologically compelling for it and music all the more brilliant. The conflict between his homosexuality and the hostile society he found himself in was the source of his dramatic music, more patently so than is the case of, say, Tchaikovsky. So many of the plots of his operas involve loners, outsiders and misfits in communities determined to point the finger at them, and it's no surprise that he tended to gravitate toward collaborators like W. H. Auden and E. M. Forster, who were also gay. Maybe it was exquisite agony for him to pursue these themes (the probing of emotional bruises might even have brought on an early death), yet this was as much part of the creative process as the learning of harmony and counterpoint. Without it he wouldn't have been Benjamin Britten.
What's remarkable about Britten's homosexuality is that he took so few measures to hide it. He was discreet (both he and Pears were careful not to be overly affectionate in public), but everyone knew. He even received a visit from the police in 1953 when thousands of gay men were being persecuted and high-profile "inverts," to use the jargon of the time, were falling victim to blackmailers and police agents provocateurs. No charges were made. All the more remarkable, then, is the fact that on his 50th birthday in 1963 (the night that news filtered through of the assassination of John F. Kennedy), the BBC broadcast a tribute to him that made no secret of the life he shared with Pears, showing them walking the dogs together and preparing for the Aldeburgh Festival, which they had set up in their hometown on the Suffolk coast in 1948, smiling shyly at the camera. When Britten died, the queen sent a personal letter of condolence to Pears, treating him in exactly the same way she would have treated any other prominent spouse.
So the answer to Britten's critics is simple: He was no saint, but he was no sinner either; he was an artist, a very great artist, a gay artist. He could be cutting and mean-spirited but loyal and warm, and at the center of his life was an intense and brave love affair that lasted decades at a time when such love was near-impossible for most gay men. When he received Britten's letter, Peter Pears was at the Met in New York, singing the role of Gustav von Aschenbach in Death in Venice. That opera, his final gift to Pears, was also Britten's "Liebestod," the last act of love that killed him. Pears wrote back, saying, "[Y]ou know love is blind, and what your dear eyes do not see is that it is you who have given me everything right from the beginning. ... I am here as your mouthpiece and I live in your music."
Calling all HuffPost superfans!
Sign up for membership to become a founding member and help shape HuffPost's next chapter