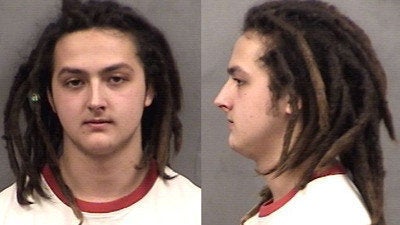 University of Missouri student Benjamin Elliott, 18, was temporarily suspended from the school this week following his arrest on Saturday for allegedly spray-painting racist graffiti on a campus fixture, reports the Maneater.
The offensive phrase was discovered early Saturday morning by a student who reported the find to officials, the Riverfront Times reports. According to the Kansas City Star, Elliott was arrested after campus security watched surveillance footage which implicated him in the incident. Campus police added that witnesses confirmed that it was Elliott in the video, but Elliott told police that he was drunk at the time and does not recall what happened.

Elliott has been accused of second-degree property damage, but the charge could become that of a felony hate crime. He was released on $4,500 bond.
A number of student organizations met following the incident to discuss how to best handle the event, which is the second racially-charged incident in two years. According to the Maneater, Missouri Students Association President Eric Woods wrote in a report:
The group's discussion was very positive. It was decided by the collective that a reactionary response to the incident was undesirable. Many felt that the angry nature of the outcry which occurred in response to last year's 'Cotton Ball Incident' was counter-productive in terms of addressing the real issue at hand... By showing a commitment to the values of diversity and community, the university can help reduce the power of those who carry out acts of intolerance. By promoting these values early in the academic careers of students, and keeping them present and visible throughout, all members of the Mizzou community should be more willing to embrace diversity among their peers.
Mizzou chancellor Brady Deaton told the Riverfront Times that he hopes the campus will "come together as a Mizzou family to deplore this action and to celebrate the diversity of our community."
Elliott will undergo the student conduct judicial process before receiving a final sanction.
What do you think of this story? Share your thoughts in the comments section.

Related
Popular in the Community