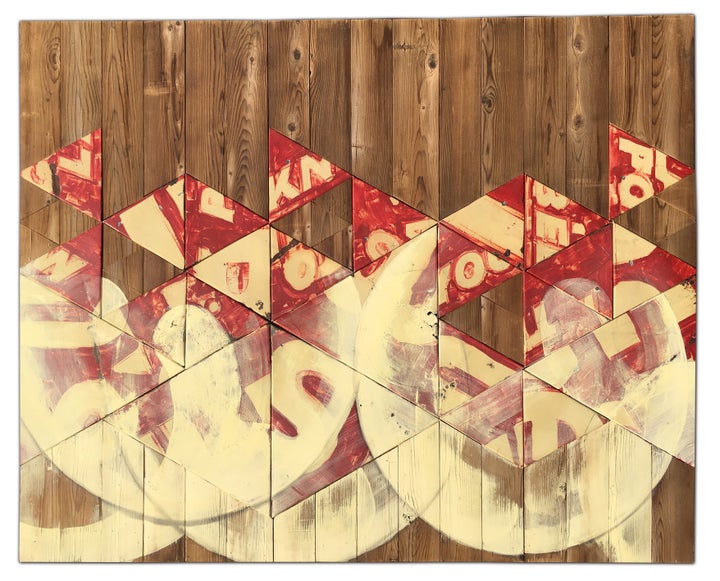 Exponentially greater than the sum of their parts, Benjamin Lowder's reconfigurations of elements culled from vintage metal ads and reclaimed wood resemble mandalas, totems, and auric power portals. A shift in perspective occurs as the visual tropes and familiar design motifs of the signs are broken down -- physically, literally, and cognitively -- and reassembled into sacred geometric patterns in an architectural armature of tactile and weathered salvaged lumber. With a melancholy futurism and a sustainable-practice agenda, Lowder has been steadily exploring the universe of possibilities derived from this process. In his Phoneme (pronounced fōn-eem) series, he makes a notable, painterly enhancement to his technique, directly inspired by recent revelations about the nature of language and the role of symbolism in our sense of self and methods of communicating. By incorporating abstract painting on the lively, fractal surfaces of his recent constructions, Lowder aims to create works that embrace a more poetic, esoteric level, deepening his ongoing investigation into the power of sign and symbol but adding an undeniable gestural presence of mark-making by the human hand, the artist's hand.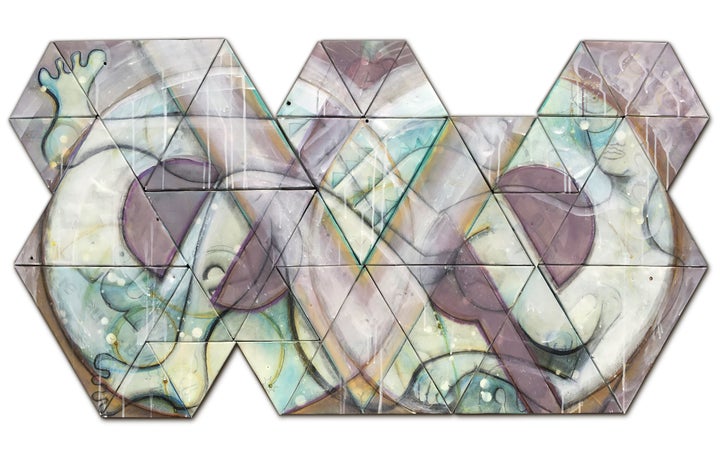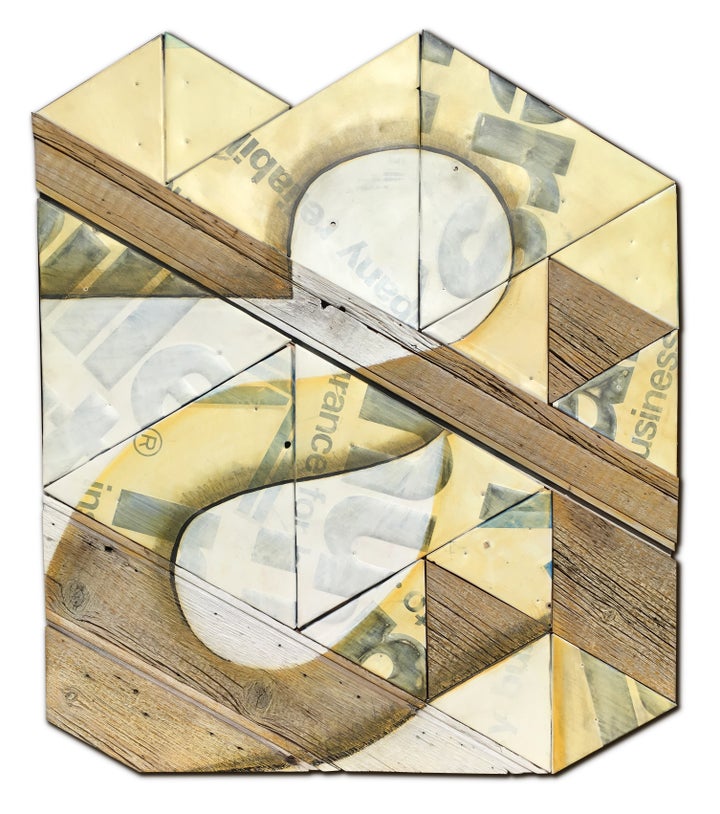 Phonemes are the spoken sounds of alphabetic writing systems, think about the sound of raw syllables and the idea that they correspond to written characters or letters, in order to be assembled into words. The advent of phonemes made modern language possible, and signaled the start of our use of symbols to stand for things. This was a significant cognitive, ideatic, and social development, which in Lowder's view is mirrored in the present day, with regard to the effect of smartphone-based communication on the state of language and society. The smartphone is a modern expression of a mediated, indirect relationship to reality, and while that may sound like the cellphone zombies of today's world, Lowder argues that this process began thousands of years ago. It is also an interesting coincidence that the word "phoneme" alternately reads like "phone-me" which is both a command and a way of self-identifying at a distance -- as in, there's the real me, and the phone version of me. There's a lot of truth in that. Let it sink in. You feel it too.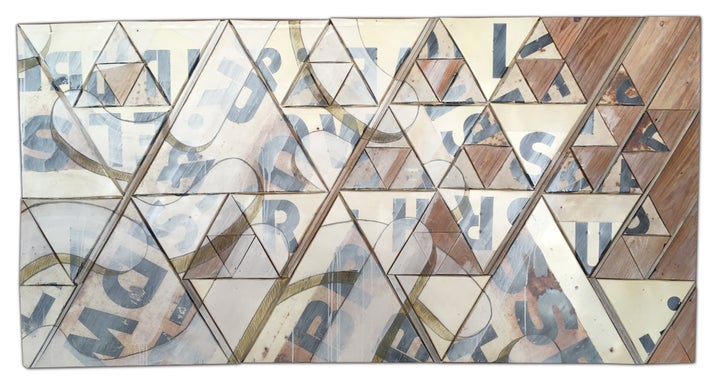 Lowder is a creative consultant for the Center for Spirituality and Sustainability, housed in a Buckminster Fuller designed geodesic dome on the SIUE campus. Lowder also serves on the board of the Fuller Dome Home historic site which was Fuller's personal dwelling in Carbondale, where Southern Illinois University Museum just acquired Lowder's seminal work Fuller Dome Mandala for their permanent collection. So profound is Lowder's spiritual, creative, and academic connection with Fuller's vision, that he arranged to witness the recent eclipse from the Dome Home itself. Sun and Moon Download was inspired by the experience. This piece is reclaimed wood and vintage metal signage that he covered with multiple layers of mediums including paint, chalk, pencil, markers, and crayon. Lowder says this piece expresses the idea of information being metaphorically direct-downloaded to the consciousnesses of witnesses of the sun / moon conjunction. The information contained in this geomagnetic download, posits Lowder, reaches us at a subconscious level -- and this is what has compelled him to the new style of the work, evocative depictions of the most epic of all clouds -- that which both contain and obscure the archive of human intelligence.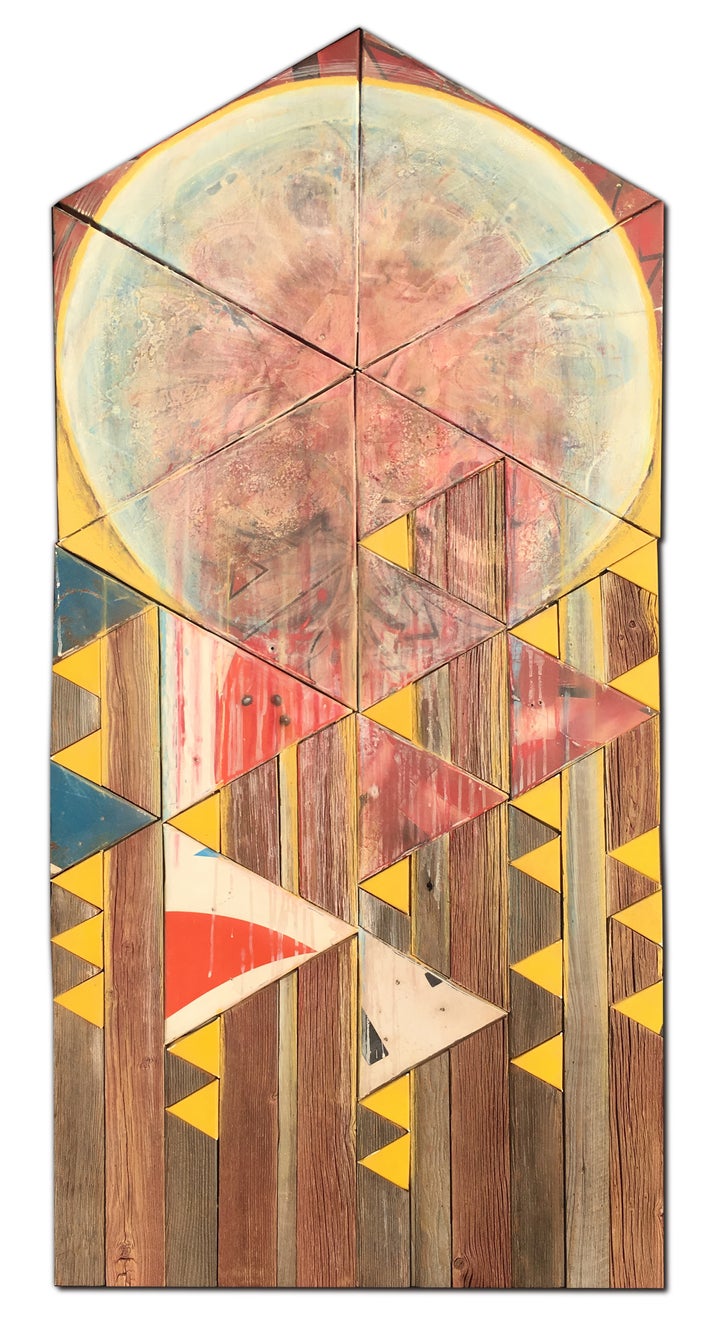 For Lowder, the optical result of this conceptual inquiry is the addition of gestural, emotional, trance-like abstract painting. Insofar as the meaning of his narrative has grown more esoteric, so has its aesthetic. The prevalence of emoji and avatars and gifs and behavioral anagrams like LOL and TFW and FML and SMH, for Lowder represents a distancing from the actuality of language, akin to the ancient early distancing from the actuality of objects -- and it is just as significant. Our new shorthand combines hilarious hyperspecificity with the vagueness of slang; the trend seems to be destroying the integrity of language while at the same time enabling communication that transcends its limitations. It was this paradoxical dynamic of bittersweet, atavistic futurism and malleable expressivity that inspired Lowder to create the works in Phoneme, in an externalized reimagining of the primordial semiotics to which our new tech-based language is again defaulting.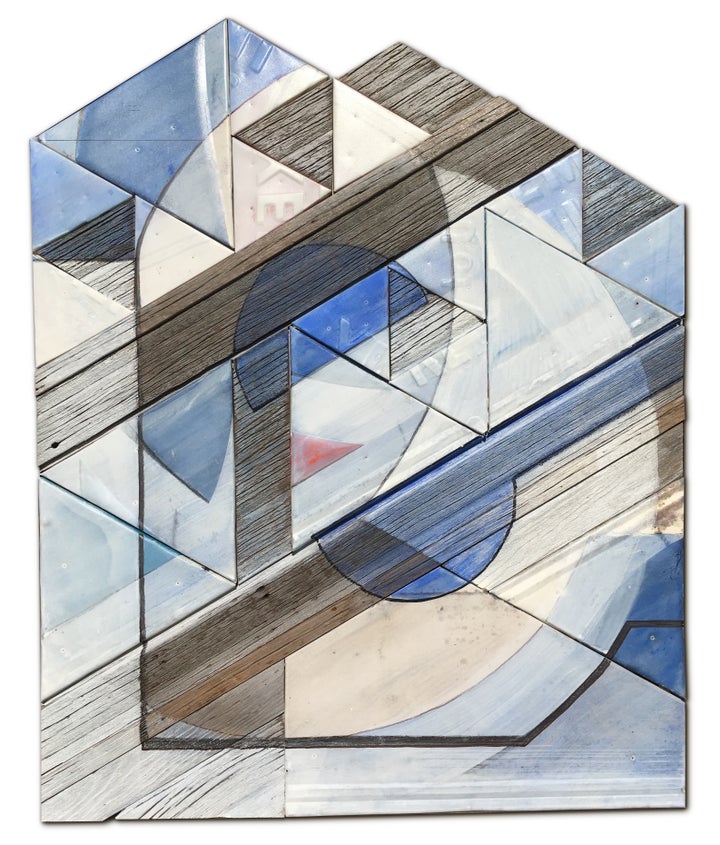 ARTIST'S TALK: Saturday, October 7th, 2017, 6pm
OPENING RECEPTION: Saturday, October 7th, 7-9pm
Popular in the Community