A 29-year-old white supremacist from South Carolina allegedly plotting an attack inspired by Charleston church shooter Dylann Roof was arrested by federal agents in an FBI sting this week.
His plan ran into some other logistical problems along the way: His mother wouldn't let him use her cellphone, and he had to borrow money from his grandfather to buy a weapon from the undercover FBI agent he thought was a member of the Aryan Nations.
The FBI on Wednesday arrested Benjamin Thomas Samuel McDowell of Conway, South Carolina, in the parking lot of a Hampton Inn in Myrtle Beach after he purchased a disabled Glock and hollow point ammunition from an undercover federal agent for $109.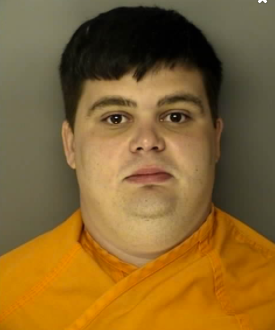 As of Thursday, McDowell has been charged with possessing a firearm as a felon. The Horry County Police Department told the FBI that McDowell had "established White Supremacy Extremist connections while serving prison sentences in South Carolina for various criminal offenses," according to an affidavit from FBI Special Agent Grant Lowe that was filed in federal court.
McDowell, who has several white supremacist tattoos, reportedly floated the idea of attacking the Temple Emanu-El in Myrtle Beach in a message sent on Facebook the day after Christmas. On Jan. 5, McDowell made a lengthy post on Facebook filled with errors and vulgarities ― some of which appear below ― that may have brought him to the attention of authorities.
In the largely incoherent post, McDowell complained about white supremacists who only have tattoos but "don't give a fuck about their white race" and only want to "stay loaded on drugs" he believed were brought in by "the Jews." He complained about "white people running their fucking mouth not doing nothing" and didn't have "the heart to fight for Yahweh like dylann roof did."
The post references Roof, the self-proclaimed white supremacist who massacred nine black people attending Bible study at a Charleston, South Carolina, church in 2015. Roof was sentenced to death in January.
Shortly after that post, it appears the FBI began the sting that eventually nabbed McDowell. McDowell met the undercover FBI agent on Jan. 12, when the agent was posing as a white supremacist who "handled problems for the Aryan Nations," according to the FBI affidavit. McDowell brought marijuana with him to the meeting, but the undercover agent asked him not to smoke it. The agent told McDowell that he had to make sure that their connection stayed secret, and that whatever McDowell planned to do "doesn't come back to me."
McDowell "voiced apparent frustration with other white supremacists, stating that screaming 'white power' was not getting the job done," according to the FBI.
"I got the heart to do that shit, but I don't have the good training," McDowell allegedly told the undercover agent. "I seen what Dylann Roof did and in my heart I reckon I got a little bit of hatred and I … I want to do that shit. Like, I got desire … not for nobody else … it just … I want something where I can say, 'I fucking did that' ... me personally."
"If I could do something on a fucking big scale and write on the fucking building or whatever, 'In the spirit of Dylann Roof,'" McDowell allegedly said. At that point, McDowell had not settled on a target for his attack.
McDowell once again praised Roof in a barely intelligible Facebook post on Jan. 25, according to the FBI. "I wish the day we all get off Facebook and white Warriors like we was born to be like Dylan roof but we gotta do it in a smart [way]," the post read.
On Feb. 11, McDowell used his mother's landline to tell the undercover FBI agent that he'd run out of minutes on his cellphone plan and that his mother would not let him use her cellphone. He wanted to meet up in person, and they agreed to meet on Feb. 15. The plan was that the undercover FBI agent would take McDowell to his grandfather's house to borrow money to purchase the weapon and ammunition.
McDowell was arrested in the Hampton Inn parking lot soon after the purchase was completed.
McDowell has a lengthy criminal past, according to WMBF, with at least seven arrests in South Carolina since 2007, including for violent second-degree burglary, larceny and third-degree assault and battery.
Federal court records indicate that a federal public defender was appointed to represent McDowell on Thursday. He was being held at the J. Reuben Long Detention Center, the jail in Horry County, according to WMBF.
President Donald Trump's administration has downplayed the dangers of far-right extremism in the United States, instead talking almost solely about terrorism motivated by "Islamic extremism."
But a 2014 survey from the National Consortium for the Study of Terrorism and Responses to Terrorism found that state and local authorities viewed "sovereign citizen terrorists" to be a greater threat than foreign Islamic extremists.
Even so, Reuters reported this month that Trump is considering radically narrowing the federal "Countering Violent Extremism" program to focus only on Islamic extremism. The name of the program would be changed to "Countering Islamic Extremism" or "Countering Radical Islamic Extremism," and it would cease to target white supremacists or any other potential terrorists with no ties with Islam.
This story has been updated to directly identify the report that said state and local authorities were particularly concerned about far-right extremists.
Support HuffPost
The Stakes Have Never Been Higher
Popular in the Community