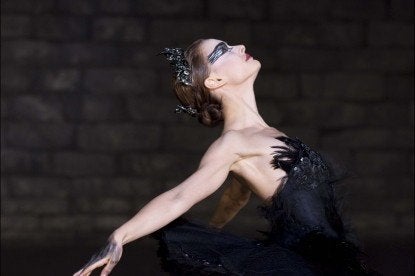 Natalie Portman won an Academy Award for her portrayal of a tortured dancer in "Black Swan," but some have called her dancing integrity into question. Benjamin Millepied, Portman's "Black Swan" dance partner and choreographer (not to mention her fiance and the father of her future child), swears that's all nonsense.
Millepied is featured in a new Los Angeles Times article that focuses on both his career in dance and his relationship with Portman. The French-born former dance prodigy personally instructed Portman in her film dancing and even wrote her routine. The accusations are baseless, he says.
"It was so believable, it was fantastic, that beautiful movement quality," he told the paper. "There are articles now talking about her dance double that are making it sound like [Sarah Lane, her body double] did a lot of the work, but really, she just did the footwork, and the fouettés, and one diagonal [phrase] in the studio. Honestly, 85% of that movie is Natalie."
Millepied revealed how he helped Portman's onscreen dancing seem so graceful; it just took some creative choreographing.
"[I made] things fluid and not too complicated," he said. "By getting more movement going, which in turn added to the camera movement — that is basically what I did. If we had kept things more classical, more restrained, less fluid, it would have been harder to trick the eye."
"Natalie took class, she studied for several months, from the waist up is her," Prosa said. "Sarah Lane, a soloist at ABT, did the heavy tricks, she did the fouéttes, but they only had her for a limited time, a couple of weeks, so I did the rest of whatever dance shots they needed.
"She [Portman] definitely put her work in. Just in a couple of months, she looked credible -- all the dancers on the set were really impressed at how well she pulled that off -- it was pretty amazing."
Calling all HuffPost superfans!
Sign up for membership to become a founding member and help shape HuffPost's next chapter