WASHINGTON -- Israeli Prime Minister Benjamin Netanyahu will visit the White House in November for his first meeting with President Barack Obama since he came to Washington in March to lobby Congress against the Iran nuclear accord.
The meeting, scheduled for Nov. 9, is slated to focus on Israel's security after implementation of the Iran deal and the need to advance a two-state solution between Israel and the occupied Palestinian territories.
It follows a period of noticeably cool relations between the American and Israeli leaders. The rift widened in March when Netanyahu told a joint session of Congress that the agreement, then still being negotiated, "would all but guarantee" that Iran would obtain nuclear weapons. The White House described Netanyahu's speech, which was organized without an invitation from the Obama administration, as a breach of diplomatic protocol and did not meet with Netanyahu during his time in Washington.
Afterward, Netanyahu, with the help of Ron Dermer, Israeli ambassador to the U.S., launched an ultimately unsuccessful campaign aimed at convincing congressional lawmakers to block approval of the nuclear deal. In contrast to deal skeptics Saudi Arabia and other Gulf countries, Netanyahu denied earlier offers by the White House to discuss enhanced security support as a way of offsetting an Iran buoyed by sanctions relief and eventual relaxation of an arms embargo.
With the fate of the nuclear deal now sealed, it appears Netanyahu has become more amenable to negotiating increased military aid and security cooperation. The Obama administration has already indicated its willingness to supply Israel with the F-35, the most advanced U.S. fighter jet. Some in Congress have also called for arming Israel with the massive ordnance penetrator, a 30,000-pound bunker-buster bomb, and renewing a security arrangement that guarantees $3 billion in defense aid annually before it expires in 2017.
With just over a year left in his presidency, Obama is also likely to press Netanyahu to reopen discussions with Palestinian President Mahmoud Abbas, with the aim of negotiating a two-state solution.
Shortly after his controversial speech to Congress, Netanyahu clashed again with the White House over his suggestion that he would not allow the creation of a Palestinian state. The comments came days before Israeli elections in March, as Netanyahu made a last-minute appeal to voters who approve of building settlements in the occupied territories.
After securing re-election, Netanyahu walked back his comments and insisted that he supported a two-state solution, but would not accept proposals imposed by outsiders. The latter was a reference to past attempts by the Palestinians to push for statehood through resolutions at the United Nations.
Despite Netanyahu's attempted reversal, the White House said it would "reevaluate its policy on how to best achieve a two-state solution" -- a statement that some interpreted to mean the U.S. would support, or at least abstain from rejecting, future U.N. proposals on Palestinian statehood.
The extent to which the Obama administration has developed a new strategy will be tested during the upcoming 70th U.N. General Assembly in New York. The French are reportedly considering the introduction of another resolution prompting the U.N. to accept Palestine as a state, but they have indicated they don't want to bring it up for a vote only to see it vetoed by the U.S.
Samantha Power, the U.S. ambassador to the United Nations, declined Wednesday to speculate on how the U.S. would react to such a proposal, although she implied that the U.S. position has not shifted since its opposition to a similar measure in December 2014.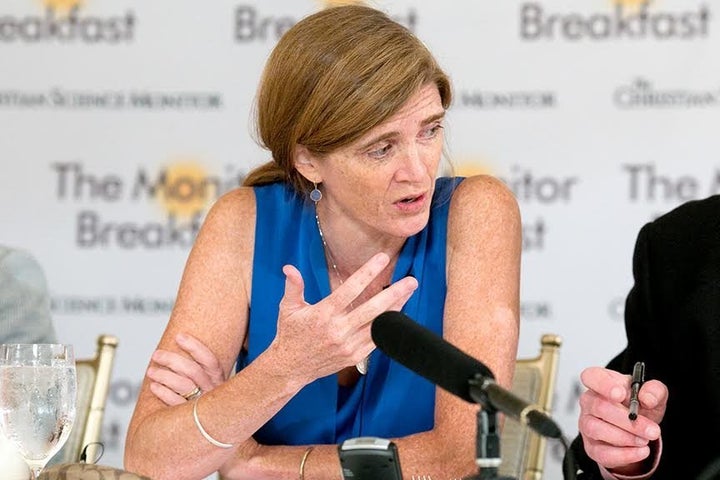 "Without the text, it's very hard for me to say what we would do. But I can say what President Obama has always said, which is anything that would undermine Israel's security or is biased or one-sided, the United States would oppose," Power said, speaking at a lunch hosted by the Christian Science Monitor. She described that December 2014 U.N. resolution as "imbalanced and not something that would advance peace in the Middle East -- it wouldn't advance the cause of a two-state solution."
Last week, the U.N. had voted to raise the Palestinian flag during the General Assembly, a gesture that carries only symbolic weight. But Power, voting on behalf of the U.S., opposed the measure.
"I made clear in voting against the resolution that, again, the status quo is not tenable, that there has to be, have to be negotiations for a two-state solution," she said Wednesday. "But that there are no short-cuts either. That you can't short-circuit the very difficult, tendentious issues that have, that the parties have not been able to get past up to this point."
In addition to meeting with Obama, Netanyahu is scheduled to travel to Moscow in the coming weeks to talk with President Vladimir Putin about the Russians' role in the Syrian civil war. The Russians have recently stepped up their support of Syrian President Bashar Assad, who is also supported by the Iranian proxy Hezbollah, a group that poses a significant threat to Israel on its northern border.
Popular in the Community