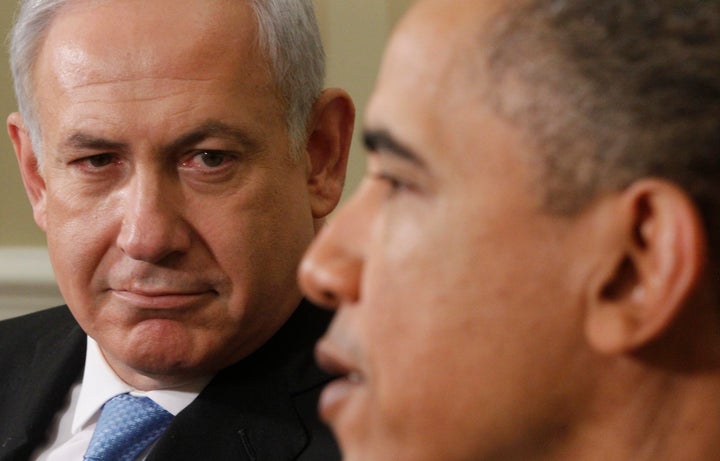 WASHINGTON -- In a relatively rare sign of bipartisan collaboration on the Israel-Palestine conflict, a group of Democratic and Republican advocates and several lawmakers sat down with Israeli Prime Minister Benjamin Netanyahu on Monday for a midday briefing.
The meeting -- which was planned nearly a week ago but remained unknown to the press -- featured officials with both the Republican Jewish Coalition (RJC) and the National Democratic Jewish Council (NJDC), two groups often at polar ends of the debate over U.S. policy in the the Middle East. Additionally, an aide familiar with the meeting told The Huffington Post that Democratic National Committee Chairwoman Debbie Wasserman Schultz and Democratic Congressional Campaign Committee Chairman Steve Israel -- two of the highest-ranking Jewish members of Congress -- were present. Wasserman Schultz's office confirmed her attendance.
"It's safe to say that the conversation taking place in the room is about the bi-partisan support for Israel," said the aide.
"While we don't see eye to eye with the leadership of the Republican Jewish Coalition on many domestic policies, when it comes to the need for a powerfully strong U.S.-Israel relationship, on this we agree," read a statement from Marc R. Stanley, chairman of the NJDC and David A. Harris, president and CEO of the NJDC. "We welcome this opportunity to place partisanship aside and discuss ways we can work together to help our close ally Israel -- just as we strive every day to keep Israel from being used as a partisan wedge issue in the political arena. As we've said repeatedly, the stakes are too high for such antics." Coming amid a partisan flare-up over President Barack Obama's call for a two-state solution to be structured along the 1967 borders with negotiated land swaps, the meeting was pitched as a chance to emphasize consensus over disagreements. The RJC had issued a statement of concern about Obama's position on a peace settlement. The NJDC had defended it, going so far as to point out that a return to pre-Six-Day War borders with various alterations was the position of President George W. Bush.
Netanyahu had traveled to Washington, D.C., to appear Monday night before the American Israel Public Affairs Committee, the pro-Israel lobby at whose annual policy conference Obama delivered a keynote address this Sunday. The Israeli prime minister will also be speaking before a joint session of Congress on Tuesday.
Prior to the AIPAC conference, Netanyahu's office released a statement saying that he expected "to hear a reaffirmation from President Obama of U.S. commitments made to Israel in 2004, which were overwhelmingly supported by both Houses of Congress. Among other things, those commitments relate to Israel not having to withdraw to the 1967 lines which are both indefensible and which would leave major Israeli population centers in Judea and Samaria beyond those lines."
The tone of that statement provided additional fodder to the notion -- based on fairly extensive reporting -- that the relationship between Obama and Netanyahu was frosty at best.
Despite it all, both leaders put on a good face during the AIPAC summit. During his speech, Obama repeated his position that a final settlement to the Israel-Palestine conflict had to be established by "mutually agreed swaps, so that secure and recognized borders are established for both states."
"By definition, it means that the parties themselves -- Israelis and Palestinians -- will negotiate a border that is different than the one that existed on June 4, 1967," Obama said. "It allows the parties themselves to account for the changes that have taken place over the last 44 years. It allows the parties themselves to take account of those changes, including the new demographic realities on the ground, and the needs of both sides."
Calling all HuffPost superfans!
Sign up for membership to become a founding member and help shape HuffPost's next chapter