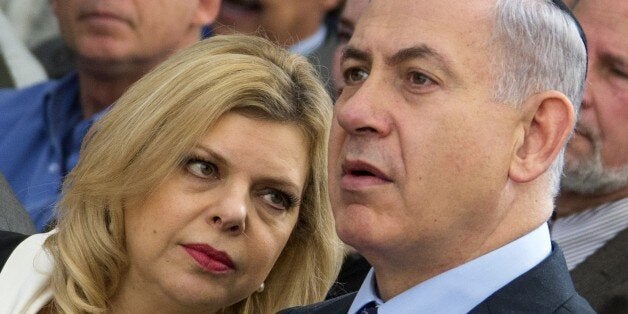 Israeli Prime Minister Benjamin Netanyahu has hired a well-known lawyer described in the Israeli press as a "specialist in white-collar crime" to represent him and his wife if they face criminal corruption charges. Jacob Weinroth is considered to be one of the country's top defense attorneys.
The potential prosecution stems from a report published Tuesday by Israel's state comptroller, accusing the Netanyahus of spending public funds in a way that "strayed from the cornerstone principles of financial management and the principles of proportionality, reasonableness, saving, and efficiency."
According to the report, Benjamin and Sara Netanyahu spent 8,166 shekels ($2,117) per month to clean their private residence in Caesarea, even though they stay most of the time at the official residence in Jerusalem -- which carried cleaning costs as high as 1.1 million shekels ($285,251) a year. They racked up another $68,000 in one year on expenses for makeup, hairstyle and presentation services.
The findings were nothing new to Israelis who had been following the prime minister and his spending habits. Though the excessive spending was frowned upon, polls show that with elections less than a month away, voters were mostly unaffected by the report.
Netanyahu's Likud party initially sought to conduct damage control by blaming the fiscal mismanagement on Menny Naftali, former caretaker for the prime minister's official residence. Naftali, who was already pursuing legal action against the prime minister and his wife, reportedly responded by giving police further testimony against the Netanyahus.
Beginning Thursday night, Naftali spent 11 hours with the Israeli police, providing audio recordings and paperwork to substantiate accusations of excessive spending by the Netanyahus, as well as violations of labor laws. He has been granted limited immunity from prosecution.
Israel's attorney general, Yehuda Weinstein, is expected to announce as soon as Sunday whether he is ordering a formal police investigation into the allegations of criminal misuse of funds by the prime minister and his wife.
While voters seemed unconcerned with the comptroller's report, a criminal investigation could hinder Netanyahu's re-election chances. The fact that he chose to hire Weinroth shows that the prime minister is taking the potential legal battle seriously.
The last time Netanyahu enlisted Weinroth's legal assistance was in 1997, over an appointment scandal known as the Bar-on affair. The controversy involved allegations that Netanyahu had appointed lawyer Roni Bar-On as attorney general with the idea that he would offer a plea bargain to Netanyahu's political ally, Aryeh Deri, who was on trial for corruption. Ultimately, prosecutors conceded that they lacked the evidence to press charges against Netanyahu but still suggested that "tangible suspicion" remained about the appropriateness of the appointment.
According to Haaretz columnist Gidi Weitz, Weinroth was once asked by a colleague if he thought Netanyahu was corrupt. "No," he replied. "Netanyahu wouldn't take a bribe. He's incapable of ever giving anything to anyone."
Weinroth faced bribery charges of his own in 2011 when state prosecutors accused him of providing legal services to former senior Tax Authority official Yehoshua "Shuki" Vita for free or at little cost, in exchange for Vita handling tax arrangements between Weinroth and his wealthier clients. The lawyer was acquitted two years after his indictment.
Related
Popular in the Community