Earlier this year, a man named Benjamin Redford boldly went where no artist has dared go before, creating a piece called "Internetopia" that claimed to be a portrait of the entire internet. The content for the image was crowdsourced from 220 users around the globe via Kickstarter, making the masterpiece the largest crowdsourced drawing in existence.
And now, the whole dizzying shebang is in color.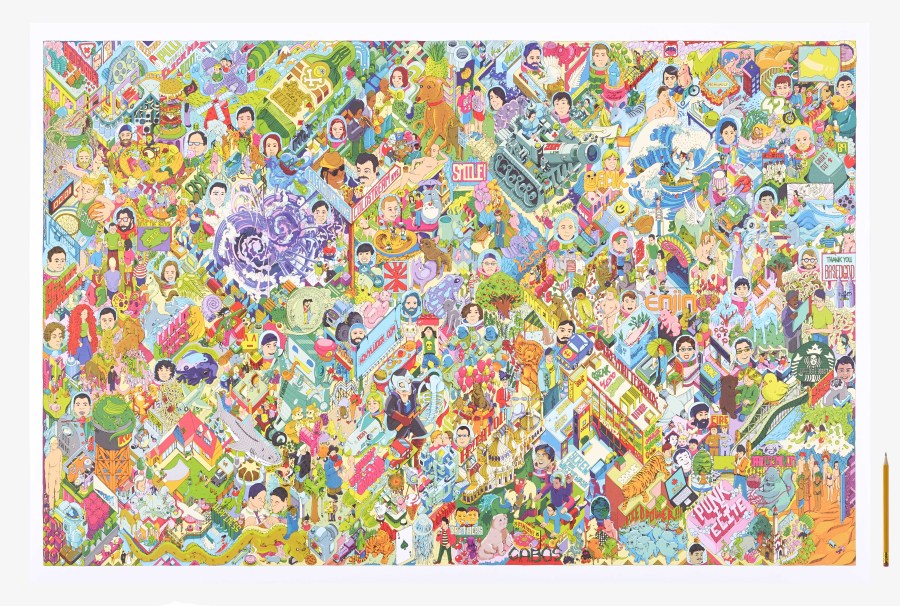 "I read lot of sci-fi so I'm pretty fascinated by the idea of cyberspace," Redford perviously explained to The Huffington Post. "However it's mostly portrayed as infinite, clean, grid systems. I liked the idea of making a more 'human' version, made up by people around the world. Although looking over the completed artwork now, it seems to resemble something completely different."

There were three rules to the artwork:

1. Each square cost $1 on Kickstarter. Anyone could buy a square and dictate to the artist what would be drawn there.
2. People could reserve as many squares as they liked.
3. Anyone could ask for anything to be drawn. Anything.

The final work measured in at roughly eight by five feet and 3,012 cubes. Just like the internet it's modeled after, the drawing is full of randomness, absurdity, vulgarity -- and cats. More specifically, it features crowd-sourced ideas including "a cat eating a hot dog sitting in an upright position, sitting on a stack of cats attached together by a belt with balloons on strings floating in the sky" and "a hot sand-desert with a man lying somewhere not in center, legs and hands spread. Happy or dead, it's unknown. A horse nearby, standing with a head lowered, tired of a long walk." There's also "Elvis Presley shouting 'Linda!'" and an "Italian greyhound smoking a pipe."
REAL LIFE. REAL NEWS. REAL VOICES.
Help us tell more of the stories that matter from voices that too often remain unheard.
BEFORE YOU GO