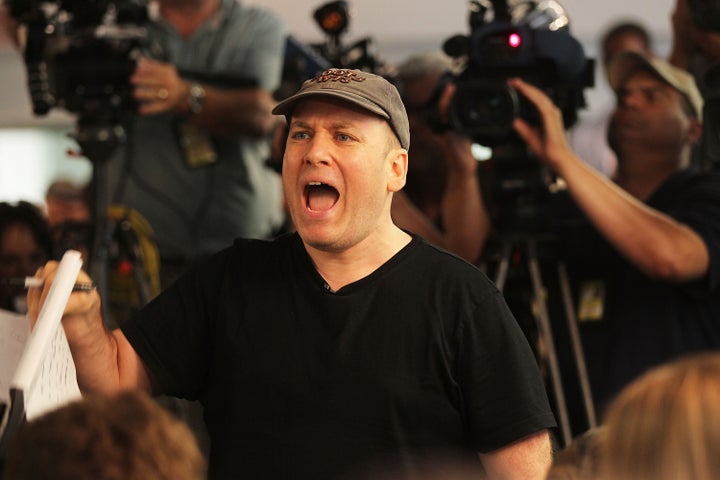 The bizarre scandal surrounding Anthony Weiner came to a fitting end Thursday, as the ex-Congressman resigned to jeers and mockery over leaked lewd photos.
"Senator Weiner!" One man shouted. "Will you maintain your hot physique and smooth sexy chest?"
That would be Benjy Bronk, a writer on "The Howard Stern Show", who in the past few years has made a name for himself for inappropriately insinuating himself at opportune moments (sort of like when he jumped into a CNN stand-up and shouted "VOTE FOR SANJAYA!").
While Weiner was having a difficult time speaking above the harsher digs ("Bye bye, pervert!") Bronk insists that he stuck to comedy for his outbursts. On Twitter, he writes, "I asked questions, but I wasnt guy who called Weiner a pervert, I was going for comedy not to make moral judgements."
As Bronk repeatedly interrupted the press conference, other members of the press jumped in to yell over Bronk. One reporter shouted, "He's not with us!"
Bronk persisted, shouting over the din, "Are you more than seven inches!?"
As a press crowd gathered around, Mr. Bronk, clad in a black shirt, shorts and an injury boot on his right foot, stood and grinned from behind police barricades, asking reporters to sniff his armpits ("Can you identify the way I smell?") and hitting on a reporter from the celebrity-gossip show Extra. "You must have Jewish blood?" Mr. Bronk asked. "What are you, Spanish? Mediterranean?" (She told Mr. Bronk that she was of Greek extraction.)
Bronk has taken to the very medium which brought Anthony Weiner down -- Twitter -- to defend his actions. "Yes, I knew he was a Representative, but I felt calling him Senator Weiner was more respectful." He even goes so far as to explain, psychologically, why he does what he does. "just realized, stupid shit I did, done 4 same reason Weiner did his stupid shit both just trying 2 get affirmation (love, laughs, etc)."
The two hecklings, below.
Popular in the Community