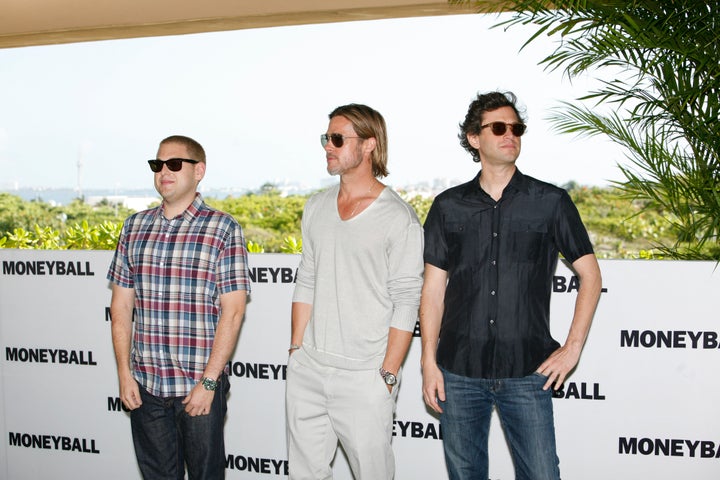 Bennett Miller was not much of a baseball fan; outside of a brief flash of interest at the Yankees' revival in the mid-90s, the 44-year old New York native insists that hadn't paid attention to the sport since he was 14-years old. As it turns out, it was that disinterest in the game that helped him rescue a languishing blockbuster film about one of the sport's greatest visionaries.
When Miller, a 2005 Oscar-nominee for 2005's "Capote," got wind that the "Moneyball" director's chair was open, he wasn't very much aware that the seat had already been well-warmed by Oscar winner Steven Soderbergh. But unlike Soderbergh's aborted plan, which was to make a semi-documentary about Oakland A's general manager Billy Beane's revolutionary, statistics-based approach to the sport, Miller envisioned a full-blown narrative feature. Yes, the vessel would be the major shift in baseball player evaluation that Beane helped shepherd into the mainstream, but the true story would be about his drive to succeed in a way that exorcised the demons that still haunted him from his disappointing run as a player.
That Beane is a real person, and not just a character to infuse with convenient backstory and motivation, required that the filmmaker strike a careful balance of fact and fiction.
"I was interested in telling the story that's going to make a good movie, that respected the essential truth of his character, of who he is, and essentially what happened," Miller explained, allowing that he was willing to bend certain details to create a better narrative. "He's not the kind of guy who likes to bare his soul to somebody that's doing something that could possibly be construed as an exposé, but we did spend a bunch of time with him and get to know him, and of course, Michael Lewis' book illuminates the things that are portrayed in the movie, about his past, the failure to live up to expectations."
A first round draft pick of the Mets in 1979, Beane was considered a can't miss prospect, talented in all facets of the game. His performance fell far short of his potential, though, and after a hitting just .219 in 148 games over six seasons, he moved over to management. In the film's timeline, Beane was greatly troubled by his failure, and when his cash-poor team was poached of its big stars and he had to "adapt or die" and find a new way to make a winner, he got the chance to rewrite his past and author a new chapter in baseball.
In this telling, then, portraying Beane demanded more than a business suit and a command of complicated mathematical and baseball jargon. The film's Beane is, on the outside, a fast-talking and cocksure character, with his angst serving as a subtext that, aside from a number of brief flashback scenes, is authored in glances and facial expressions the rest of the way. Having pushed the project from the start, Pitt stretched himself to capture the duality for which the role called.
"I think it's a different kind of role for him," Miller offered. "And I think that Brad possesses these two dimensions that we're talking about: the charismatic public persona, and also the private, guarded, driven and perhaps more hidden traits of an ambitious character. And so, it's not an easy thing to do, especially because the latter thing happens obliquely, it's never explicitly stated. He never comes out in the scene and says, 'Oh, I really want this because I failed.' It had to come across in different frequencies, and he did the job."
Intentions of inner-turmoil and character established, where does that non-baseball baseball film get told, then? It's a question Miller asked of himself and screenwriters Aaron Sorkin and Steven Zaillian as they decided how best to bring to life drama that had elements of sport, business and personal reckoning running throughout.
"You want to remember the story that you're telling, and where does the movie end?" Miller asked rhetorically, explaining how they worked to break down how much to show of each disparate setting. "What do you get to? What's the last moment of the film meant to feel like, what's it meant to deliver? Then you can reverse-engineer from that and approach it from a perspective of, is this serving to build to this?"
Their decision shouldn't be surprising. "To the degree that baseball served the story and could be an expression of the drama, it's in there," Miller said, "but hopefully not a frame more."
Indeed, it would have been hard to include any fewer on-field scenes in the film. The last remnant's of Soderbergh's documentary show up in snippets of footage archived from the real team's magical late-season run in 2002, and a few scenes featuring the on-screen versions of the handful of unlikely A's players that Beane championed and whose journeys the film highlights. For the most part, the scenes come in brief anecdotal glimpses, a pitch here, a swing there, a few jubilant pile-ons to quickly establish that this miracle turnaround is underway.
Still, the real Billy Beane's day job -- which, as he told the Huffington Post in Toronto, he "enjoys very much" -- is baseball; the sport is the entire focus. His goal, beyond reorganizing the values of the sport's talent evaluation system, is to win a championship. It would seem that a perfect Hollywood ending, like in so many sports movies to come before it, would see his team reach that ultimate glory. But in the hard reality of hardball, it's something that, for all his success, has yet to happen.

Which is why Miller made the film in the first place.
"I think had they gone to the World Series and won the World Series, there would be no movie there for me. I think it's, you know, a perfect world as it happened," he said, continuing, "I was not interested in the convention or the trope of the big victory, of the bright and fast burn of the ultimate triumph of them winning the game, and the excitement and just that ephemeral catharsis. This is not a movie that concedes to those conventions or tropes."
Instead, it's that lack of victory parade that allows Miller's Beane to finally move forward.
"It's a drama about a guy who thinks he is trying to win baseball games, who imagines that's the most important thing, has come to believe that in order to be okay with who he is, this thing has to happen," the director explained. "And it ends up being a classic wisdom story, a King Arthur type of thing. You know, get the grail and all will be restored to order. And of course, it's an impossible task but it's the actual journey of the thing that teaches the lesson that needs to be learned. And so you never quite get your hand right around it, but you realize, it's not about the grail."
WATCH
:
Popular in the Community