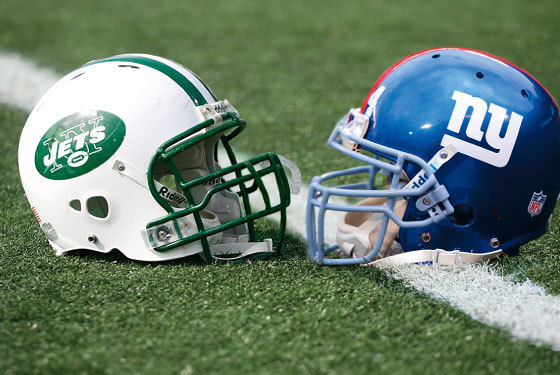 My father was a wildly enthusiastic football fan, and during the season, Sunday afternoons in our house revolved around the NY Giants. My dad had great disdain for the people who lived across the street because they liked that "new" team -- the Jets.
Like any kid growing up in the tri-state area, I was enamored with Joe Namath, and back then the Giants never won anyway, so I eventually became a fan of both teams, but other than the 1969 Jets Super Bowl victory, I don't ever recall my father watching them play. As a journalist, over the past few years I've had numerous opportunities to cover the Jets, and I've developed a real attachment to the team and its fans. I've always found the intense dedication of Jets fans, despite the team's struggles to be inspiring and even heartwarming.
Today's Jets-Giants conflict is something that happens once every four years and its often referred to as "the battle for tenancy." Although I'm picking the Jets to win today, I also decided to poll two of the most rabid fans I know to give a perspective from each side regarding the game's outcome and to determine exactly how the battle lines are drawn when it comes to choosing a team.
Bennie Bentley grew up in New Jersey and was the captain and star running back of his high school football team. Anthony "Mooch" Scaramucci was the captain and quarterback of his Long Island team and today both are successful businessmen and passionate professional football fans. Bentley lives for Big Blue and Scaramucci's blood runs as Jet green as the money he talks about as the host of television's Wall Street Week.
"The Giants are in my DNA," said Bentley when I spoke to him on the phone yesterday. "I've been following them for more than 50 years, ever since my father took me to my first game when I was fourteen years old."
Bentley admits to a brief flirtation with Joe Namath's Jets when the team won the Super Bowl but otherwise his allegiance has never wavered. "Football is tribal," said Bentley. "And the Giants are and always will be my team."
"The reason I'm a Jets fan started out because of geography," said Scaramucci. "I grew up in Port Washington, and the train line ran right into Shea Stadium, so I became a fan at a very early age." Scaramucci follows baseball as well but enjoys footballs shorter season because "every game seems like the playoffs and it's much more exciting."
Geography may have made the introduction for Scaramucci, but his relationship with the Jets ultimately became (like Bentley) about allegiance to his team. "I haven't had the best of luck with my team but I'm a very loyal person and I can't help it -- I've fallen in love with the Jets. It's all about loyalty. Not only do you have to stay with your team, but you have to make sure your kids experience the same torture and hardship that you have."
Scaramucci and his kids have spent many a Jets game bonding together, so Bentley's tribal commentary hits a note that is familiar for all of us. Scaramucci has become an extended member of the Jets family off the field, recently helping to raise more than one million dollars for the Jets Foundation and the Alliance for Lupus Research.
As for the game, the predictions were as expected, with a little trash talk thrown in by Bentley. "Jets fans are loyal beyond reason and Giants fans are loyal for a reason -- we usually win!" I heard Bentley's wife Marla laughing in the background and then she yelled, "Not recently!"
Comments like this do not affect the unflappable Scaramucci, whose SkyBridge Capital manages and advises on more than ten billion dollars in hedge funds. Scaramucci has always told me that there are ups and down in the markets and we have to endure the same with sports. But today Jets fans can expect more than an uptick, it will be an important gain.
REAL LIFE. REAL NEWS. REAL VOICES.
Help us tell more of the stories that matter from voices that too often remain unheard.