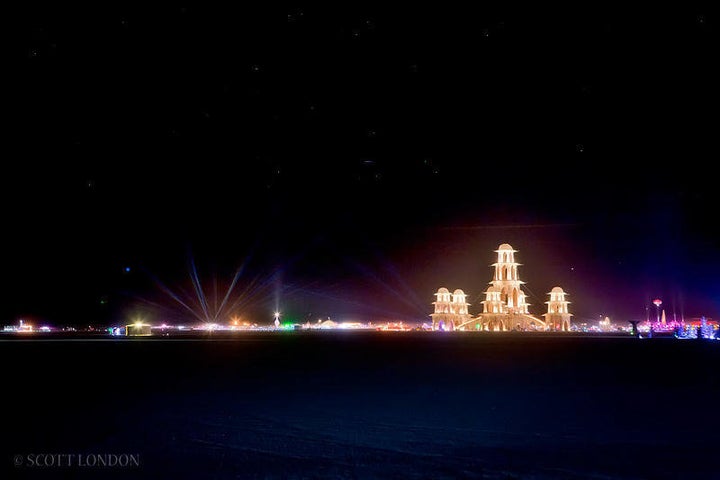 If there's such a thing as a lighting designer with political sway, Bentley Meeker is it. The New York based artist has illuminated everything from Chelsea Clinton's wedding to an intimate dinner party for Benazir Bhutto in exile, to state dinners in the White House rose garden. But his passion project is a little harder to explain to grandma. For the past two summers, Meeker has driven into the heart of the Nevada desert in order to light up Burning Man.
A holy grail for Bohos and spiritualists alike, the Burning Man festival first attracted Meeker just two years ago. But what started as a destination quickly turned into a worksite, since the designer decided to take a gig lighting Burning Man's annual temporary installation and communal space -- the Temple. Like the festival's titular man, the Temple is burned to the ground at the week's end by hundreds of thousands of revelers high off seven days of art, music, and...other things, presumably. The flames also consume items visitors deposit inside throughout the week -- notes, effigies, ashes of loved ones -- to represent a fresh start.
Meeker recently took time off from prepping for the festival to talk to The Huffington Post about what the job entails. In between insisting that we should really go out there ourselves, he let us in on how the Temple changed his life, the best type of bulb for a psychedelic festival in the sand, and which of the great masters handled light like no one else.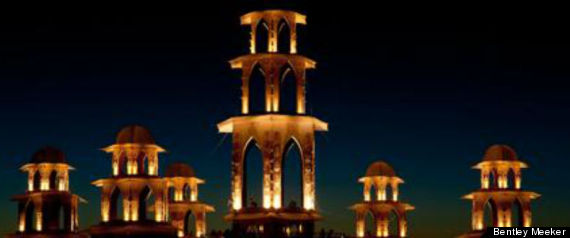 Photo: Burning Man 2011.
What are the logistics of lighting Burning Man?
First of all, you have to get a generator for everything. There's no electricity, there's no water, there's no food, there's just desert. You're bringing everything you need in a cargo truck.
What's the atmosphere you're trying to create?
Everything at the festival is LED. I used all halogen lights last year, and the idea was that it would have a very alluring quality to it. We wanted the temple to be visible enough at night that you would want to go there from anywhere in the festival. The concept was to get it as close to magic as we could.
How did you get started doing this?
I went in 2010, just to go, and I wrote some stuff that I needed to be erased from my life. My son and I, our relationship was deteriorating because his mom was sick and had left town. My kid was caught in the crossfire and he started going down the tubes, getting rebellious and angry. I wrote, "When this temple burns, your pain around your mother and me is going to burn with it."
Then miraculously, it started happening. After ten years of not communicating, all of a sudden the whole thing started to thaw, and we got to the bottom of how she felt about me and how I felt about her. It was incredible how it cleared and gave my son this wonderful nurturing space to grow up in.
I'm a logical guy. I'm looking for some logic here, and I couldn't get away from it: I just landed on that temple. If I could have that, I wanted everybody to have that. I wanted to make it visible enough so everybody would want to go there. And it happened. More people went to last year's temple than had ever gone before.
What are the similarities between lighting a formal event like Chelsea Clinton's wedding versus the country's most psychedelic festival?
A lot of people associate light with technology. But you can have a lot of wild and cool shit but at the end of the day the magic doesn't come from that. What makes a room unbelievable to be in is almost always driven by choices. In both these contexts, you want people to feel comfortable. Color changing, flashing, crazy ass videos -- when we want to create a magical environment we rarely resort to those tools.
How much time do you need to set up?
It took about a month last year. This year we'll go out four or five days in advance. They're making some phenomenal choices -- it's going to be incandescent halogen lights, and much more subtle and subdued. They're using smaller generators. It's not such a big temple. The lighting is more of an ancillary element. They're focusing much more on the architecture of the temple. I'm excited about the vibe.
Is there an artist whose sense of light strikes you as particularly good?
Every Vermeer painting I've looked at has extraordinary light rendering. The angles are so perfect and have such an ethereal quality. The way he must have loved light to reinterpret it, for me, is incredibly inspiring.
Check out some Burning Man offerings this year in the slideshow below: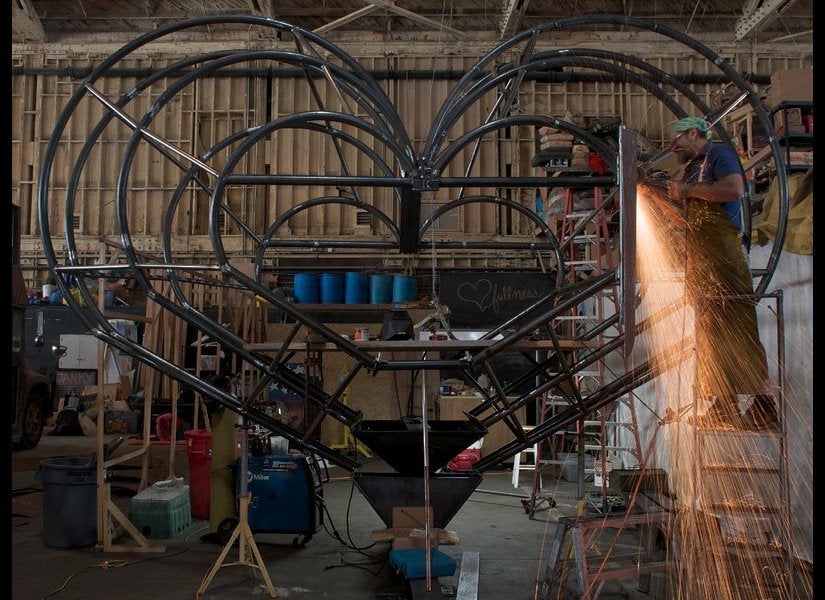 Burning Man 2012 Art Projects
Popular in the Community