The town square in Bentonville, Arkansas was filled with an estimated 2,000 people wearing yellow rain slickers that said "Wal-Mart -- Not in My Neighborhood." I was invited to speak at the anti-Wal-Mart rally sponsored by the United Food and Commercial Workers International Union. I flew from Western Massachusetts to St. Louis, and joined a caravan of silver buses that threaded their way south into the Ozarks.
The year was not 2013. It was December of 1998 -- 15 years ago.
The anti-big box movement was barely five years old at that time. I had stopped my first Wal-Mart in Greenfield, Massachusetts in 1993. That well-publicized victory had sparked other communities to take on the Bully from Bentonville.
In 1998, people from as far away as Hawaii, Washington State and California converged on the tiny town where the Wal-Mart myth began. The "Walton 5 & 10" store was closed to avoid any conflict with the event participants, who chanted: "Who's a bad neighbor? Wal-Mart!"
AFL-CIO President John Sweeney addressed the rally, calling upon all AFL-CIO credit unions to discontinue distribution of Sam's Club discount cards, and urged all union health care plans to stop using Wal-Mart pharmacies. "Here's our message," Sweeney said. "Keep out of our neighborhoods. We don't want you ruining our lives with your income-destroying stores."
Wal-Mart officials kept a low-profile at the rally, but Wal-Mart spokesman Jay Allen told the Kansas City Star the event was "part of a political campaign against Wal-Mart."
Sam Walton walked across the Bentonville town common thousands of times in his life. He surely would have memorized the quotation written in block letters on the Town Hall façade: "Sovereignty rests in the will of the people." Thirty-six years after Wal-Mart was founded, an organized group finally went into Mr. Sam's neighborhood to make it clear that the will of the people was to drive Wal-Mart out of hometown America. That's what brought us to Bentonville.
"Wal-Mart takes good jobs, and turns them into bad jobs," UFCW President Doug Dority told the crowd. He said that Wal-Mart workers make $3 an hour less than UFCW retail members, and 420,000 of Wal-Mart's 720,000 workers don't have company-provided health insurance. At Wal-Mart, there is no guaranteed pension plan with a benefit at retirement.
Dority charged that Sam Walton's "Buy America" program dishonored the flag, since 80 percent of Wal-Mart's apparel products are imported. "It's all about higher profits," he said, "made by shifting employee costs to taxpayers and destroying our communities in the process. Wal-Mart is just a bad neighbor." Both Dority and AFL-CIO's Sweeney signed a pledge cards not to shop at Wal-Mart.
Then the buses packed up, and we headed back to our neighborhoods.
As I watched the gala and glitz of Wal-Mart shareholder's meeting this week (I own two shares), I wondered how many more decades it would take before Americans understand the politics of shopping? Spending money at Wal-Mart is a devil's bargain. In exchange for cheap foreign imports, we get exploitation at every link in the global corporate chain: bribery in Mexico; dead factory workers in Bangladesh; workers on Medicaid across America; illegal dumping of hazardous materials; real estate trusts that dodge taxes; gender discrimination lawsuits; empty Main Streets. After 50 years in business, when does Wal-Mart's "Live Better" part start?
Shortly before he died, Sam Walton wondered in his 1992 autobiography: "Am I really leaving behind something on this earth that I can be proud of having accomplished, or does it somehow lack meaning to me now that I'm facing the ultimate challenge?"
One trip to Bentonville 15 years ago gave me the answer to Mr. Sam's question. And I haven't entered a Wal-Mart store since then.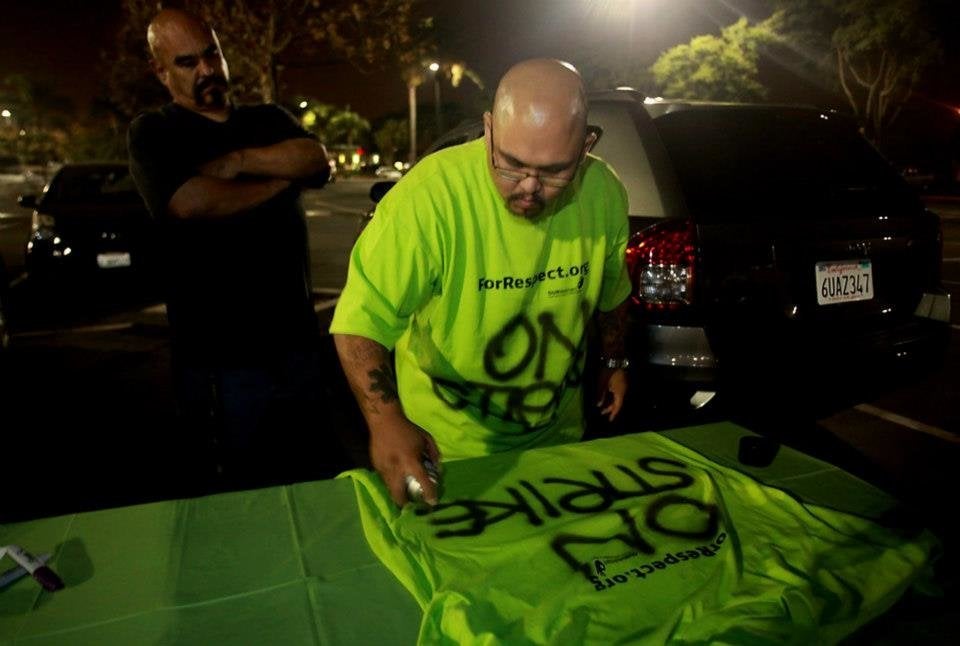 First-Ever Walmart Strike, Oct. 2012, LA
Popular in the Community