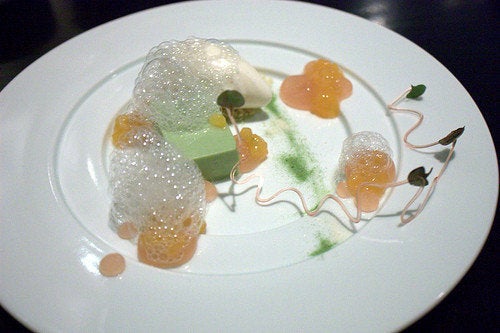 In July, Chef Ferran Adria served the last meal at his famed El Bulli in Spain -- widely considered the best restaurant in the world -- before closing indefinitely. But before the tears had dried on the cheeks of El Bulli's waitlisted diners, the question on everyone's mind was already circling: which restaurant will be the next El Bulli?
On Saturday, the Wall Street Journal released its picks for the next big restaurant, taking into consideration food, desirability and original contribution to the culinary landscape. "They really tend to be restaurants that are proposing a new idea in the world of haute cuisine," explained reporter Katy McLaughlin. Benu was included on a list of six restaurants in the world that fit the bill.
"He's [Chef Corey Lee] combining Asian flavor profiles, Asian ingredients, with this really high-tech modern food that we've heard about," said McLaughlin. "And he's really one of the first." Case in point: Benu's menu includes dishes like malted rice tea with pine nut and pine needle honey.
Lee, Thomas Keller's longtime right-hand-man at The French Laundry, opened Benu in 2010 with a strong interest in avant-garde food and molecular gastronomy, combining an Asian palette with European techniques. His efforts have not gone unnoticed.
In the article, Benu also had a very (very) unlikely endorser: New York's Chef David Chang.
But in contrast to Chang's complaint about our dining scene's simplicity, Benu's menu is anything but simple. As the Wall Street Journal pointed out, Lee's dedication to haute cuisine moved him to partner with a hydrocolloid manufacturer that allows him to infuse huge quantities of butter into mashed potatoes.
So is Benu just a flash in the pan, or is it really the next big restaurant in the world? Only time will tell, but we know where we're booking a reservation. And fast.
Calling all HuffPost superfans!
Sign up for membership to become a founding member and help shape HuffPost's next chapter