For the last 20 years, Bergamot Station has been one of the most adventurous places to get a taste of contemporary art in Los Angeles. Where else can we Angelenos park our cars for free, leisurely walk through a few dozen galleries, check out an exhibition at Santa Monica Museum of Art, and then stop for lunch on the terrace of a charming café?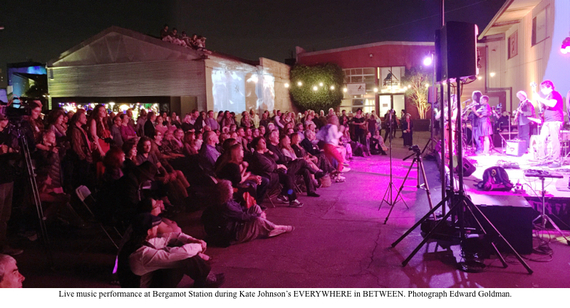 During the hot days of summer, when the rest of LA is baking in the sun, Bergamot Station --just a mile away from the beach -- is a welcome, cool place to visit. Last Saturday night, Bergamot Station, with its sprawling campus, was transformed into a unique stage for a one-night-only collaboration of video, dance, live music, and spoken word. The event started at sunset and lasted till nearly midnight.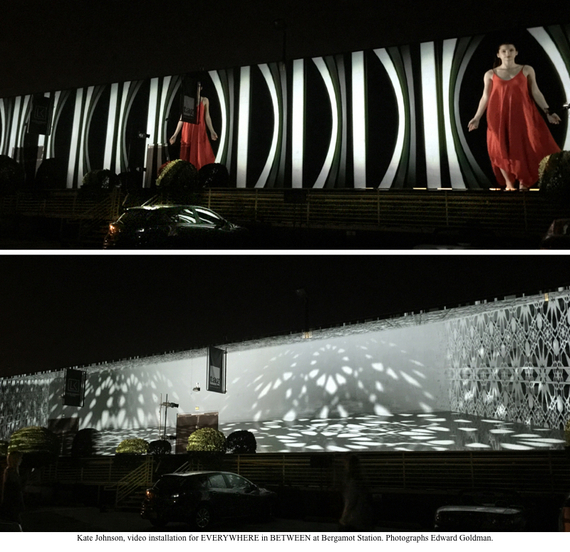 Award-winning filmmaker and video artist Kate Johnson projected a variety of images and videos on numerous façades of the Station. This latest project of hers, titled "EVERYWHERE in BETWEEN", was supported by 18th Street Arts Center and the City of Santa Monica. Check out the images and video on the KCRW website to get a taste of the adventure all of us had during this night. The black and white video of mysterious space, wrapped into geometric patterns, slowly morphed into an even more phantasmagorical space with female figures flying throughout.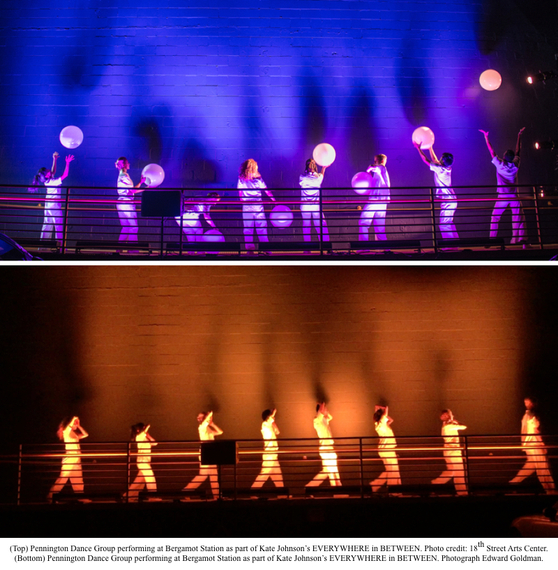 And then, the video stopped, and live dancers took over the stage, moving slowly in a ritual-like performance. There is no doubt that it took a lot of time and preparation to make this whole event look so cohesive and seamless. The only regret is that it was for one night only. As far as I could tell, the crowd of several hundred people who attended this event -- yours truly included -- was totally enchanted. One hopes that the success of this multifaceted performance will inspire city and community leaders to turn this event into a much-anticipated annual cultural affair.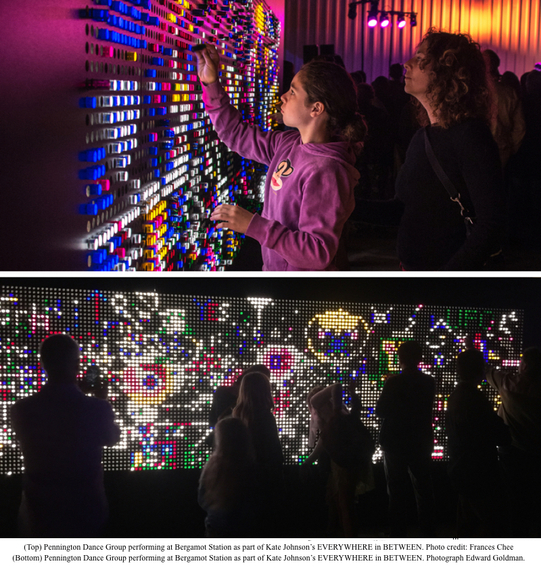 With the recent departure of the Santa Monica Museum of Art, along with a few high-profile galleries, Bergamot Station is going through a difficult period of transition. It faces the decision of whether it will continue to be a manifestation of the unique Bohemian spirit of Santa Monica, or it will be transformed into yet another banal, commercial monster like The Grove. Let's cross our fingers.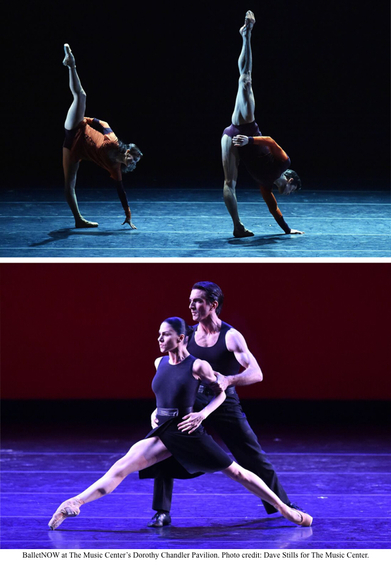 On Sunday, still high from the previous night's performance, I went to the Dorothy Chandler Pavilion to see a world premiere of BalletNow, with stars of European and Latin American ballet enthralling audiences with an exceptional performance of classical solos, pas de deux, and cutting edge contemporary ballet. Just imagine marble statues of Greek and Roman gods and goddesses coming to life and moving through the air with divine grace, as if earthly gravity simply does not apply to them.
To learn about Edward's Fine Art of Art Collecting Classes, please visit his website. You can also read The New York Times article about his classes here, or an Artillery Magazine article about Edward and his classes here.
Edward Goldman is an art critic and the host of Art Talk, a program on art and culture for NPR affiliate KCRW 89.9 FM. To listen to the complete show and hear Edward's charming Russian accent, click here.
Calling all HuffPost superfans!
Sign up for membership to become a founding member and help shape HuffPost's next chapter