"The new is born in Bergen," said Anders Beyer, the director of the International Festival in the port city of Bergen, Norway.
Norway, which spends almost one percent of its national budget on culture, has the resources to devote to the creation of new music, and the 61-year-old festival is a demonstration of that
priority.
"We have the money to commission composers," said Beyers. "The festival's become one of the most recognized and prominent cultural spaces for contemporary music."
I spoke to him after watching a debate on the state of classical music in which experts discussed the massive decline in ticket sales, orchestras going on strike and other bleak descriptions of the current "crisis" in which classical music has found itself.
"I'm not singing in the choir that there's a big crisis in classical music. I don't see that it's so severe," said Beyer. "You shouldn't be scared."
He has no reason to be scared -- this year, the festival sold more tickets than in the past seven years. Norwegians and foreigners flock to the festival, which takes place every spring in Bergen, a cheerful coastal city nestled between seven mountains. The 15-day festival began in 1953, making it Norway's oldest festival.
This year's festival began with Chinese-born composer Tan Dun's opera Marco Polo, based on Polo's journey from Venice to China. "We've included many artists from China in our opening opera. The choreographer for dance company Carte Blanche's new production is from Tibet. We even have a co-operation with New York's Juilliard School of Music," said Beyers.
In both its storyline and its participants, the opera reflects the festival's mission: to showcase Norwegian artists alongside top international artists, demonstrating Bergen's role as a leading cross-cultural hub.
While the festival attracts many international musicians, it features mainly Norwegians and Scandinavians, from the internationally-acclaimed pianist Leif Ove Anders, who performed with the Mahler Chamber Orchestra, to lesser-known local orchestras and chamber groups.
The first concert I attended featured the Kristiansand Symphony Orchestra, which is based in Norway. The performance began with a new piece by Norwegian composer Orjan Matre that the orchestra had commissioned. The program quickly reverted to traditional repertoire. Armenian pianist Marianna Shirinyan performed the festival's signature piece, Bergen-born composer Edvard Grieg's Piano Concerto in A minor. After an electrifying performance, Shirinyan returned to the stage for a solo encore -- Gershwin's song "The Man I Love," arranged by Percy Grainger, who worked closely with Grieg in the last year of Grieg's life to revise the piano concerto. Later, Grainger published the first edition of the concerto, and performed it with the KSO in 2009. The orchestra concluded the concert with another classic -- Beethoven's Eroica Symphony.
The performance was held in Grieg Hall, home of the Bergen Philharmonic Orchestra. From above, the 1,500-seat concert hall resembles the shape of a piano. Other concerts are performed in venues throughout the city and its outskirts. Several are held at Troldhaugen (Troll Hill), where Grieg lived with his wife Nina from 1885 until his death in 1907. Troldsalen, an intimate recital hall, was added to the property in 1985. Floor-to-ceiling windows behind the stage allow the audience to look out over the water and the hut where Grieg composed.
I visited Trolsalen to attend a solo recital by the young Ukranian pianist Sasha Grynyuk, the winner of the 2012 Edvard Grieg International Piano Competition. He performed a diverse program: three arrangements of Bach preludes by Wilhelm Kempff, as well as preludes by Gershwin and Scriabin. Grynyuk paused only momentarily between pieces, masterfully shifting styles just as quickly, playing Bach's E Major prelude with an aristocratic elegance and then meditating on Gershwin's sultry blues motifs. He finished the program with Friedrich Gulda's "Play Piano Play, No. 5" a fiendish moto perpetuo which, as the title suggests, treats the performer as a puppet, pushing the limits of technique and expression.
At the end of Bergen's harbor, past a row of old wooden houses painted deep reds and yellows, stands Hakonshallen, a cathedral first built in the mid 13th century by King Hakon Hakonsson when Bergen was Norway's capital. There I attended a performance by a trio of Norwegian superstars - Grammy-winning cellist Truls Mork, violinist Vilde Frang and pianist Christian Ihle Hadland.
The sun doesn't set until after midnight in Norway, and so the festival continues well into the bright night. A series called Duos at Dusk, held in Domkirken, an old stone cathedral, features intimate acoustic duos. In another late-night series called Masterpiece Revisited, young musicians from Bergen present their interpretations of classical masterpieces using visuals and sounds. One of the artists, Gisle Martins Meyer, explained his "remixing" process this way: "A good mechanic can take a car completely apart and then put it back together again. I take car apart so that I can make rockets."
"There's no grey hair in that audience," said Beyers.
The city's historic center wraps around a waterfront crowded with sailboats. One end houses Bergen's central market, where local fishermen offer a smorgasbord of smoked salmon, herring, spiced whale meat, moose and reindeer sausage, and the city's best fast food: salmon curry. Walk along the Bryggen, the city's wharf, where the water is lined with old wooden houses in reds and yellows dating back to 1702. Just a couple blocks from the waterfront is a funicular railway that will take you to a lookout point where you can see the entirety of the city and its surroundings. Bergen is a traveler's gateway to the Norwegian fjords, and so a visit to the festival is a good opportunity to visit the fjord region as well.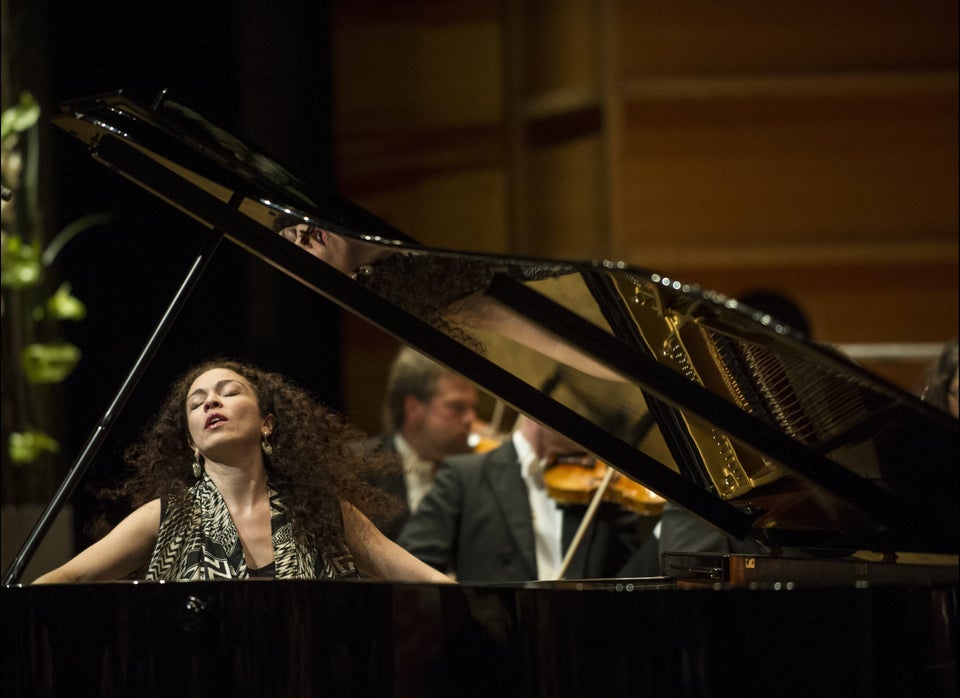 Popular in the Community