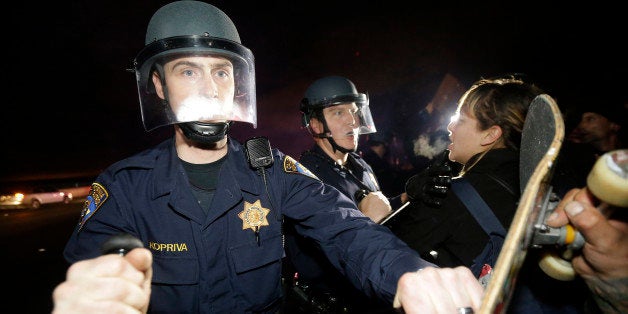 OAKLAND, Calif. -- More than 200 people arrested after a protest in Berkeley last month may wait a year before the district attorney decides whether to prosecute them for misdemeanor offenses.
The hallway outside a Superior Court of California courtroom was packed Tuesday morning with people, many of them college students, who'd been locked up Dec. 8 during a demonstration over the police killings of unarmed men in Ferguson, Missouri, and New York City. Many faced charges of being a public nuisance and obstructing a public place after shutting down part of a freeway.
They are free without bail and were told by defense attorneys that their cases remain under review by the Alameda County District Attorney's Office. Prosecutors have 12 months to decide whether to drop charges.
"It seems like a way to keep us under supervision," said Joy Fairfield, 33, a San Francisco theater director who said she plans to continue participating in demonstrations. "It's a fear tactic."
The D.A.'s office punted because prosecutors haven't received police reports from the California Highway Patrol about any of the arrests.
Officer Sean Wilkenfeld, a highway patrol spokesman, said officers "are working diligently to expedite these reports," but "we will not sacrifice a complete and thorough investigation for the sake of time." He said he didn't expect the reports to take the full year to complete, but couldn't predict when they would be finished.
The Alameda County D.A. has filed charges against at least five men accused of felonies, including charges of assaulting an officer, attempted robbery and burglary, from incidents linked to other protests that roiled the Bay Area in November and December.
The majority of people in Superior Court on Tuesday were involved in stopping traffic on Interstate 80 for more than an hour and were not accused of violent crimes. Police eventually steered the demonstrators from the freeway and made arrests in a nearby retail parking lot.
"I don't feel like a criminal or that what I did was wrong," said Jessica, a 19-year-old sophomore at University of California, Berkeley, who didn't want to use her full name because she feared her arrest could jeopardize her chance of getting into grad school. "I wouldn't take it back."
A lawyer from the activist group By Any Means Necessary predicted the district attorney wouldn't pursue charges against such a large group.
"They're scared of creating a provocation with mass prosecution," Ronald Cruz told reporters. "The local establishment knows how valuable the protests are."
Calling all HuffPost superfans!
Sign up for membership to become a founding member and help shape HuffPost's next chapter