Scuffles broke out in Berkeley, California, as a previously canceled far-right demonstration drew hundreds of counterprotesters on Sunday, less than 24 hours after a similar rally attracted a large throng opposing it in nearby San Francisco.
Police said several thousand people gathered in Berkeley's Martin Luther King Jr. Civic Center Park, most of them there to protest a planned "No to Marxism in America" event despite organizers' decision to call off the rally for fear of violence.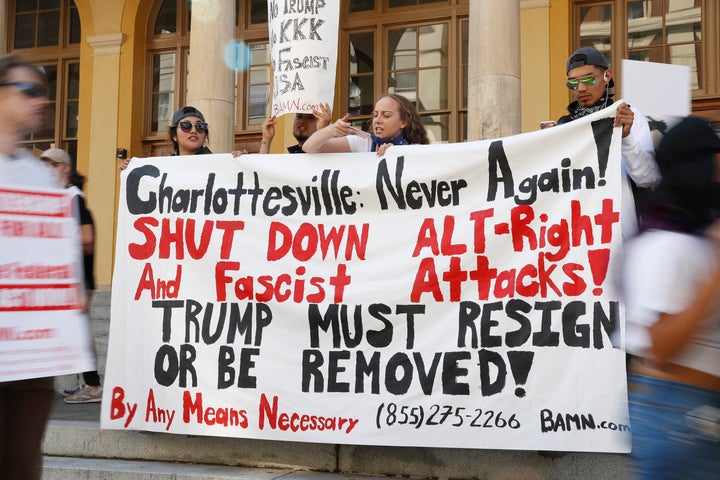 The planned demonstration morphed into a "No Hate Rally" that spilled over into other parks in the area. The San Francisco Chronicle reported that some participants carried "signs reading 'Berkeley stands united against hate,' 'Queers against hate,' and 'End white supremacy,'" while others handed out "no hate" shields.
The counterprotesters ended up dwarfing pockets of demonstrators wearing "Make America Great Again" hats or flying flags touting President Donald Trump.
Jeff Conant, 50, of Berkeley, who helped organize the counterprotest, told the Chronicle it was "important for people to show up and make it unacceptable for right-wing white supremacists to spew hate and incite violence."
But while the gathering started off mostly peaceful, chaos later erupted as "hundreds of black-clad demonstrators ran from the park screaming in various directions down city streets. Moments before, they had jumped barriers and entered the police-guarded park," per the Chronicle.
Lt. Kevin Schofield of the Berkeley Police Department said officers used smoke to break up a fight, but had not used tear gas, Berkeleyside notes.
On Saturday, thousands flooded the streets of San Francisco to protest another far-right rally that was ultimately canceled. These counterprotesters joined MC Hammer and utilized the power of dance to run white supremacists out of town.
Since the "Unite the Right" rally in Charlottesville, Virginia, earlier this month that sparked deadly violence, cities have been grappling with hate-fueled rallies on their turf. Boston dealt with a "free speech" rally last weekend, with tens of thousands of people showing up to protest an emboldened white supremacy movement in America.
This story has been updated with additional information about the Berkeley rally.
Popular in the Community