SAN FRANCISCO -- As police broke up protests in Berkeley Saturday night, a local minister went to the hospital with a gaping head wound and a concussion -- allegedly the result of an officer striking her from behind with a baton.
Cindy Pincus, 29, told HuffPost she was among a group of ministers and seminary students near the front of the protest as police in riot gear began advancing to disperse the crowd of hundreds. Pincus said she was helping a woman who'd fallen when, from the corner of her eye, she saw an officer swing a nightstick. She said the blow sent her staggering.
"I had a brief blackout in my vision. I saw stars," Pincus said. "I would say it's an indiscriminate and disproportionate reaction to peaceful protests. It was completely way out of line."
A gory photo that Pincus tweeted became widely seen in the aftermath of Saturday's demonstration.
WARNING: Graphic photo below may not be appropriate for some audiences. Story continues below.
The Berkeley demonstration began peacefully to oppose a Staten Island grand jury's decision on Dec. 3 not to indict NYPD Officer Daniel Pantaleo for killing Eric Garner, an unarmed black man, with a chokehold. Hours into the protests, however, stores were vandalized and some objects were thrown at police. Protests on Sunday also turned violent, according to the San Francisco Chronicle.
Pincus, the intern minister at the First Unitarian Universalist Society of San Francisco and a student at the Pacific School of Religion, said that she was with people behaving peacefully when she was hit.
Police had just begun firing tear gas as Pincus stumbled for safety, she said. Two blocks away from the center of the chaos on Telegraph Avenue, Pincus met friends who took her to a hospital in nearby Richmond. She was discharged early Sunday morning.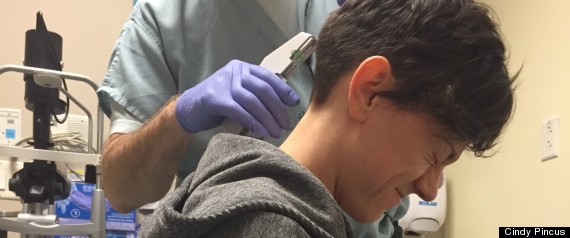 Pincus getting examined at the Richmond Medical Center early on Sunday, Dec. 7.
The gash to Pincus' head took three staples to close. Two days after getting hit, she said, she's not sleeping well and has "cloudy thinking." Health insurance covered some of the cost of the trip to the emergency room, but the copay amounted to a $250 bill. A fellow seminarian offered to help pay, she said.
A Berkeley Police Department spokeswoman said that violent protesters put everyone at risk, including peaceful demonstrators.
"The Berkeley Police Department is and remains committed to allowing the public to peacefully assemble. All too often, some participants of recent demonstrations commit acts of violence — requiring police action," Officer Jennifer Coats said to HuffPost via email. "Acts of violence that can lead to a chaotic situation for demonstrators as well as officers who are trying to quickly assess and resolve quickly evolving situations."
Officials at the University of California, Berkeley, told HuffPost that they weren't sure how many students and faculty might have been injured. But one creative writing professor offered an extension on an assignment for any students harmed Saturday night.
If any of my #Berkeley students were teargassed, batoned or shot w/rubber bullets last night, you can have an extension on your essay.

— kaya oakes (@kayaoakes) December 7, 2014
Berkeley Mayor Tom Bates said Monday to KCBS that the right to demonstrate has been abused by outsiders.
A "massive headache" stopped Pincus from joining Sunday's protests, but she said she'll be back on the street Monday night.
"Just because I got hit doesn't mean that nobody else will," she said. "I have to keep going back until police brutality is over for everybody."
A third night of demonstrations in Berkeley is scheduled to begin Monday at 5 p.m. PST.
This story has been updated to include comment from the Berkeley Police Department.
Related
Popular in the Community