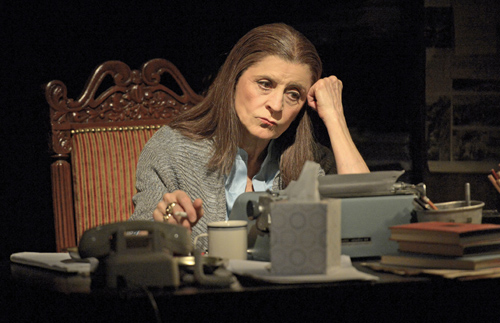 Concetta Tomei as Oriana Fallaci, who won worldwide fame for her combative reporting.
Photo courtesy of kevinberne.com
Oriana Fallaci was one of the world's best known, most respected and most controversial journalists during the height of her career, from the 1960s through the '80s. She pursued danger from Vietnam to Iraq and profiled many powerhouses of the era, from Henry Kissinger to Yasser Arafat to the Ayatollah Khomeini, challenging them in aggressive interviews that defined a new style of reportage and sometimes prying out responses that her subjects later regretted.
She was a larger-than-life personality -- outspoken, idealistic, pugnacious, passionate, contradictory -- whose work often revealed as much about herself as it did about her subjects. Compressing such a personality into a play is a huge order, even for a writer with the range and skill of Lawrence Wright, whose credits include a Pulitzer Prize for nonfiction, two national awards for magazine writing, and several screenplays and works for theater.
But Wright set that task for himself, along with an effort to plumb the journalist's motivations, in Fallaci, the two-person drama receiving its world premiere at Berkeley Rep. The result is dramatically engaging but only superficially revealing.
Its structure and many fragments of its content are remarkably similar to those of a New Yorker interview published in 2006, a few months before Fallaci's death.
The 90-minute play consists of three meetings between Fallaci and an Iranian-American journalist, two in Fallaci's book-lined New York apartment and the third in an abstracted location. The encounters are dated with some precision, for essential reasons.
In the first, on July 7, 2000, a young reporter for the New York Times breaks through Fallaci's reclusiveness to gather material for an obituary that will rest in the paper's archives until it's needed. That's standard procedure for the Times.
The contrast between the women could hardly be greater, a fact that is overstated in costuming and makeup.
Fallaci, played with compelling intensity and occasional exuberance by Broadway veteran Concetta Tomei, offers a portrait of weariness, in rolled-up jeans and a long gray tunic that has seen better days; she wears no makeup. Except except when speaking, her lips comprise a thin line above her square jaw.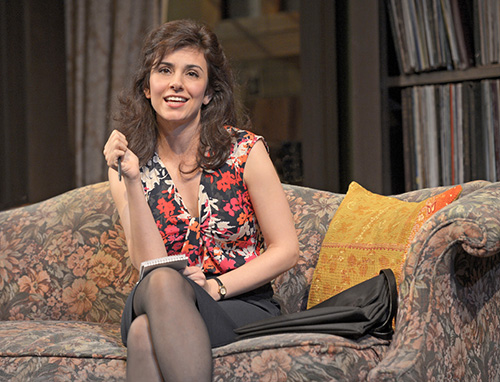 Marjan Neshat as the youthful reporter assigned to interview Fallaci
Photo courtesy of kevinberne.com
Reporter Maryam, who evolves from innocence to tenacious maturity in Marjan Neshat's performance, enters with youthful vitality, in a sleeveless flowered blouse and hip-hugging skirt, wearing makeup highlighted by bright lipstick.
The chain-smoking Fallaci has no interest in being interviewed, but the women connect well enough for her to open up and summarize a few highlights of her career and the childhood that she credits with engendering her toughness. Born in Florence in 1930, she followed her father in working against Fascism as a member of the Italian resistance during World War II, surviving the horrors of conflict and emerging with a lifelong hatred of tyrants and tyrannical institutions. She entered journalism a few years after the war, and the rest is history, lightly sketched by the play.
Interview No. 2 comes three years later, after 9/11. For Fallaci, the attack by al-Qaeda catalyzed her disdain for Islam and turned her into a vehement crusader against Muslim immigration into Europe. She considered the influx nothing less than a horrific invasion by cruel people representing a dogma that is determined to destroy every noble aspect of European civilization, especially its commitment to human rights. She found the concept of moderate Islam unthinkable.
For Maryam, the passage of years has not only seen her become a successful author but apparently a more observant Muslim; her attire has become more subdued, though fashionable, and her hair is now covered by a loosely worn shawl.
Those changes set the stage for verbal sparring between relative equals, skimming the surface of philosophical differences while shedding little light on the sources of Fallaci's beliefs and emotions. Wright's text peeks into her personal life, including a grotesquely abusive relationship with a Greek radical, but she remains an enigma.
For Tomei, Fallaci offers an opportunity to shine, and she takes full advantage of it; for Neshat, the play seems to be one more solid step in a blossoming career.
Bay Area veteran Oskar Eustis, now the artistic director of the Public Theater in New York, directed the taut production with his customary sensitivity to tone and pace, and Robin Wagner designed the wonderful setting, which undergoes transformations that are swift and in one case breathtaking.

Fallaci runs through April 21 in Berkeley Repertory Theatre's Roda Theatre, 2015 Addison St., Berkeley. Tickets are $29-$89 (subject to change) from 510-647-2949 or www.berkeleyrep.org.
Related
Popular in the Community