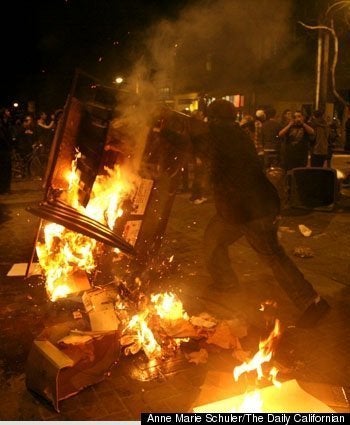 Overnight, an impromptu riot to protest budget cuts and tuition increases at the University of California-Berkeley snowballed to include more than 200 people and resulted in flaming dumpsters, broken windows and dancing in the streets.
The Daily Californian reports that the riot emerged from a campus dance party and metastasized into an all-out fiery clash between students and police.
Officers physically pushed the crowd back so that Berkeley fire personnel could extinguish the flames. Sporadic fights broke out within the crowd, causing police to advance their line on the growing mob and use batons to push it back.

Members of the crowd hurled glass bottles, plastic buckets, pizza and other objects at the police line. The crowd's size and intensity fluctuated as the police and protesters clashed and multiple members of the crowd were detained by police.
The Daily Cal kept a timeline of the riot, which began as a small occupation of Durant Hall, a campus building, in acknowledgment of Campus Action Day March 4, in which students plan to hold large-scale protests of mounting tuition increases. But by 2 a.m., the scene began to turn.

At 1:55 a.m., a dumpster appeared to be on fire in the middle of Telegraph Ave. An individual pushed the dumpster on its side as people appear to be dancing around and on top of it.

At about 2:05 a.m., a fight appeared to have broken out in the middle of Telegraph Ave. and Durant Ave. Berkeley police responded to the scene, pushing people away south on Telegraph Ave.

Police appeared to be using batons to disperse people.

Protesters appeared to be throwing what appeared to be trash and buckets at police officers.
According to NBC Bay Area, there were 25 police on the scene, although Berkeley police have disputed that number. A rioter told NBC Bay Area that event was a "Real battle with cops, rioters winnin [sic]".
UPDATE: According to the Daily Cal, police believe that most of the rioters were not students. Two were arrested: Marika Goodrich, 28, a senior at the school, and Zachary Miller, 26, an alumnus.
WATCH: Raw footage from the riot:
Related
Popular in the Community