Growing up in Qatar, I developed a passion for soccer, which happened to be the most popular sport in the country. I watched La Liga games with friends, cheering on FC Barcelona, and rooted for the country to get the 2022 FIFA World Cup bid. So, naturally, when I found out that there was going to be a partnership between Berklee's Institute for Creative Entrepreneurship (BerkleeICE) and beIN SPORTS, a global sports network I watch soccer on, I was beyond excited! Fortunately, I got the chance to get involved in a project this partnership created during my senior year.
The first phase of the project was to plan a hackathon. On March 28th, BerkleeICE and beIN SPORTS co-hosted HackingFutbol, which challenged young entrepreneurs and passionate students from Berklee, Babson, Boston University, Harvard, and other schools to build a music-oriented marketing campaign and online platform for the network's coverage of Copa America 2015. The team that created the most effective campaign could win paid internships with beIN SPORTS and jerseys signed by soccer superstars like Messi, Neymar, and James. As a fan, I would have loved to participate and win a signed jersey, but I was too busy executing the event!
"For a very long time at beIN SPORTS, we have been aware of the significance of music as an element of great passion and personal identity, which in many ways mirrors that of sports," said Javier Pinol, Music Director at beIN SPORTS and a HackingFutbol judge. As beIN SPORTS has the exclusive broadcast rights to Copa America 2015, they decided this would be a great moment to launch this initiative and further incorporate music into the beIN SPORTS brand.
"Javier and I hatched together a creative problem that would both benefit in terms of its objective as well as tapping into student's creativity, giving them a chance at something unique using original music to promote soccer," said Panos Panay, Founding Managing Director of BerkleeICE and Founder of Sonicbids.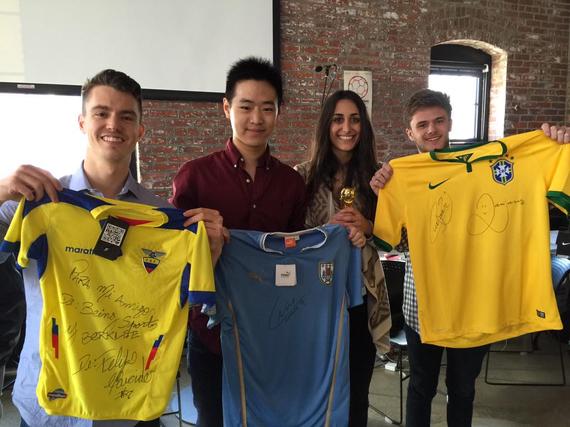 The winning group, Team Del Piero--Evan Chapman, William Kiendl, Jason Mahr, and Marta Trapella--built a prototype for a Reddit-style platform designed to bring fans together through fan challenges, national pride, and chants and national anthems from participating countries of Copa America 2015 - some submissions may even be broadcasted on beIN SPORTS! The team is currently developing the platform, which will be live for fans to experience during Copa America.
"The end goal is to hope that the platform can serve as a one stop shop for fans and music lovers to come and not only submit their original music, but also to experiment with producing and seeing what other talent is out there. It's a great opportunity for people to engage with the beIN SPORTS brand through music," said Chapman, a recent Berklee graduate who studied film scoring and composition.
Trapella, a Juventus fan and Team Del Piero's soccer expert, believes that the project has a future past Copa America. "Although it is more adaptive to Copa America right now, the platform can be applied to anything, from the English Premier League to La Liga."
I decided to catch up with a couple of soccer fans I have watched matches with in the past to hear their thoughts on chanting and the platform. Saumya Iyer, a student at Georgetown University in Qatar and an Argentina supporter, enjoys chanting with friends during matches. "Chanting creates a fun atmosphere for the match and is entertaining and fuels competition. The idea of the platform is fun and is something I'm interested in," Iyer said.
Ali Rodriguez of Venezuela, a journalism graduate from Carleton University in Canada, adds, "I'm very excited for Copa America! Last time Venezuela made it to the semi-finals so we're a tougher team than people realize. If Venezuela makes it far enough, I may participate."
Nadeem Khalil, a sports management major at Lynn University and a die-hard fan of Liverpool, looks forward to cheering for Bolivia this summer. "If you're not sitting in the stadium, or don't have a big TV with surround sound, you don't get anything close to the same experience as them, but submitting something for the world to see would help many people feel a bit of that experience," said Khalil.
"I love the idea of the chants being available on a beIN SPORTS platform," said Braeden DeWan, an economics student at Swarthmore College and a Colombia supporter for Copa America. "I don't know many chants so this would be a fun resource."
HackingFutbol was a great example of what can happen when you bring people together from different backgrounds, making it a truly international collaboration. However, this is not the end of the road for BerkleeICE and beIN SPORTS.
When asked about the future of the partnership, Panay said, "I see this as a long-term partnership and also as something that fits both organizations. From our end, clearly we are looking to continue to give students many practical experiences, building the bridges for college students from graduation into the professional world. Active collaboration with beIN SPORTS executives along with the offering of paid internships is very much in line of the institute's mission and the way we are to develop career preparation."
I look forward to exploring other ways sports and music collaborate through this initiative, but for now, I'm excited to see what this platform brings to the Copa America fans this summer. Vamos Colombia!
Related
Popular in the Community