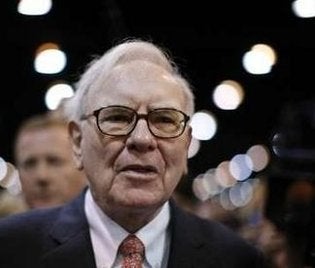 Friday Night, 5/1: Fly first class, enjoy the luxury of Travelodge
Warren Buffett is here. Warren Buffett is everywhere. He greets you on an airport billboard, stressing the importance of college education. There he is again, on the cover of every book in the bookstore window display. The hotel signs say "welcome Berkshire shareholders." Next to the college world series, this is the biggest weekend in the year here in Omaha.
The annual Berkshire Hathaway conference draws a giant international crowd to the otherwise quiet Midwestern city of Omaha. Hotels range in luxury, but most attendees end up cheap hotels like the local Howard Johnson or Super 8. Those who come every year know to book a hotel months in advance, before the conference date is even announced (it's predictably the first weekend in May).
Thanks to an unexpected layover in the lovely Detroit airport, we've missed most of the Friday night festivities: open bar at Borsheim's (Omaha's answer to Tiffany's); rubbing shoulders with young hedge fund managers at the Value Investor Insight cocktail party; and watching the VIPs stroll in and out of Charlie Munger's private dinner party at the Marriott. Prem Watsa and Tom Gaynor may not be household names, but they are luminaries in the value investing world. We head straight for our humble motel and get the only remaining parking space. Once we check in, the night clerk tapes a piece of cardboard to the front door: "No Vacancy".
At nearly 5am, the hotel parking lot that was packed the night before is half empty. Where did everyone go? They are lined up outside the Qwest Center, hoping this will be the year they get a seat within arm's reach of Warren Buffet and Charlie Munger. The lines by 6am wrap around the building from three entry points. Thousands of people wait for the doors to open. Kindly Berkshire employees and event staff pass out free coffee for weary pilgrims.
The annual Berkshire Hathaway meeting isn't what you'd expect. Sure, the crowd has its share of blue-blazer clad bankers and investors, reading the free weekend Wall Street Journal and Financial Times, checking their Blackberries every 2 minutes as a nervous tick. There are more than a few business school students who managed to get passes. They come armed with notebooks, tape recorders, and resumes in the hopes of networking. But that's only a fraction of the crowd. So many Nebraskans and Iowans who bought A shares for practically pennies in the 1960s come with generations of family and friends to celebrate what was probably the greatest purchase of their lives. And the rest are shareholders from all walks of life, who come for a party, a little learning, and a lot of hero worship. Only on the first weekend in May in Omaha would it be cool to wear Geico (a subsidiary of Berkshire) t-shirts with a picture of your favorite caveman. How about a skinny tee with Berkshire's name in rhinestones? And it looks just as good on the seniors as it does on the teenage girls!
There are no protesters this year. Last year, Native Americans from the Pacific Northwest staged quiet demonstrations against Berkshire, whose utility subsidiary, Midamerican, runs a hydroelectric dam that has hurt their local ecosystem. The year before, the controversy was over Buffett's investment in Petro-China. Instead, this year, we are welcomed with a mock recreation of Wyatt Earp's shoot out at the OK Corral featuring a real stage coach and very load fake firearms.
At 7am, the doors open and what was a large but fairly orderly line of happy shareholders turns into a pushing/shoving/running match to get seats closest to the stage. There are enough seats for everyone, and no one area is so close as to offer a really great view of the duo except the reserved seats, but the record crowd of over 35,000 rushes anyway.
Many headlines will come out of the day, but perhaps none as shocking as this: Capitalists Don't Fear Swine Flu! I myself had forgotten about the virus until I spotted one lonely, paranoid traveler wearing a green paper safety mask. .
After years of graciously taking any and all questions Buffett decided it was time for a change. Last year, long-winded questions about life and success sucked the air out of the auditorium and prevented any inquiries as to Berkshire's businesses. So this year, half of the questions were screened by Buffett's long-time editor, Carol Loomis, CNBC's Becky Quick, and Andrew Ross Sorkin of the New York Times. The revamped format of the meeting made for a much more substantive conversation. In fact, many of the questions challenged Buffett to defend his long standing policies on shareholder dividends, stock buybacks, and the fact that he hasn't formally named a successor. The more serious mood in the auditorium, prevented Munger from using his classic flip response ("I have nothing to add") more than once.
Political polar opposites, Buffett and Munger both agreed that overall the Fed response to the financial crisis was the best that they could do under the circumstances, agreeing that the Fed was using a conventional response of an unconventional magnitude. Neither held out much hope for the newspaper industry's survival. Munger somberly spoke: "All these castles with their lovely moats. The moats are filling up." But they were exceedingly positive on their holdings in Wells Fargo, Swiss Re, and Munger was gushing about BYD. He considers their work, creating cars fueled by battery power solely, "a great humanitarian cause." The two, despite their rough ride in 2008, were really upbeat about the future, although both agreed that the current market is not the best buyers opportunity they had ever seen, referencing 1973-74 when great companies got down to only 4 times earnings. Buffett even sees the real estate market turning around.....slowly.....eventually.
To cap off the duo's positive outlook on the future, the last question was asked by Buffett's grand nephew, who asked his girlfriend to marry him. She said yes. Of course.
The main conference center holds the meeting, but in the Exhibit Hall the Berkshire Hathaway companies set up like a trade show/mini shopping mall. If you're a regular, you own at least 1 pair of Justin boots. Cowboy boots not your thing? How about some shoes from Born or Sofft? There are endless boxes of chocolate, brittle and toffee at the giant See's stand. M&M/Mars is selling packets of purple and white M&Ms with pictures of Buffett and Munger on them. Don't forget the Berkshire merchandise! How about a football jersey? Golf balls with the CEO's likeness? Golfshirt? Piggy bank? Tote bag? Umbrella? Pen? Doormat? (No joke; one stand was selling the 2009 Berkshire Hathaway Shareholders Meeting Doormat.)
I travel to this show every year with hard core Buffett fans, who then make me do all the things Buffett likes to. So of course, Saturday night dinner has to be at Gorat's. An Omaha institution, it's Buffett's favorite steakhouse. Buffett's notoriously a creature of habit, and the rumor is his regular meal is t-bone steak, salad with blue cheese dressing, and a cherry Coke. (Omaha has a strange obsession with cherry Coke.) Buffett fans think Gorat's is spectacular, and I'm not convinced. When one of my friends asked the waitress if all the steaks come from Omaha, she said, "I don't have any clue where the meat comes from." I suspect that without Buffett's endorsement, Gorat's would be less successful -- or an Olive Garden.
Midnight at the Casino: Because the stock market isn't enough of a gamble
After a day of learning how to invest wisely in the Church of Buffett, why not blow all your remaining cash at the Horseshoe Casino in nearby Council Bluffs, Iowa? A few other sinners from the shareholder meeting show up here, too. Last year I watched Susan Lucci (who made a comedic appearance at the start of the meeting) lose some money at the roulette wheel, but this year the Horseshoe was mostly populated with frat boys and farmers.
My husband orders some whiskey and over the course of an hour manages to double his money at the blackjack table. Five minutes later, he's lost it all. Buffett and Munger joked during the meeting that they can't understand why people would invest in an activity with such a negative rate of return. A good blackjack dealer can make nearly any hand into a 21. I only allowed myself $20 to gamble with. I won $100 with my first dollar, and quit. Better return than any bank.
Sunday, 5/3: Free Breakfast and Jewelry
The big Sunday morning event is at Borsheim's, Berkshire's famous jewelry retailer. I would describe this as the Tiffany's of the Midwest. I have to admit, this is my favorite part of the weekend.
It's ironic that Buffett is famous for being so parsimonious (rumor has it that his license plate says "Thrifty") and yet he wholeheartedly encourages his shareholders ("partners," according to our meeting badges) to spend and spend like there is no recession in sight. Shareholders dutifully fill the store and the party tent set up in the parking lot by 9 AM, and enjoy free breakfast and drinks. After three Bloody Marys, spending our emergency recession savings on high-end jewelry seems perfectly reasonable if not the most responsible thing we could do for our economy and our country. I like shiny rocks and quickly engage my husband in a heated debate over the 18k yellow gold and diamond stacking ring by "Christopher," a New York designer who came out just for this event. Look, I tell him, it's on sale! In fact, everything in the store is priced somewhere just above wholesale price... but you have to flash your shareholder badge to get into this sale. My hand looks very glittery as I type this paragraph.
For most out-of-towners, this is the last stop before we race to the small brown and beige Omaha airport for our flights home. There was an overall upbeat mood this weekend, but this year it was a bit less jubilant. Then again, everyone's a bit less solvent.
Support HuffPost
The Stakes Have Never Been Higher
Related
Popular in the Community