BERLIN ― Swaddled in sweaters and Gore-Tex, Peter Neubert is one of the few, brave cyclists you'll meet on Berlin streets during the bitter winter months.
Come snowstorms or slushy streets, the teacher is pedaling to work.
"Biking is faster and healthier," he says. "And that's why I ride, regardless of the weather."
In Germany, a country known for its car industry, Berlin is taking steps to better its air quality ― and its citizens' health ― by building 12 new bike superhighways that will connect the city with its suburbs. Other parts of the ambitious plan involve making parts of the city off limits to cars, and erecting barriers between bike paths and car lanes.
"It will alter the streetscape forever," says Denis Petri, an activist who helped get the bike plan adopted. After a referendum last year that drew 100,000 signatures, officials took note.
"The law is a mammoth task for the city," says Petri, who expects that the plan will be finalized this spring and then gradually implemented. "Should it take longer, we will raise the public pressure."
As Germany tackles the global problem of air pollution, other cities in the country are looking to Berlin for inspiration. As much as 92 percent of the world's population lives in places where air quality levels exceed the World Health Organization limits, and air pollution kills as many as 6.5 million people around the world every year. Poor people, especially in Southeast Asia and the Western Pacific regions, are most affected, according to WHO.
Mayors in Europe have pledged to lower air pollution in their cities. In March, Anne Hidalgo, the mayor of Paris, and Sadiq Khan, the mayor of London, announced a system to assess new cars based on their real-world emissions and their impact on air quality, in order to combat air pollution.
In Berlin, reducing air pollution is part of the goal for activists, but so is health and safety. Of 40 cities, the German Cyclists' Association recently rated Berlin fourth-worst for biking, according to the newspaper Deutsche Welle.
"I wish that cyclists could go through Berlin without being honked at or being driven around," says Lara Eckstein. "Unfortunately, I experience that on my way to work."
She bikes every day from Neuköln to the city center and back. The route goes over the Moritzplatz subway station through narrow, crowded roads and main streets, jostled by cars and small trucks.
That is around four miles, and only a small portion is on bike paths ― the only stretches on "which I feel safe," Eckstein says.
The 27-year-old works for the Cyclist Lobby Association, and can hardly wait until the new law takes effect. "I hope that, at the latest, in five years everyone can feel safe on a bike in Berlin."
Eighty percent of households in Berlin already own at least one bicycle. But unlike Copenhagen, where bikes outnumber cars and investment in bicycle infrastructure has long been an integral part of urban planning, Berlin has traditionally spent little public money on bicycle traffic.
Berlin spends around $4.65 per citizen per year on bicycle infrastructure. Cities such as Copenhagen, Amsterdam, Madrid, Barcelona, London and Paris generally spend $18 to $24 per citizen, according to Petri's group, which helped organize the referendum.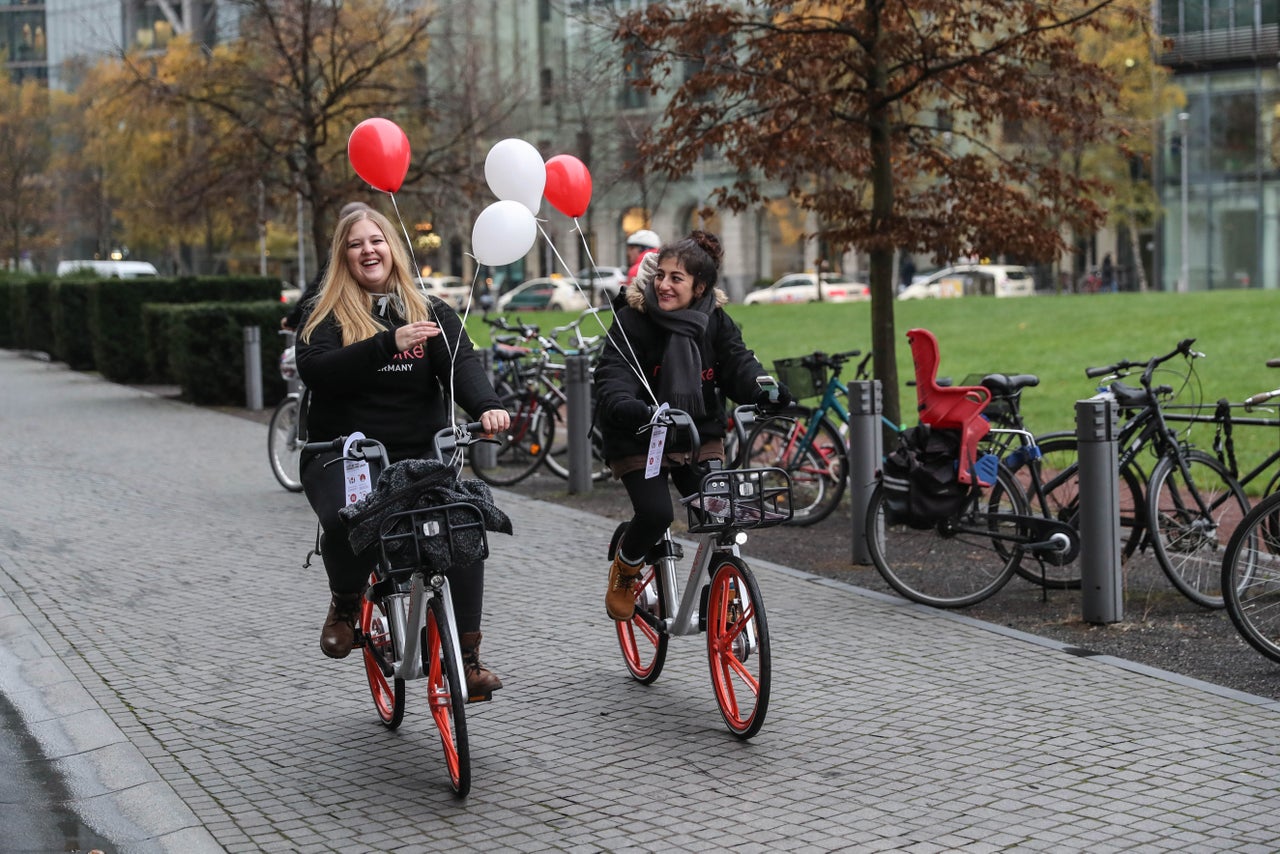 When Berlin's bike plans were first unveiled, they met with some resistance, especially from motorists who feared that parking spaces would be used for bike paths. "Don't forget the driver!" said one newspaper headline.
But now, other cities, including Hamburg and Munich, are following in Berlin's bike path. And some activists hope that bikes will eventually supplant cars as the primary mode of transportation for urban dwellers.
A notable part of the plan is 62 miles of 12-foot-wide bike lanes, a sort of highway for bicycle commuters that will connect the Berlin suburbs with the city center. There are miles of planned protected bike lanes, clearly demarcated in green and separated from car traffic by 35-inch bollards. One-way streets will be opened to cyclists, and some stretches of road will be reserved for bikes only, breaking cars' roadway monopoly in certain parts of the city
By the year 2025, the city wants to set up 50,000 bicycle stands at bus and train stations. A similar number will be installed at public places, such as schools, museums and government buildings.
To oversee this rethinking of Berlin streets, the city will hire dozens of bike advocates in the form of traffic planners, who will provide guidance for the projects.
They may not find an ally in the mayor, Michael Müller, a social democrat. The bike plan is proceeding not because of him, but in spite of him. Instead of giving passionate speeches in favor of biking, Müller made headlines by complaining that bike lanes were pushing out parking spaces on a particular street. It happened to be the street where the mayor lives.
Still, Berlin will invest 50 million euros per year in the first phase – about $61 million.
Experts say that Berlin is perfect for bikes because of its broad boulevards, wide streets and good public transit system.
The law comes at exactly the right time and can capitalize on the unique urban features of the city, said Michael Hardinghaus, a researcher at the German Aerospace Center Institute of Transport Research.
Hardinghaus points out that, because of the city's configuration, most bike commuting distances are shorter than three miles.
"Berlin," he said. "has the best conditions to become the bicycle capital of Europe."
Popular in the Community