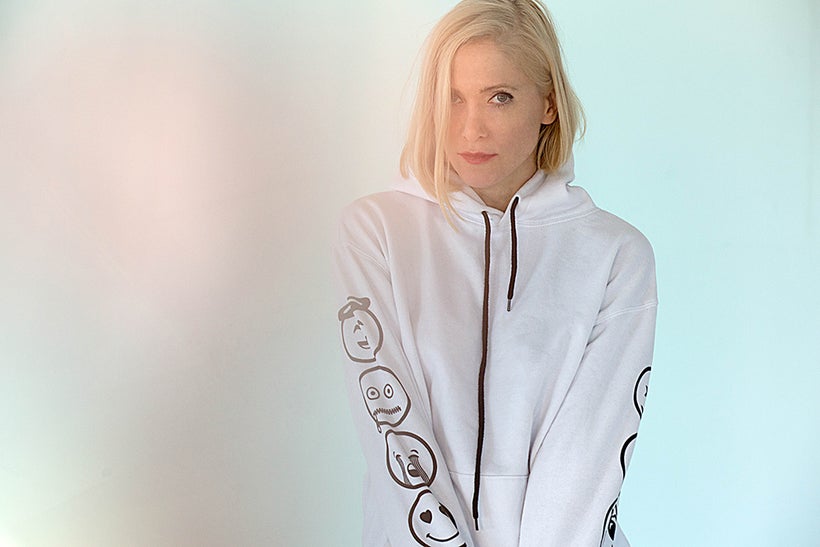 Ellen Allien is always a student and a purveyor of the arts. When she's not traveling all points of the globe with her own gigs, she is at home listening to whatever new music is out on web stores like Boomkat or Clone or going out to concerts or parties in her home of Berlin. Ellen Allien made her start in Berlin almost out of necessity during a downswing in the city's creative output by DJing, making her own music, and creating her own record imprint BPitch Control.
It was another big year for Ellen Allien with the release of her seventh solo album, the highly emotional and personal Nost. Recently, a pair of remix EPs from the album dropped with reworkings from the likes of K-HAND, Skudge, FaltyDL, and Kyoka, among others. Ellen Allien has been able to have a fruitful life within music by just keeping it real and moving through the highs and lows with grace.
I was able to chat with Ellen Allien at length recently, and here's a part of our conversation as we dip into her beginnings in the Berlin music scene, her motivations behind her music, and her connection to her audience.
You've become such a vital part of the Berlin music scene. What's so unique about Berlin?
I'm born here, but so many people moved her to run clubs. Many people came here to express music or to run the businesses or because they're freaks and want to start something new in life. I really enjoy that so many people come here and bring something into the city, but not so much the people that are doing nothing here. They can go home (laughs). When the people bring something, it's cool. I started going out from the beginning when techno started when I was a teenager. We have had times when techno became more "over-ground". The scene was going down a little bit, the underground scene. It was dying nearly. The club scene was dead and clubs closed. We had to start from new. BPitch and my work was a part of it in the 2000s. In the end of the 1990s, I started doing my label, started running parties because the clubs closed down, so I had to do it otherwise it was have died more. I'm glad I was in an age to enjoy it because now when I play tracks from all these people from the 90s, I have such a strong emotion when I play it because I was living it.
When you said the scene was dying and you had this almost blank canvas to work with, what did you feel like you could do at that point?
I focus completely on what I wanted to do. I do that always. I do what I feel every time. I don't look so much at what other people do. Back in the day, when I said it was dying, it was really hard. I had no money. The scene was down. I had shit shows in shitty clubs around Berlin. Not only shitty, there were cool clubs too. But also some clubs really random, like on some mafia shit. Those days there was a lot of mafia in the scene trying to take over. Now, its all controlled, its better. It was all criminals. It was like street life. It was really hard. When I see what we did now out of that, I'm very proud that we could do it and be successful. You can fuck it up also by yourself also, but its possible to play cool shows. There's more freedom.
You're on your seventh solo album – 'Nost'. What goes on in your mind when you were figuring out what you wanted to do with this album?
I was just thinking about what kind of tracks I wanted to play in the club. The last track "Ermond" is about the moon landing. I'm very connected to the moon and to some planets. I think the female being has a very strong connection to the moon. We're not so connected to those things anymore because we are busy with consuming and whatever we are busy with. There's one track "Call Me" is about Tinder and Grindr about how people watch naked pictures and make dates. Many people do that. I have a boyfriend so I don't do that. It's consuming people. One track is about a club I play at ("MMA") in Munich. It's one of my favorite clubs in Germany. It's an amazing club. There's one track about myself "Innocence", which I don't have anymore (laughs). Every track has a meaning for myself. Every track has an emotion or something out of my life. "Stormy Memories" for example, is about memories of my life, stories from the past. When the weather changes and autumn comes, I think about one person because maybe I was falling in love with this person at that moment. Then I smell it. I smell something in the streets and I think about it. It all comes from smells or when something changes.
Why do you think you've been successful for so long?
I don't know. You'd have to ask my fans (laughs). I'm still here because I'm a very passionate person and what I'm doing, I'm doing 100%. I try to find myself in the music. It's very passionate. I don't copy. I don't create to have people like me. I do it because I have to do it to express myself. The history when the wall came down and it started everything, I'm so deeply connected with all the memories.
What do you think your fans get out of your music or sets?
I don't always play the same sets. I take many risks. I think I give people hope, especially females. If you have dreams that you can do it, if you want, if you really keep going, and I think I'm a kind of female artist from the 90s techno scene that is still here. There is not many that are still here. Even the guys I was playing in the past with are not here anymore. They are not as active as me. All my colleagues I played with, they are not as active as me. They are gone. They play a little bit. I'm one of them still there, so there's a big story behind when I play. I get to play some old Berlin tracks that are maybe forgotten, tracks that nobody plays to bring them back. Then young people try to search for them. I try to connect the past with the present in my DJ sets.
What advice would you give any young women that follow you that want to pursue any artistic endeavors?
I think I've given many girls hope and strength to do what they are doing, even if they don't tell. I just feel that or hear that. I'm very proud that we can make it. We are headliners now. We can exist and people really want to hear us. They can't close the doors anymore. Maybe still, with festivals, they still book more men. They only book one woman only or two, and then ten men. Its still not there where we have to be, but its changed a lot. We have many female DJs, many girls running very successful labels now. They know how to run their businesses. They can grow. They don't have to shut up. We say what we want. This took many years. I don't have to say any advice, you just research and take something that you like. What I say to young DJs, first learn mixing and find your own sound, then you can play in front of people, but you have to know what you want to do. It has to be a story or something.
Ellen Allien's "Nost" along with "Nost RMXS" Part 1 and Part 2 are now available via BPitch Control. She will have a short US DJ run at the Good Room in New York on December 8th and at the TV Lounge in Detroit on December 9th. For more information, please keep in touch at ellenallien.de.
Calling all HuffPost superfans!
Sign up for membership to become a founding member and help shape HuffPost's next chapter
This post was published on the now-closed HuffPost Contributor platform. Contributors control their own work and posted freely to our site. If you need to flag this entry as abusive,
send us an email
.