"Ich bin ein Berliner." This phrase is a much-debated quotation from a June 26, 1963 speech by President John F. Kennedy in West Berlin that can either be interpreted as "I am a Berliner" or "I am a jelly donut." Though the latter would have been an unprecedented revelation, it was not the president's intended message.
There are two important things to keep in mind here:
First, Kennedy's speech occurred at the height of Cold War tensions, two years after the Berlin Wall was constructed to separate the communist East Germany from the democratic West Germany. In a bold declaration of support for the West, Kennedy passionately declared himself a Berliner in spirit by saying, "Ich bin ein Berliner." Second, a "berliner" is the term for jelly donuts in Germany.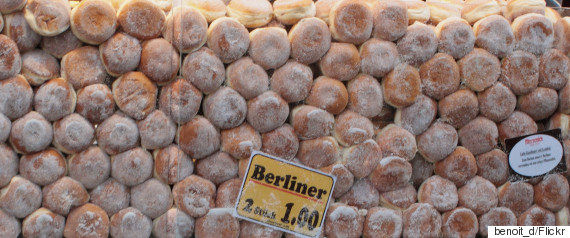 Many contend the inclusion of the indefinite article "ein" in "Ich bin ein Berliner" implies Kennedy is a non-human "berliner," translating his phrase into "I am a jelly donut" -- but those claims are false. In reality, "ein" is necessary when speaking figuratively, which Kennedy was certainly doing -- the U.S. President was clearly not from Berlin, and was rather declaring his solidarity with its citizens. Thus he is not a donut, and he was absolutely correct.
So what exactly is a berliner? It's one of the most famous German pastries there is, with endless filling options -- think jams, chocolate and fruits. One of the greatest things about Germans is that they have so many names and styles of donuts: "pfannkuchen" in Berlin and Eastern Germany; "berliner" in the north, west and southwest; and "krapfen" in southeast Germany and in Austria. Sweet Paul Magazine features a recipe for the classic berliner in its Spring 2015 issue, which we're sharing with you here. According to Sweet Paul, the berliner was created out of sheer necessity:
One popular legend is that the berliner was founded by a sugar baker in 1756, who worked as cannoneer for Friedrich the Great, but was unable to do his work. He was permitted to stay in the fields as a baker. He created the first pancakes, then formed the dough into the typical ball, shaped like a cannonball. Because these was no oven in the field, he deep-fried them in a pan over an open fire.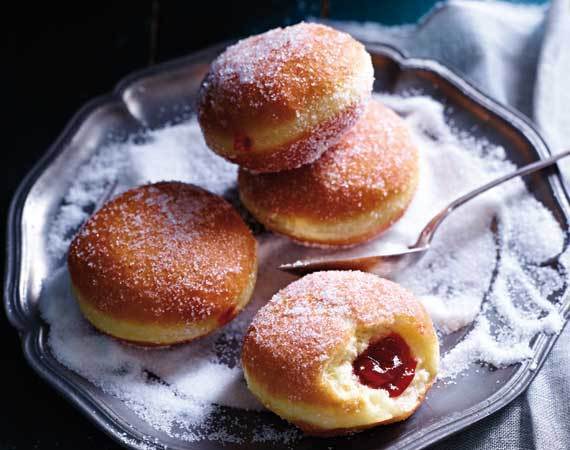 Try your hand at the recipe below if you want a taste of Germany without having to leave your kitchen.
Die Klassischen Berline
The Classic Berliner
DOUGH
4 cups all purpose flour
14 grams active dry yeast
1/2 cup milk, lukewarm
1/4 cup granulated sugar
11 tablespoons unsalted butter, melted and cooled
2 whole eggs
2 egg yolks
1 pinch of salt
1/2 lemon, zest only
MISCELLANEOUS
Flour for working on the bench
Round cutter, 3" wide
1 quart peanut oil, for frying
Caster sugar, for dusting
Piping bag with a very small decorating nozzle
2 cups jam, without chunks
Dissolve the yeast in milk, take 1/2 cup of the flour, and mix it all together.
Cover it and let it rise for about 1 hour.
Add all the rest of the ingredients slowly adding the flour and knead to a soft and smooth yeast dough. You might have some flour left over.
Cover the dough set in a warm place and let it rise until the size has doubled.
Dust your working bench with flour and roll the dough about 1/2" thick.
Cover it again with cling film and let it rest for another 15 minutes.
With the cutter, cut as many circles out of the dough as possible.
Transfer them very carefully onto a baking sheet with parchment paper. There has to be enough room in between the krapfen that they won't stick together.
Put the whole sheet into a clean plastic bag and tighten it closely. They have almost to double their size.
Meanwhile knead the leftovers together and make more krapfen out of it, but let it rest in between rolling and cutting.
In a large wide pot, heat up the oil to about 350 degrees Fahrenheit. Be careful when putting them into the hot oil!
Deep fry them for about 2 minutes, then flip them over for another 2-3 minutes until they are golden brown.
Let them drain and cool down on kitchen paper.
While still warm, put the marmalade in the piping bag and sting the nozzle into the side of the berliner right into the middle, and fill about 1 tablespoon marmalade into it.
Dust with a sprinkling of caster sugar.
Food by Jutta Deutscher
Styling+photography by Oliver Brachat