The first Goths weren't the members of Joy Division, but the Visigoths and Ostrogoths -- Germanic tribes that invaded and ultimately toppled the Roman Empire. Berlin is still a Gothic center today, at least in the corsets and fishnets sense.
I have a number of spooky friends in the German capital, and they brought me to their favorite haunts. In this travel video, we explore Berlin's darkest clubs and fashion.
My visit coincided with Berlin Fetish Weekend, an annual celebration of leather and latex with events throughout the city. I went to monthly "play party" Angel-in-Bondage, which features a hot tub, shower and massage room. Even if you don't partake in the adult activities -- we stuck to the industrial dance floor -- the night is well-run and welcoming.
The Japanese alt community meets regularly at Anko-kai in Club der Polnischen Versager. I watched pantless organizer Nobu dance a modern butoh, under neon projections.
DJ SiSEN, a cyber-Goth cult figure, recently moved to Tokyo from Berlin. He belongs to an underground collective called Japaranoia, which hosts "dark and strange" parties. Most take place at Eschschloraque, a club decorated with jars of alien babies.
However the "most frightening bar" award goes to Last Cathedral. It's hard to be grave here when the benches look like tombstones, and glowing ghosts peer from the walls.
Alt clothing stores are a-plenty, especially around Alexanderplatz. Mystica and XtraX specialize in old-school deathrock fashion, like skeleton jackets and stomper boots. Savage Store stood out for elegant latex wear. My Berlin shopping guide has details about these shops and more.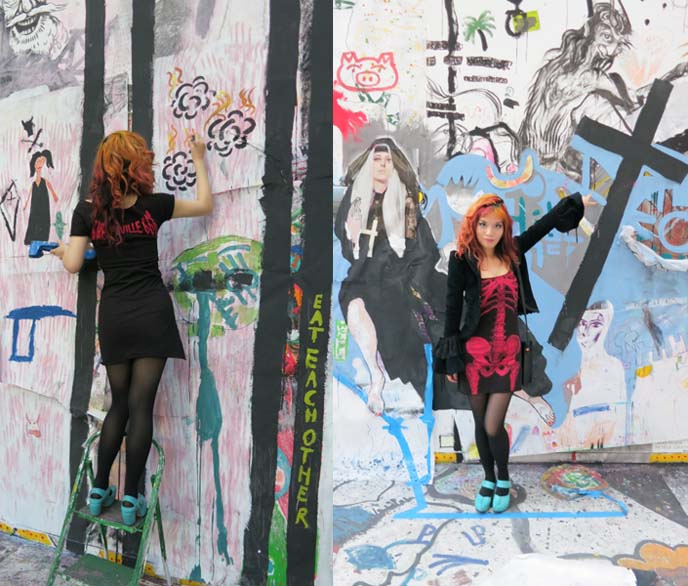 I was fortunate to be in Berlin during the Biennale for Contemporary Art. A friend took me to "Draftsman's Congress," an interactive installation at St Elisabeth Church. Each day, the walls changed as people added their own drawings. I picked up a brush, climbed the ladder and painted my earless cat.
Avant-garde works are on display at 5th people project, a gallery that focuses on independent artists. If you're fond of Rococo and Baroque decadence, as I am, Potsdam is an inspiration. The architecture of Sans Souci, summer palace of Frederick the Great, took me back to 18th-century court life.
I recommend staying in a short-term rental in a central district. My Oh Berlin apartment in Charlottenberg had a full kitchen and space to entertain, and the walls were filled with paintings.
Are you intrigued by Berlin's underground culture? What do you think of the Goth spots highlighted in the video?
Germany's dark side
Related