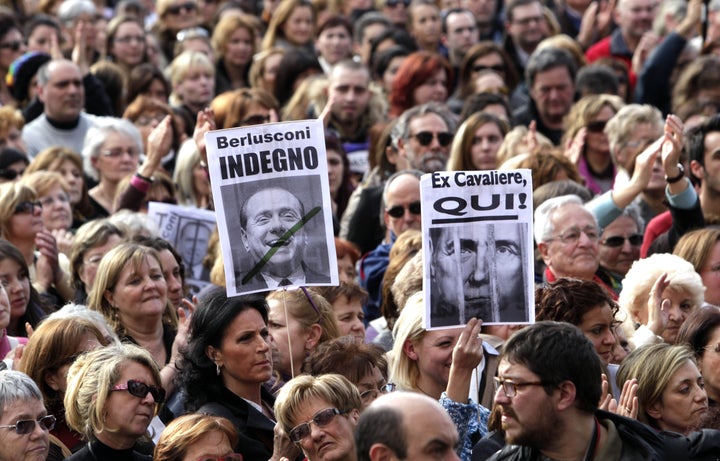 ROME (Reuters) - Prime Minister Silvio Berlusconi said on Monday he had no intention of stepping down and dismissed a weekend demonstration by thousands of women across Italy over his involvement in a sex scandal.
Hundreds of thousands of women took part in rallies on Sunday to defend their dignity and protest over the underage prostitution scandal that has rocked the 74 year-old prime minister's center-right government.
The billionaire media entrepreneur told his Canale 5 network the protests were the work of his political opponents and denied that he disrespects women.
"I saw the usual factional forces mobilized against me by a certain section of the left which uses any pretext to beat an adversary whom they can't manage to beat at the polls," he told a morning program.
"All women who have had the opportunity to get to know me, know how much I respect them. I have always behaved and I always behave with great care and great respect, both in my companies and in my government."
"I have always tried to act in such a way that every woman feels special," he said.
Sunday's protests included several leading figures from the opposition center-left and many conservative middle-aged women, a group which has traditionally supported him.
Berlusconi said the government would not resign over the affair, potentially opening the way for new elections.
"There is a lot of confusion but I have very clear ideas. The interest of the country is to have a stable government which carries on with its program with determination," he said.
Milan prosecutors have requested that Berlusconi face trial over accusations that he paid for sex with a girl below the age of 18 -- an offence in Italy -- and that he improperly pressured police to release her from custody over theft allegations.
A decision on whether to accept the request is expected early this week.
Using material obtained from investigators' wiretaps, newspapers have splashed lurid accounts of "bunga bunga" sex parties involving dozens of young women at Berlusconi's private villa near Milan.
Berlusconi has never hidden his fondness for the company of young women but denies doing anything illegal and his lawyers have produced witness statements saying that the events at his villa were no more than convivial dinner parties.
"The Milan prosecutors' office and the media in contrast has trampled on the dignity of my guests, exposing them to public scorn without any reason or regard for them and trampling on the truth," Berlusconi said.
"It's really a disgrace, a big disgrace."
Related
Popular in the Community